China Logistics Property Heading for Listed Company Exit Door?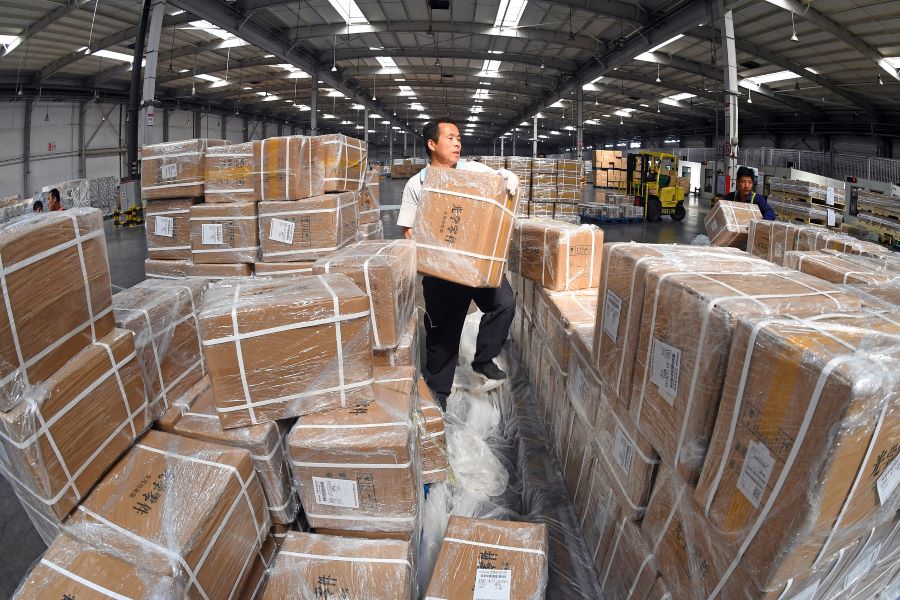 Logistics warehouse operator's chairman to sell most of his 28% stake to JD Logistics, paving the way for a possible buyout
Key takeaways:
JD Logistics has offered to buy an additional 26% of China Logistics Property's shares for $515 million, raising its stake to 37%
If that purchase is completed, JD Logistics could offer to buy out China Logistics' remaining shares at a 9% premium to their pre-announcement price levels
By Doug Young
Logistics has become a hot topic in China these days, forming a crucial plank in the herculean task of moving billions of products purchased online each year from factories where they are produced to their final buyers. The rush to build up such logistics networks has been highly profitable for some, while leaving others in the complex chain of facilities and services out in the cold.
That latter group of "less respected" companies includes China Logistics Property Holdings Co. Ltd. (1589.HK), which has just disclosed it could soon receive a takeover offer from JD Logistics (2618.HK), the recently-listed logistics arm of e-commerce giant JD.com. China Logistics is essentially a real estate company that was operating a network of warehouses in 38 logistics parks throughout China at the end of June, according to its latest interim report issued a couple of weeks ago.
Trading in China Logistics Property's Hong Kong-listed shares was halted on Thursday when rumors of the potential buyout by JD Property Group began to leak into the market. Somewhat surprisingly, the stock was up just about 1.7% at HK$4.12 late in the morning session when trading resumed on Monday – well below the potential takeover offer price of HK$4.35.
Before we start to speculate on what's behind the lukewarm reception, we'll backtrack to the actual offer that came after markets closed on Friday.
That offer saw JD Property say it had agreed to buy about 26.4% of China Logistics' shares for HK$4.35 apiece, for a total price of about HK$4 billion ($515 million). The price would represent a sizable premium from the roughly HK$4 level where the shares were trading before all the rumors began. JD Property already owned about 10% of China Logistics' shares, meaning the latest deal would bring its stake in the company to about 37%, according to the announcement.
That amount crosses a threshold that automatically compels JD Property to make a buyout bid for all of China Logistics' shares, based on Hong Kong Stock Exchange rules. JD Property said it could offer to buy out the company's remaining shares for HK$4.35 apiece, though it added such an offer would be contingent on its controlling more than half of the company's voting rights.
That condition may be the reason for the muted reaction from the stock in early Monday trade. That's because JD Property is essentially buying out the stake in the company held by its Chairman and founder Li Shifa, leaving JD Property to win over one of the company's other two remaining major stakeholders before it would launch a formal takeover bid at the HK$4.35 price.
Those other two are institutional investors RRJ Capital, which is one of China Logistics' early shareholders and currently holds 29% of the company; and another company called ESR Cayman that holds about 19%. The company also has a large amount of outstanding debt, including some in the form of convertible bonds. Thus JD Property may also want assurances that it can buy back those bonds on terms it considers favorable before agreeing to a formal buyout at the stated price of HK$4.35 per share.
Improving Finances
All of this comes as China Logistics Property appears to be getting back on its feet after a relatively rough period financially. That return to more solid financial health could well be why Li Shifa is now choosing to unload his stake now and why JD Logistics may see the company as a valuable addition to its portfolio.
China Logistics listed in Hong Kong in 2016, with its early backers including U.S. private equity giant Carlyle. Its previous close of HK$4.05 represents a relatively modest 25% gain from its original IPO price of HK$3.25 five years ago, which isn't a particularly strong return for shareholders. The gain would be even smaller if you consider the stock was trading in the HK$3.50 range for the two months before the JD investment rumors began in late August.
At the end of the day, the company is most comparable to an industrial real estate investment trust (REIT), which is essentially a real estate owner and operator of industrial properties. Such REITs are usually attractive to investors because they offer their profits to investors in the form of annual dividends. The only problem is that China Logistics doesn't offer such dividends.
The lack of such dividends could be at least partly because the company wasn't very profitable last year. It posted a net profit of just 67 million yuan ($10 million) for in 2020, down sharply from about 350 million in 2019. It didn't pay dividends in either year. Its situation improved in the first half of this year, with the company posting a 296 million yuan profit for the six months through June, though most of that was linked to one-time gains on the value of its convertible bonds.
A look back at the company's recent past shows its finances were shaky last year due to the structure of its debt – an issue that it appears to have resolved this year. That positive development led ratings agency Fitch to upgrade its outlook on the company to "stable" from "negative" earlier this year, citing "reduced refinancing risk following refinancing activities in 2020, including issuing convertible bonds and a bond exchange."
Using its first-half profit for this year on an annualized basis, the company now trades at a price-to-earnings (PE) ratio of 39, which looks relatively strong compared to other major industrial REITs. Prologis trades at a higher 67 based on its profits over the last 12 months, though Duke Realty trades at a roughly comparable 41 and First Industrial Realty Trust trades at a lower 31.
At the end of the day, this particular company really does look like it would be a better fit inside JD Logistics' bigger portfolio, which includes a wider range of logistics-related products and services. As a standalone company, its lack of dividend and large debt make it less attractive to stock buyers who expect both dividends and more than the 12.5% revenue growth in its latest interim report.
Accordingly, it's quite possible and perhaps even probable that all sides will want to see the company go private if they can agree on terms. What exactly those terms might be remains an open question, which might be reflected in the muted investor reaction to the latest announcement.
To subscribe to Bamboo Works free weekly newsletter, click here