Cheery Miniso steps up store rollout after overseas sales boost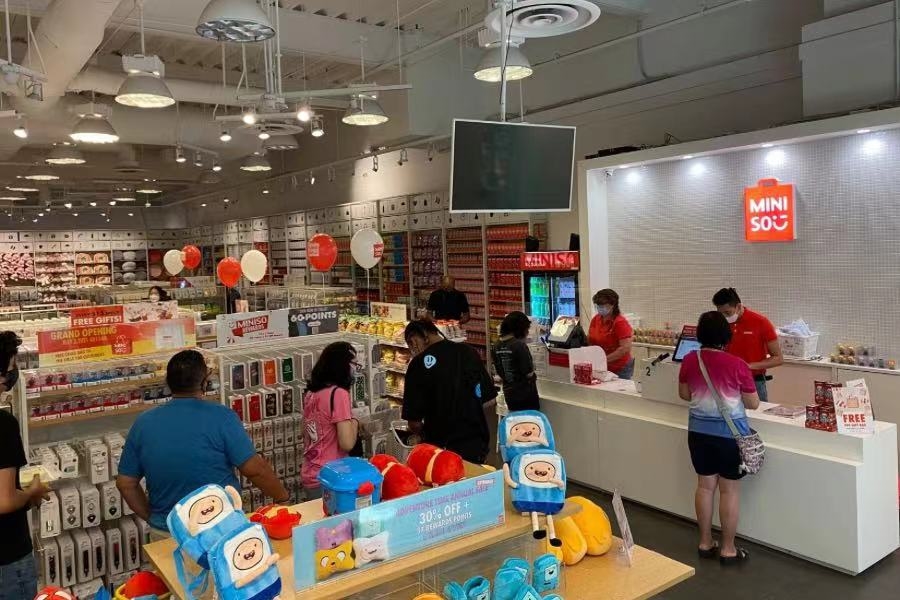 The seller of lifestyle products has defied China's pandemic downturn with a 75% jump in quarterly profit, and is targeting an aggressive expansion
Key Takeaways:
Miniso's latest quarterly earnings beat market expectations as overseas growth offset a weak Chinese market
The company's chairman is looking to open 1,000 new stores every year, half of them in China, as domestic demand rebounds
By Lau Ming
The cheerful red logo of Miniso Group Holding Ltd. (MNSO.US; 9896.HK), a Japan-inspired chain selling cute lifestyle products, pops up around the world these days. And robust overseas sales have helped the company avoid a bad case of the pandemic blues.
Despite Covid controls that otherwise chilled the Chinese retail sector, Miniso beat market expectations with its earnings for the latest quarter to the end of December, buoyed by sales at its many international outlets.
The company has set up shop in more than 100 countries, targeting a young crowd with an assortment of colorful or cuddly objects, often with cartoon-like faces and designs reminiscent of Japanese popular culture. Its brand logo features a red shopping bag with a winking eye.
Now that China has emerged from stringent Covid controls, domestic consumption is expected to pick up. Miniso's ebullient founder, Ye Guofu, has set a goal of opening 1,000 new stores every year, including major expansion in China. Can such an ambitious plan get a vote of confidence from investors?
Firstly, let's look at Miniso's financial performance in the latest quarter. The company's revenue fell 10% from both the prior quarter and the same period a year earlier, to 2.49 billion yuan ($358 million). But its profit surged 75% to 448 million yuan from the year-earlier quarter. The company attributed the profit jump to a brand upgrade, market bargaining power and a steady recovery of overseas markets.
Notably, its domestic revenue fell nearly 27% from a year earlier, but overseas sales jumped by around 38%. The revenue share from overseas sales rose from around 26% in the equivalent 2021 quarter to nearly 40% this time, the highest level in three years.
Moreover, Miniso's overseas gross margin was 45% compared to a domestic gross margin of 35%. With overseas sales contributing a bigger slice of revenue, total gross margin rose 5 percentage points to 40%, the highest quarterly number in two years.
Adding 1,000 stores a year
Miniso's Chinese sales have perked up since pandemic controls were relaxed in early December, releasing pent-up consumer demand. The company's earnings statement noted that January sales had surged 40%, while sales during the seven-day Lunar New Year holiday rose 25%.
The fast domestic recovery, already showing up in the quarterly numbers, and the overseas sales momentum have bolstered Miniso's share price. Anticipating good news, its New York-listed shares climbed 9.5% in the four trading days leading up to the Feb. 28 earnings release, and rose to $19.29 afterwards, a 20-month high.
Asked about expansion plans, chairman and founder Ye said in post-earnings interview that the company would be able to open 1,000 new stores a year, 500 of them in China and 500 abroad. That's more than twice as many as the 423 new stores in 2022. Last year Miniso added 157 domestic and 238 overseas branded stores and 28 "Top Toy" outlets.
The company was launched a decade ago after its founder was inspired by the products he saw on a trip to Japan, many of them made in China. The company initially aimed to attract consumers with Japanese motifs and styles but later played down the Japan connection as it fanned out in shopping malls and business districts in key Chinese cities.
With little room for further growth in China's biggest cities, the company is likely to target consumers in third-tier cities and below with its expanded network.
But as the company steps up its store rollout, the global economic outlook is uncertain, and the Chinese market is still suffering the pandemic aftereffects, with consumer confidence weaker than before. Miniso's fashion-conscious urbanites have greater spending power than their price-sensitive peers in smaller cities, who may prefer different types of products. Miniso cannot simply apply its existing formula to the new Chinese markets.
Potential inventory pile-up
Another selling point for the company is its partnership with famous brands such as Disney and Marvel. Its best sellers are often trendy toys, but these can quickly fall out of favor, leaving unsold stock piling up once a craze fades. By the end of December, the company's total inventory value reached 1.47 billion yuan, spiking around 24% in just half a year.
The Chinese sportswear company Li Ning Co. (2331.HK) has faced a similar challenge. A decade ago, many sportswear brands had to shutter some of their stores after rapid expansion, including Li Ning. The company launched a scheme to tackle excess inventory by exchanging new goods for old, seeking to help distributors weather the storm without shutting up shop. As a result, Li Ning lost more than 3.1 billion yuan between 2012 and 2014 and had to undergo a restructuring to get back on a secure footing.
Miniso runs its own stores and has franchise outlets operated by third parties, a common business model in China. Its store chain is heavily skewed towards franchises. By the end of last year, only around 3% of its 5,557 stores were self-operated, with the rest franchised to others. In the second half of last year, the company made 2.54 billion yuan from its sales to franchised stores and 1.38 billion yuan from offline distributors. The combined sum accounted for around 74% of the company's total revenue, highlighting the importance of partnerships to its business.
Delivering on the store expansion plan will be a major challenge, relying upon Miniso's ability to attract a stream of new franchises while managing its inventory.
Optimistic about China's retail recovery, investors are awarding Miniso a relatively high valuation. Its latest price-to-earnings (P/E) ratio is around 38 times, slightly above the popular toy brand Pop Mart (9992.HK), famous for its "blind boxes" with mystery products inside. Miniso's valuation is also much higher than the parent company of Japan's Muji brand, Ryohin Keikaku (7453.T), at 17.5 times.
Just before the latest earnings release, Miniso unveiled an updated brand strategy, aiming to become a lifestyle store with its own original designs. "Wink" was unveiled as a new brand symbol derived from its logo, as the firm steps up its ambitions to compete as a "superbrand" on the global retail stage.
Miniso lacks any strong challenger in the home market, but investors should watch out for any risks in the global expansion that could leave the retailer feeling rather less upbeat.
To subscribe to Bamboo Works weekly free newsletter, click here