CanSino looks for next growth shot in 'life after Covid'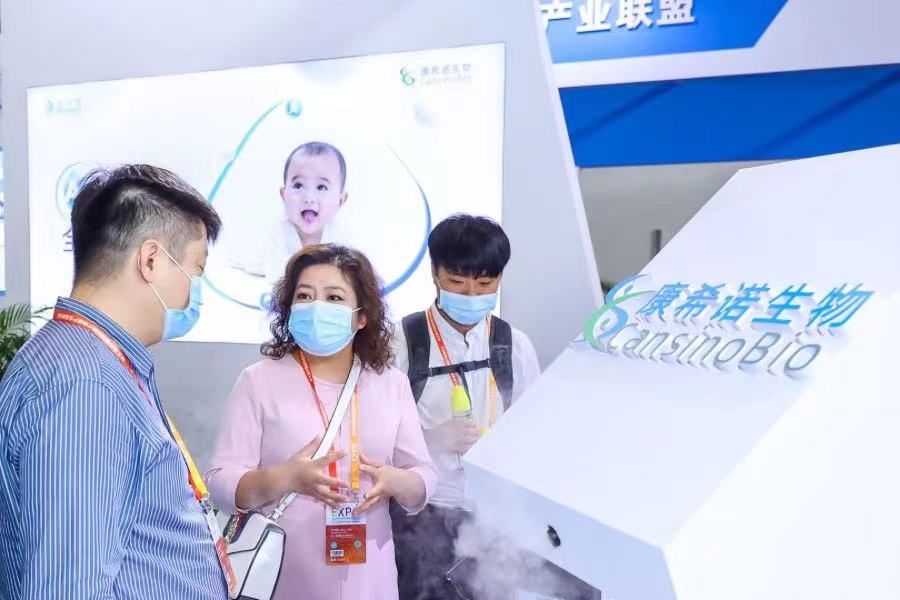 The vaccine maker is back to square one as a brief windfall fueled by demand for its Covid vaccines rapidly fades
Key Takeaways:
CanSino logged sizable asset impairments for its unsold Covid vaccines last year, pointing to the challenge of oversupply
The company's performance in the post-Covid era will hinge on progress for its two meningitis vaccines and its overseas expansion
By Emily Chan
As the Covid pandemic wraps in China, demand has suddenly plummeted for vaccines that briefly lifted names like Sinopharm (1099.HK) and Sinovac to global fame, bringing their stocks back to earth as well.
Another Chinese vaccine maker that got a Covid boost, CanSino Biologics Inc. (6185.HK; 688185.SH), was also feeling the post-pandemic pain in a preliminary annual results report released last week that showed it logged a 902 million yuan ($130 million) loss last year. That marked a stunning reversal from 2021, when it recorded its first-ever profit of 1.91 billion yuan on surging demand for its vaccines. Its revenue also plunged last year to about 1 billion yuan, down roughly three-quarters from nearly 4.3 billion yuan during better times for the company in 2021.
CanSino specializes in vaccines for diseases like Ebola, meningitis, pneumonia, tuberculosis, diphtheria, tetanus and pertussis. Without any products on the market before 2021, it was a perennial money-loser until the Covid pandemic broke in 2020. The company quickly pivoted to the novel coronavirus, and was one of the first to develop a recombined Covid vaccine, Convidecia, using its own viral vector technology. Despite longer development histories for its other products, Convidecia became the company's first product to make big bucks.
But things have changed radically in the short span of just a year. Far more Covid vaccines are now on the market, pressuring prices even as demand falls and the pandemic fades. As a result, CanSino's revenue started to fall dramatically last year, tumbling 91.8% and 92.4% in the second and third quarters, respectively.
An upgraded aerosolized version of Convidecia was approved for emergency use in China last September, and became the first inhaled Covid vaccine to launch in the market. The launch helped to boost the company's stock price, but not enough to reverse its rapid revenue slide.
Unsold vaccines
Plunging revenue from vaccine sales was just one of the reasons behind the company's big return to the red. It said failure to keep down R&D and sales costs also played a role, as well as big write-downs for Covid vaccines that went unsold.
While detailed full-year data has yet to be released, CanSino's last financial report shows the company's 707 million yuan in revenue in first nine months of last year was offset by a combination of 556 million yuan in R&D costs, and another 149 million yuan in sales expenses. More notably, the company recorded an asset impairment provision of 526 million yuan for unsold inventory in the period.
Government data shows that over 3.47 billion Covid vaccine doses were administered in China as of last Dec. 23, with the percentage of fully vaccinated people exceeding 90%. As the government scraps most pandemic control measures and many people who got infected in December and January recover, demand for vaccines has fallen sharply.
At the same time, the approval of 13 Covid vaccines by China's drug regulator has created an oversupply of products, pressuring prices and increasing the risk that vaccines won't be sold before their expiry date. That means CanSino could be looking at even larger depreciation provisions ahead, given that it has invested 1.22 billion yuan in three Covid vaccines and also has an mRNA vaccine under development.
Other vaccine manufacturers have also suffered. The A-share listed Kangtai Biological (300601.SZ), whose inactivated vaccine was approved for sale in China, reported a net loss of up to 150 million yuan last year due to a major sales decline and substantial asset impairments, marking its first annual loss since 2012.
CanSino might be able to find relief from competition in its crowded home market by selling its products in other countries like Indonesia, where it received an emergency use license earlier this month for its aerosolized Convidecia. But even those advances are unlikely to give its revenue much of a lift. As its Covid high rapidly fades, investors are looking closely at CanSino's other products that might be able to pick up some of the slack and strengthen its long-term prospects.
Internationally recognized
Apart from its Covid treatments, CanSino's only other approved products are two meningitis vaccines, MCV2 and MCV4, which got regulatory nods in 2021. The company has said MCV2 will soon be included in a national initiative to improve immunity of the Chinese population. But even if it is, the product's relatively late arrival to the party compared with other similar vaccines puts it at a relative disadvantage.
Meantime, MCV4 is the first Chinese 4-valent MCV vaccine that can be used for babies less than six months old, and thus is considered quite promising. It had been approved in 24 Chinese provinces or cities by the end of last October. But its early stage of commercialization and relatively limited market size make it unclear if MCV4 can provide a much-needed boost to the company's revenue.
CanSino's stock fell by a cumulative 2% in the four trading days after its profit warning's release. At its latest close of HK$56.50, the stock is a tiny fraction of its peak of HK$450 in 2021. The Capital Group Cos., JPMorgan and other institutional investors have all given the company's stock "underweight" ratings for the last year or more, showing no one expects big things from CanSino anytime soon.
In valuation terms, CanSino's latest price-to-sales (P/S) ratio was around 7.8 times, in the middle of the pack among peers that include Kangtai Biological at 11.2 times, and Chongqing Zhifei Biological (300122.SZ) at 3.9 times. Kangtai Biological's premium owes to strong performance for its hepatitis-B and streptococcus pneumonia vaccines, whose revenue grew 86% last year.
But international recognition for some of its products shows we shouldn't write off CanSino just yet. Convidecia, for example, is one of the three Chinese-made Covid vaccines approver by World Health Organization (WHO) for emergency use. And the company has accumulated valuable overseas experience while selling its Covid vaccines to foreign countries.
To boost its profile overseas, CanSino suggested in January that it might consider issuing Global depository receipts (GDRs) in Switzerland, following a recent trend by globally-minded Chinese companies. That could serve the company well if it can back up such moves by building a full-fledged international sales team to peddle its products in other developing markets like Southeast Asia.
To subscribe to Bamboo Works weekly free newsletter, click here