BeiGene goes for global growth with sales and R&D push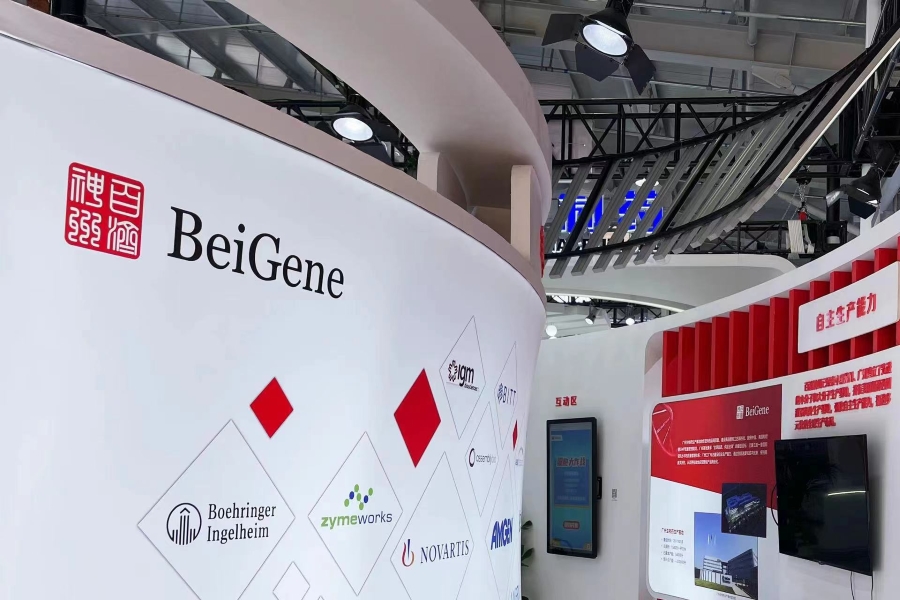 The maker of cancer drugs is ploughing most of its rising revenues into research and sales, as it prioritizes expansion over profits for now
Key Takeaways:
BeiGene's revenue in the first quarter grew 56% while global sales of its core cancer drug doubled
The company's sales costs are rising even faster than its R&D spending
By Ellie Si
It ranks as China's market leader for innovative cancer drugs and is rapidly raising its global profile. But BeiGene Ltd. (BGNE.US; 6160.HK; 688235.SH) has been losing money since its listing six years ago, and its latest results are still in the red, despite surging revenues.
First-quarter earnings released last Thursday show that BeiGene's rise through the ranks is coming at the cost of heavy investment in drug development and sales, with profitability still a way off.
Last year BeiGene overtook Hengrui Medicine (600276.SH) in earnings from innovative drugs, according to its annual report, clinching the No.1 spot in the Chinese market. The latest quarterly figures show the company is investing heavily to further strengthen its position in the international drugs industry.
BeiGene develops and sells anti-tumor drugs using innovative technologies. It currently has three self-developed drugs on the market, with around 50 other products or clinical candidates in development or going through the commercialization process.
BeiGene's revenues grew 56% in the first quarter to $448 million from the same period a year earlier. Of that, revenue from drug products amounted to $410 million, an increase of nearly 57%. The company still landed in the red, although its net loss narrowed to $348 million, 20% smaller than the $435 million loss in the year-earlier quarter.
In terms of valuation, BeiGene's A share commands a price-to-sales (P/S) ratio of about 21 times, higher than the 18 times for the company's Hong Kong and U.S. shares. And its ratio in all three markets enjoys a premium to Hengrui Medicine's 14.5 times, suggesting investors are bullish about the company's prospects.
While many pharmaceutical companies have been having a tough time, BeiGene has not scaled back its investment in R&D and sales. In 2022, it became the only pharmaceutical company in China to have invested more than 10 billion yuan ($145 billion) in R&D. In the first quarter of this year, its investment in R&D and sales efforts continued to grow. The impact of that spending, either as a help or hindrance to future growth, will provide an object lesson for other drug companies.
Global sales accelerating
The jump in BeiGene's quarterly revenue was largely driven by two of its drugs, Brukinsa and Tislelizumab, and two licensed products, Amgen and Bio-Thera. The company is yet to release any detailed sales figures for its other drug, Pamiparib.
Brukinsa is BeiGene's core product, used to treat blood cancers. It is a small-molecule inhibitor of Bruton's tyrosine kinase (BTK), a type of drug that combats cancers caused by defective B cells. BeiGene's drug has been approved for sale in more than 65 markets including the U.S., China, and Europe. Its global sales reached $211 million in the first quarter, an increase of 103% over the same period last year.
In 2022, a head-to-head clinical study compared Brukinsa with Ibrutinib, a first-generation small-molecule BTK inhibitor from the multinational pharmaceutical giant Johnson & Johnson (JNJ.US). BeiGene's Brukinsa outperformed the earlier drug in the tests, boosting its global sales.
In its quarterly results statement, BeiGene said revenue from Brukinsa surged after U.S. regulators approved the drug for chronic lymphocytic leukemia/small lymphocytic lymphoma (CLL/SLL). U.S. sales of the drug rose 104% in the first quarter from the year-earlier period. By the end of last year, Brukinsa had carved out the biggest share of China's market for BTK inhibitors, according to data from research firm IQIVIA.
By contrast, Johnson & Johnson's first-quarter results showed a fall in Ibrutinib sales, as BeiGene's drug shifts the dynamics in the global market for BTK inhibitors.
BeiGene's Tislelizumab drug is not in the same innovative league as Brukinsa, but its sales are also growing. The drug is a PD-1 inhibitor used to treat various solid tumors and hematological cancers. Competition is fierce in this part of the cancer drug market. In the first quarter, sales of the drug reached $115 million in the Chinese market, a year-on-year rise of nearly 32%.
When the drug was approved in 2019, it was the seventh PD-1/PD-L1 product to launch in China, but it has gathered momentum since then. The drug has been approved for 10 conditions in China, becoming the leading PD-1 product by number of approved indications and coverage under China's national medical insurance program.
BeiGene also received $45.1 million in cooperation revenue in the first quarter, mainly in the form of payments from Novartis (NOVN.SWX) over a collaboration with BeiGene in 2021 on Tislelizumab and Ociperlimab, though the income was slightly below last year's level.
Rising sales investment
As the company strives to launch new products and break into global markets, its sales spending is rising even faster than its R&D investment.
BeiGene's first-quarter R&D expenses came to $409 million, just 4.8% more than in the same period last year, but its sales and administrative expenses rose 11.5% to $328 million. The company said the increased costs were driven by a staff expansion in its commercial team.
As a result, BeiGene's sales and management expenses were equivalent to more than 73% of revenue, far above the level for other innovative drug companies. The ratio works out at 49.3% for Junshi Biosciences (1877.HK; 688180.SH) and 56.7% for Innovent Biologics (1801.HK).
In recent years China has brought in a host of policies such as central drug procurement and medical insurance negotiations, aiming to crack down on sales rebates and to save money on insurance coverage. This has weighed on margins at Chinese pharmaceutical companies. Even Hengrui Medicine, a giant in the industry, is scaling back its sales team amid a decline in product revenue. BeiGene is one of the few companies to buck the downsizing trend by increasing its sales investment.
As well as spending heavily on R&D and sales, BeiGene is expanding its production capacity. The company has started building a new U.S. production base and clinical research center in New Jersey. It is also expanding a facility in China's eastern city of Suzhou for small-molecule innovative drugs, while enlarging a base in the southern city of Guangzhou for macromolecular biopharmaceutical production.
With these investments, BeiGene is transforming from an asset-light company to an asset-heavy conglomerate with a diverse drugs portfolio. Investors will be paying close attention to the ways the company puts its new capacity to use.
To subscribe to Bamboo Works weekly free newsletter, click here