3D Medicines Bleeds Red Ink As It Struggles to Swim in 'Red Ocean'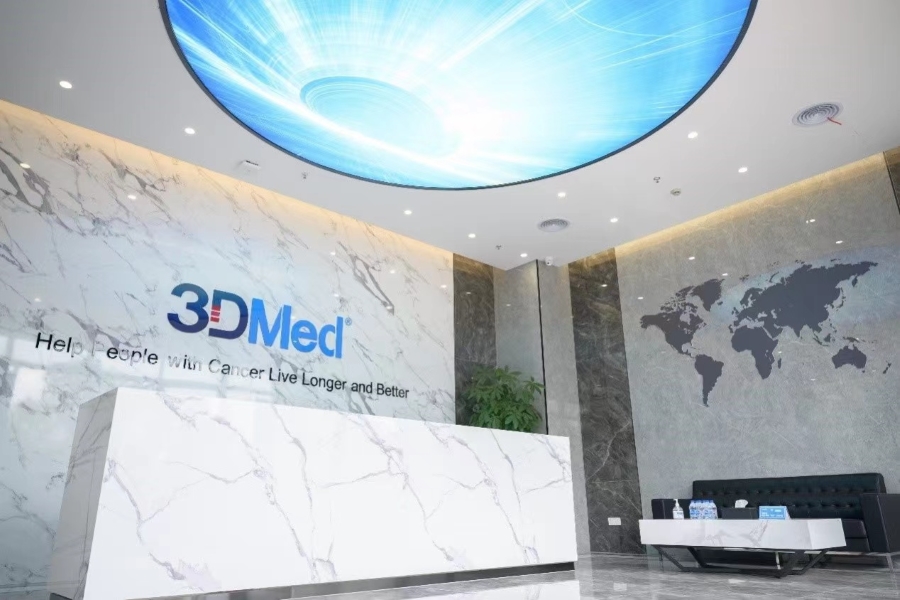 The loss-making innovative oncology drug company with just one approved product on the market is making a third tilt for a listing on the Hong Kong Stock Exchange
Key Takeaways:
3D Medicines competes for a share in an already hotly contested and very small market, potentially dimming its appeal to investors
The company lost 1.46 billion yuan last year and another 290 million yuan in the first five months of this year, leaving it with only 660 million yuan in cash and cash equivalents and desperate for funds
By Ellie Si
In the Hong Kong listing prospectus for 3D Medicines Inc., a bio-pharmaceutical company that develops oncology drugs, it appears clear that all the red ink has something to do with its "red ocean" strategy, whereby its one approved product competes for a tiny share of an already very small and crowded market.
How this bodes for whetting investor appetite for its IPO remains to be seen. On the one hand, in the past four years, nearly 50 unprofitable pharmaceutical companies have listed in Hong Kong, raising more than HK$100 billion ($12.8 billion) in capital.
But on the other hand, while listing in Hong Kong has become an important step for such loss-making companies to inject cash, their halo is fading along with the promise of profitability in the near future or ever.
Indeed many bio-pharmaceutical companies have performed poorly after listing, frequently seeing their shares falling below the IPO price. Moreover, the much touted prospects for commercialization of core and pipeline products prior to the fund raising often tends to disappoint.
Sales of its one core product on the market in China – Envafolimab – have not met expectations in the increasingly crowded tumor immunotherapy market and thus 3D Medicines has so far failed to achieve profitability.
The growth model 3D Medicines proposes is a well-trodden path taken by other  innovative pharmaceutical companies: initially burning through cash on R&D then replenishing coffers when a product is launched. But for this to work, a stable cash flow is crucial.
In fact, it was the plight of biotech startups that led the Hong Kong Stock Exchange to amend its Listing Rules in 2018 to allow IPOs of unprofitable, pre-revenue biotechnology companies in an attempt to attract a new generation of Chinese health-related companies among growing competition from U.S. and Chinese bourses.
Thus, on July 22, 3D Medicines joined the ever-rising tide of biotech companies by submitting its listing application to the Main Board of the Hong Kong Stock Exchange, with China International Capital Corp. Ltd. (CICC) and China Securities International as joint sponsors. It marked the latest step on a long road for the IPO, having filed twice before with the bourse in June 2021 and December 2021, both of which failed.
According to the preliminary prospectus, 3D Medicines, was founded in 2014 and focuses on developing and commercializing oncology drugs with differentiated clinical performance, with a business model that includes co-development, in-licensing and in-house discovery.
Before being rejected by the Hong Kong stock market, 3D Medicines was highly sought after by investors and was seen as a "star company" in the field of oncology immunology. After its spin-off in 2020, it immediately received $140 million from a number of well-known institutions, including EFung Capital, CSC Financial, Ruiyi Investment and Tigermed in its a first round of financing.
One product, no profits
These early investors had likely taken a favorable view of its R&D and commercialization prospects. Indeed, according to the prospectus, the current pipeline includes one core product and 11 drug candidates.
The core product, Envafolimab, was approved for sale in China in November last year and commercialized in December, while seven others are in the late clinical stage of development.
Envafolimab is a subcutaneously administered PD-1 (programmed cell death receptor-1) antibody approved in China for the treatment of patients with advanced solid tumors with high microsatellite instability (MSI-H)/mismatch repair deficiency (dMMR) (two frequently mentioned indicators in patients with gastrointestinal tumors and may also be present in other solid tumors) who have received prior treatment.
Envafolimab can therefore be considered a "pan-tumor" anticancer agent, but the number of patients it can reach remains limited.
According to figures published by the World Health Organization (WHO), the number of new cancer cases in China exceeded 4.57 million in 2020. In contrast, the number of patients eligible for Envafolimab is very small, as, according to the prospectus, the number of incidences in China for the indication it targets was only 146,000 in 2021 and is expected to increase only slightly to 186,000 by 2023.
Thus, to date 3D Medicines continues to be in the red, with most expenses going towards R&D, which amounted to 640 million yuan ($95 million) in the past two years, and 138 million yuan just in the first five months of this year.
And while Envafolimab has generated about 160 million yuan in revenue in the first five months of this year, it was still far from enough to turn around the loss.
In 2020, 2021, and the first five months of 2022, its operating losses reached 635 million yuan, 1.46 billion yuan and 293 million yuan, respectively. And at the end of May this year, the company only had 660 million yuan of remaining cash and cash equivalents, not even half the amount of last year's loss. Needless to say, the success of this IPO will be critical for raising funds.
Swimming in a 'red ocean'
In addition, Envafolimab faces fierce competition from existing and other potential drug candidates. The science behind the drugs allows them to inhibit cancer cells by blocking the binding process when cancer cells try to bind to PD-1, a protein on human immune T cells, and destroy immune function.
But this market has long been a relatively mature so-called "red ocean," in which players in an already crowded market compete fiercely for a share amid limited demand, as the hotly researched and developed PD-1/PD-L1 drugs have generated more than 10 related products in China alone.
As disclosed in the prospectus, in addition to the approved treatment of existing indications, Envafolimab may not be successfully developed or approved for other indications, which means that the company needs to expand the scale of targeted patients for existing indications and accelerate the launch of other products in order to cash in as soon as possible.
This will likely be an uphill task as the biomedical "boom" on the Hong Kong bourse wanes.
For example, Lepu Biopharma (2157.HK) listed in Hong Kong in February with an IPO price of HK$7.13 per share, which was less than 5.8 yuan at the exchange rate on the day of listing. However, less than a year before, shares were sold for 6.7 yuan each  when the company carried out its Series C financing.
Lepu Biopharma, just like 3D Medicines, also filed for a Hong Kong IPO three times, finding success on its third attempt. So, only time will tell if 3D Medicines can make it to the Hong Kong Stock Exchange on this attempt.
To subscribe to Bamboo Works weekly free newsletter, click here