361 Degrees Outruns Its Peers. Now It's Waiting for Investors to Notice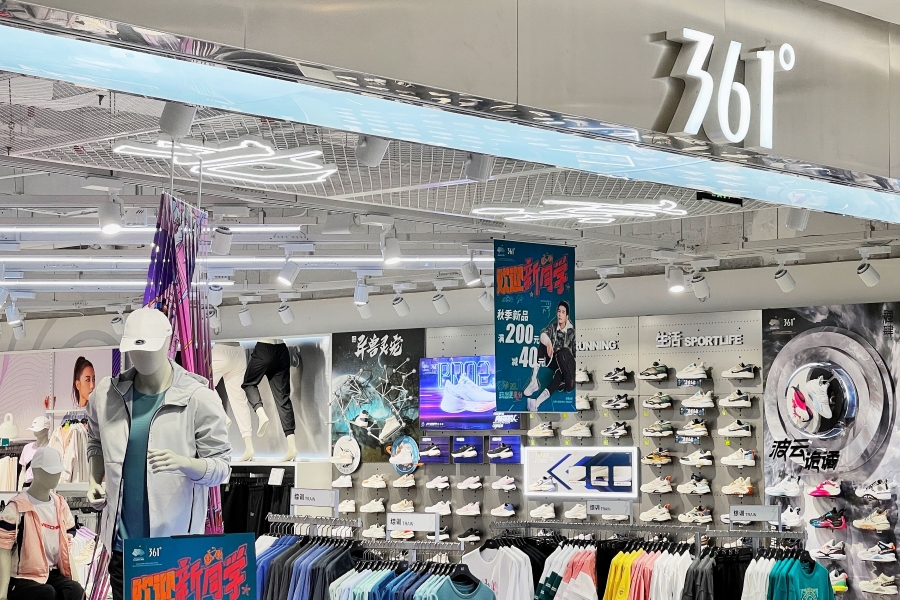 Despite outperforming its rivals in fourth-quarter sales growth, the sportswear retailer still trails its flashier peers in valuation and share performance
Key Takeaways:
361 Degrees' core branded product sale were flat in the fourth quarter, while its kids-branded products recorded single-digit gains and e-commerce grew 25%
The company's share performance and P/E ratio significantly lag behind larger peers Li Ning, Anta, Xtep and Topsports
By Tina Yip
Sportswear maker 361 Degrees International Ltd. (1361.HK) is the underdog in its class, vying for attention in a crowded field of higher-profile names like Li Ning Co. Ltd. (2331.HK), Anta Sports (2020.HK) and Xtep International (1368.HK).
First, the company was hoping to get noticed as the official sports apparel sponsor of the 19th Asian Games, which were set to be held in the picturesque Eastern China city of Hangzhou last year. But the games were postponed to September 2023 as China grappled with one of its worst Covid flareups since the pandemic began, depriving 361 Degrees of a major venue to strut its stuff.
Now, the retailer, whose home turf lies in China's second- and third-tier cities, is trying to wow investors with its release of solid but decidedly less splashy operating data for the fourth quarter of 2022 last week. The two-page report contained a checkered but broadly positive story, as sales for the company's core branded products remained flat year-on-year, even as its peers did far worse during some of China's harshest Covid control measures in October and November.
Despite the challenges, which included frequent store closures, retail sales for 361 Degrees' kids-branded products, a new company focus, eked out low single-digit growth during the quarter. And sales for its e-commerce platform, its other major new focus, roared ahead with growth of about 25%.
Compared to its peers, 361 Degrees looks like a champion. Anta recorded a high single-digit sales decline over the same period for its core branded products, and a 10% to 20% decline for its Fila brand. Xtep also suffered a high single-digit decline in overall sales.
Its relatively strong performance boosted 361 Degrees' shares, which jumped as much as 9.9% the day after the announcement before closing up 3.8%. But even after that gain, the shares still hover at the lower end of their 52 week range.
361 Degrees, Li Ning, Anta and Xtep were once considered China's A-team of sports brands. But the other three later pulled ahead. Li Ning consistently stays on top by focusing on professional sports and creating fashionable products. Anta has succeeded using a multi-brand route led by its acquisition of Italy's Fila. Xtep has also made a name for itself among the younger generation after introducing popular movie star Nicholas Tse as a shareholder and brand ambassador.
Breakout in kid's clothing
To close the gap, 361 Degrees Chairman Ding Huihuang has been looking for his own angle to set his company apart. He believed he found that formula two years ago with a model focusing on kids clothing and online sales.
Those two new hopes have done well so far. Kids clothing revenue rose 37.1% year-on-year to 683 million yuan ($100.7 million) in the first half of last year, while sales from products available exclusively online jumped 60.3% to 782 million yuan, according to the company's interim results report last year.
Kids clothing sales rose by 20% to 25% in the third quarter, and e-commerce sales were up about 45%. Strict Covid controls further dampened growth for those areas in the fourth quarter, but both managed to remain positive.
Independent analyst Ivan Chow said 316 Degrees' online business probably banked on steep discounts during inventory clearances to drive up sales in the first part of last year. But then overall sales dived in the fourth quarter after some traditional brick-and-mortar stores were forced to close under pandemic controls, and the China International Sporting Goods Show was canceled.
"Many people may worry that there is little room for 361 Degrees to grow bigger. But the company's popularity with kids for its clothing featuring famous names such as the China National Space Administration (CNSA), Kakao Friends and Gundam, should help to bringing kids clothing sales growth back to double digits again in 2023," Chow said.
Sportswear makers' shares have generally performed well since the Hong Kong stock market bottomed out in November. Shares of Topsports (6110.HK) have almost doubled since then, while Li Ning has nearly doubled, Anta is up by about 70% and Xtep is up more than 50%. But investors have been far stingier with 361 Degrees, which has been left in the dust with just a 10% share increase.
As its shares stagnate, 361 Degrees has been left with a lowly price-to-earnings (P/E) ratio of just 8.1 times, well below its other four peers that trade between 19 and 38 times.
Rebound ahead?
Looking ahead, all the sportwear sellers look set to benefit from a combination of factors this year, led by China's reopening and concurrent government steps to boost consumption and promote sports in general post-Covid. The strong national policy support, combined with the upcoming 19th Asian Games, should boost China's broader sports industry, according to a report by Western Securities.
The report also notes that residents of second- and third-tier cities will pay more attention to personal fitness, which will help to increase sportswear penetration in the smaller cities where 361 Degrees is strongest. The confluence of factors seems to bode well for 361 Degrees, playing to many of its strengths.
A CICC research report credited 361 Degrees' fourth-quarter outperformance to its flexible sales strategy of offering discounts and expanding membership benefits, as well as increasing its presence in second- and third-tier cities. CICC expects that as China's retail environment improves and management continues to expand and optimize sales channels, 361 Degrees' kids clothing stores may grow faster than its main brand, raising its overall brand awareness. It gave the company a target price of HK$4.31, about 12% above its current levels, while maintaining its "outperform" rating.
After a full year of repeated lockdowns, China's official abandonment of its "zero Covid policy" in December has finally put the country on a track to return to normal. Boosting domestic demand will be an important engine to resume high-speed growth, with sporting goods likely to play an important part. With that kind of outlook ahead, and the Asian Games to showcase its prowess, 361 Degrees could be in a strong to position to consolidate its recent sales gains and finally win over investors.
To subscribe to Bamboo Works weekly free newsletter, click here