Yum China plans post-pandemic binge with major expansion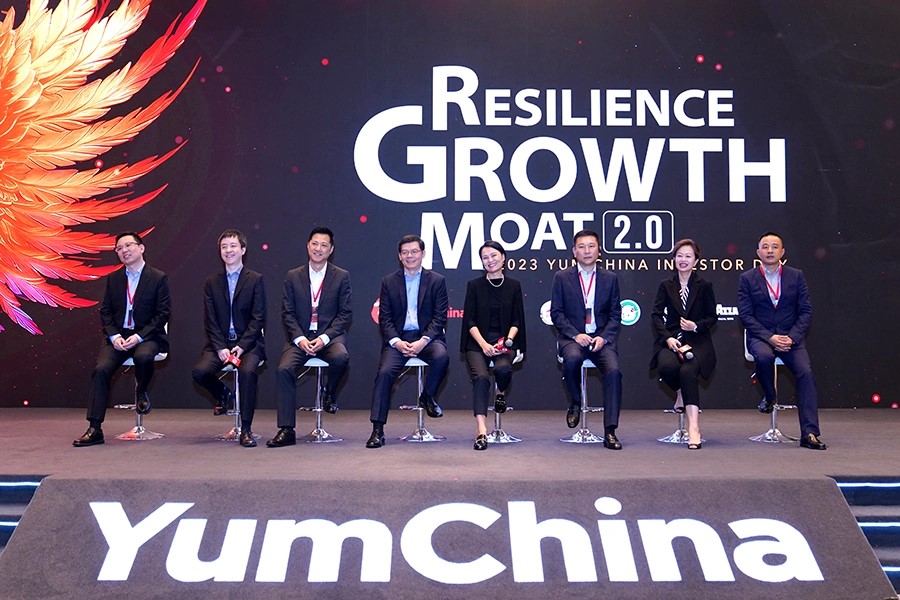 The operator of KFC and Pizza Hut restaurants in China is aiming to boost its footprint by nearly 50% from current levels to 20,000 stores by 2026
Key Takeaways:
Yum China plans to expand its footprint in China to 20,000 stores by 2026, as it returns to growth mode after post-pandemic normalizing
The ambitious plan by the operator of KFC and Pizza Hut restaurants in China could face headwinds from growing consumer caution as the nation's economy slows
By Doug Young
Get ready for Yum China 2.0. That's the new message coming from Yum China Holdings Inc. (YUMC.US; 9989.HK), operator of KFC and Pizza Hut restaurants in China, which last Thursday unveiled a turbo-charged growth plan to boost its footprint by 50% over the next three years to 20,000 restaurants.
It plans to reach that milestone using a number of tools from its kit, many developed over the last three years during the pandemic, a challenging 1.0 period when the company focused most on being resilient. Those include a wider range of store formats to cater to different kinds of consumers and different markets, flexibility in trying new initiatives, and a deep dive into China's fast-developing taste for premium coffee.
The company also plans to ramp up its use of franchised stores – something it was reluctant to do in the past to maintain stronger control over the running of its restaurants.
Now, China's 1.4 billion consumers just need to do their part to help satisfy Yum China's appetite for growth, even as those same consumers appear to be reining in their spending amid rising uncertainties about their nation's economy.
"Going forward, we are transitioning from our 'Resilience, Growth and Moat' strategy to place greater emphasis on growth. By leveraging flexible store formats and strategically partnering with franchisees, we are expanding into more locations," Yum China CEO Joey Wat told the investment community at the company's biannual investor day event, held this year in the interior city of Xi'an.
The macro landscape was far different at the company's last investor pow-wow in 2021, when companies worldwide were trying to chart their way forward during the height of the global pandemic that created one of most difficult operating environments in China in recent memory. Yum China's focus in that period was on resilience and protecting supply chains and other elements of its operations to keep its business going in such difficult times.
But with the pandemic receding, the company's attention is returning to growth.
The biggest part of that growth is coming in the company's footprint, which has already accelerated to a targeted 1,400 to 1,600 net new store openings this year from a previous 1,100 to 1,300, according to the latest guidance given at the investor day. The vast majority of those are for KFC and Pizza Hut restaurants, which are its two core brands in China, accounting for more than 90% of its stores. The company also operates a number of other smaller chains serving more homegrown fare like hotpots and simmer pots, and it also has big plans for its newer coffee joint venture set up with premium Italian coffee brand Lavazza in 2020.
It will need to sharply step up the pace of new openings over the next three years to meet its 20,000-store target, since the company operated just 13,602 stores in China at the end of June. Put another way, the company took 33 years from its arrival in China in 1987 to reach the 10,000 milestone in 2020. Now it wants to reach 20,000 stores by 2026.
Return to earlier growth
The ambitious expansion comes as Yum China aims to return to its more stable growth of earlier years before the pandemic, both in terms of revenue and profits. With the pandemic now in the past, it even believes it can boost those growth rates through greater efficiencies, many of those honed during its 1.0 phase during the pandemic.
The company told investors it is aiming for annual system sales growth in the high single-digit to double-digit percent range over the next three years, roughly in line with or improving on its 9% growth in 2019, the last year before the pandemic. It gave a similar growth target for its operating profit, which would represent an improvement from its 7% adjusted operating profit growth in 2019. It said it would aim for double-digit earnings per share (EPS) growth during that period, though we should note that historical figures have been quite volatile for that metric due to non-operational factors.
Yum China's shares jumped 9% in New York in the two trading days last week after the investor day presentations, as investors cheered the aggressive growth plans. The stock is up slightly this year.
China's economic slowdown has been evident in multiple economic indicators lately, including four consecutive months of sliding exports, record-high youth unemployment, and even some signs that China might be slipping into deflation. Getting consumers to open their wallets in such uncertain times could become a major challenge for Yum China, though it could also benefit if people who like to eat out trade down from more expensive restaurants to its more affordable food.
The company's stock currently trades at a forward price-to-earnings (P/E) ratio of 22, slightly behind the 23 for McDonald's (MCD.US) and the same as the 22 for former parent Yum Brands (YUM.US). By comparison, the company's multiple lies squarely in between the 17 and 25 for popular domestic restaurant operators Jiumaojiu (9922.HK) and Haidilao (6862.HK), respectively.
During the investor day presentations, Yum China highlighted several of the strategies it is using to become more efficient and achieve its aggressive goals. Among those, it has shifted to a model where single management teams can oversee multiple stores, currently covering roughly 30% of KFC and Pizza Hut stores. It has also recently begun ramping up its franchise business, with plans to let franchisees open 15% to 20% of its new stores going forward, up from 11% in the first half of 2023.
The company is also aiming to return $3 billion to shareholders through share buybacks and through the payment of dividends over the three-year-period.
The company also has big expectations for its Lavazza joint venture, whose plans were delayed by the pandemic but is now hoping to tap into a premium drink craze that has seen Chinese increasingly willing to shell out the equivalent of $4 or more for cups of expensive coffee and jazzed-up tea containing extras like tapioca bubbles and cheese foam.
The Lavazza joint venture had 100 stores at the end of August, though its revenue roughly doubled in the first half of the year from the same period of 2022 as its owners resumed their earlier expansion plans. Yum China said it is aiming to sharply accelerate new Lavazza openings as well, with plans to boost the chain tenfold to around 1,000 stores over the next three to five years.
Have a great investment idea but don't know how to spread the word? We can help! Contact us for more details.
The Bamboo Works offers a wide-ranging mix of coverage on U.S.- and Hong Kong-listed Chinese companies, including some sponsored content. For additional queries, including questions on individual articles, please contact us by clicking here.
To subscribe to Bamboo Works free weekly newsletter, click here