Yonghe suffers Covid fallout, but eyes return to growth with China reopening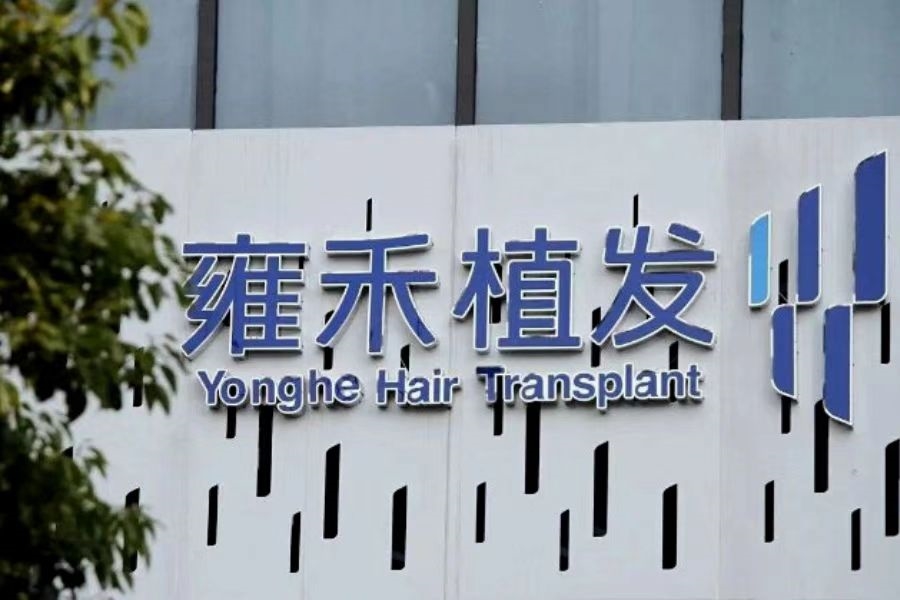 The nation's leading hair transplant provider was forced to close nearly all of its clinics at different times last year due to the country's strict Covid controls
Key Takeaways:
Yonghe Medical swing into the red in the second half of last year, but believes it is well positioned to bounce back strongly with the end of China's 'zero Covid' policy
The company continued to open clinics throughout 2022 despite pandemic controls, and rolled out a new four-tiered pricing system to optimize its revenue
By Doug Young
Growth story, or damaged follicles?
Investors were trying to figure out the answer to that question as markets opened on Monday, after leading hair transplant provider Yonghe Medical Group Co. Ltd. (2279.HK) released preliminary 2022 operating data late last Friday that looked both dire but also potentially hopeful. The direness, of course, came from a dismal end to 2022 that saw Yonghe swing into the red during the second half of the year.
But the upside could come from a potential rebound this year, as many people who delayed hair restoration services could finally get their treatments now that China has abandoned its draconian Covid control policies. And Yonghe should be able to serve them with its expanded clinic network, which continued to grow throughout last year even as many of its existing clinics were shut at the height of pandemic flareups.
The investor indecision about the latest report was evident in Yonghe's shares when markets began trading on Monday. After opening unchanged, the stock edged down and was about 1.8% lower at the midday break. That seems to show investors were perhaps slightly concerned but not too worried about a forecast that was, indeed, very much yesterday's news.
Yonghe said that 59 of its clinics, representing the vast majority of its total, were closed or forced to restrict operations at various times last year, with the average closure lasting 38 days. The company had 57 clinics at the middle of last year, and planned to raise the total to 70 by year-end, according to its previously released interim report. Plenty of other consumer-facing store operators reported similar mass closures last year, but this really appears to be one of the most extreme cases.
Yonghe probably took a bigger beating than most due to the highly elective nature of its services, meaning it was a relatively easy decision for local officials to order the closure of its clinics to control local Covid outbreaks. By comparison, other companies like restaurants and grocery stores are more fundamental to everyday life, and thus were probably allowed to stay open longer.
The damage to Yonghe's top line was quite stark. Calculations using full-year forecasts in the update show the company expects to report revenue of 524 million yuan ($76 million) to 806 million yuan in the second half of the year. A final reading at the lower end of that range would translate to a nearly 50% plunge from the 1 billion yuan in revenue a year earlier. By comparison, the company's revenue fell 29% in the first half of the year.
As its condition deteriorated, Yonghe slipped into the red in the second half of the year, forecasting a loss of up to 108 million yuan, again, based on our calculations using data from the latest forecast. That compares with an 18 million yuan profit in the first half of the year, and would mark the company's first-ever loss on a half-year basis since its December 2021 listing.
Falling margins
The company didn't give any gross margin data in its latest forecast, but noted in its interim report that the figure fell to 64.2% in the first half of last year, which included a two-month complete lockdown in Shanghai. That marked a sharp deterioration from the 73.6% gross margin in the first half of 2021, and from margins that have been above 72% for the last three years.
Despite all that gloom, Yonghe noted that the worst is now behind it following China's December decision to abruptly scrap its "zero Covid" policy that was wreaking havoc on the economy. It added that, in fact, one reason for the miserable performance in the second half of the year was its decision to keep opening new clinics in anticipation of strong demand after Covid restrictions were finally lifted.
"The impact of the Covid-19 pandemic on the group's business has been diminishing as the Chinese government optimizes its prevention and control policies," it said. It added that the easing of Covid restrictions, combined with its continued expansion and new pricing system, make it confident it is well-positioned to resume growth in the year ahead.
We would tend to agree with that assessment, as China really does look like a market that's ripe for the kinds of services Yonghe offers, both for hair-challenged men and women. In its interim report last year, Yonghe cited third-party data showing China's market for hair-related healthcare service reached 18.4 billion yuan in 2020, and was projected to grow to 138.1 billion yuan by 2030, representing annual growth of 22.3%.
Yonghe also recently rolled out a new pricing policy that, in our view, looks quite prudent by letting people choose the level of service they want based on four levels. Top-of-the-line service is provided by "Youngxiang deans," followed by two levels below that, before the bottom-tier "business chiefs" for the most economy-minded customers.
Not surprisingly, the big majority of customers – nearly three-quarters – opted for the cheapest option "business chiefs" level in the first half of last year, while most of the rest opted for the second cheapest tier of "business deans." Only a combined 3% opted for the top two tiers, allowing the company to squeeze a little more money out of these people willing to pay a little extra in hopes of better outcomes.
Despite its strong prospects, Yonghe's stock has stumbled since its IPO at the end of 2021, with its shares currently down by about a third from their listing price of HK$15.80. The stock now trades at a price-to-earnings (P/E) ratio of 46, based on its 2021 profit level, which is probably a good meter of how it might perform this year. That's relatively high compared to Perfect Medical Health Management (1830.HK), which trades at 22, though it's lower than EC Healthcare's (2138.HK) 78, both based on each cosmetic surgery providers' latest annual profits.
At the end of the day, all of these companies' profits are quite variable right now due to the Covid-created turbulence for their elective surgeries that made them easy targets for authorities to close last year. While all of the companies should bounce back this year, hair replacement should probably outperform the group due to its less controversial nature than some of the others. If that happens, Yonghe could be well placed to profit from the rebound.
To subscribe to Bamboo Works free weekly newsletter, click here