Weilong tries to spice up sales with new 'third front' strategy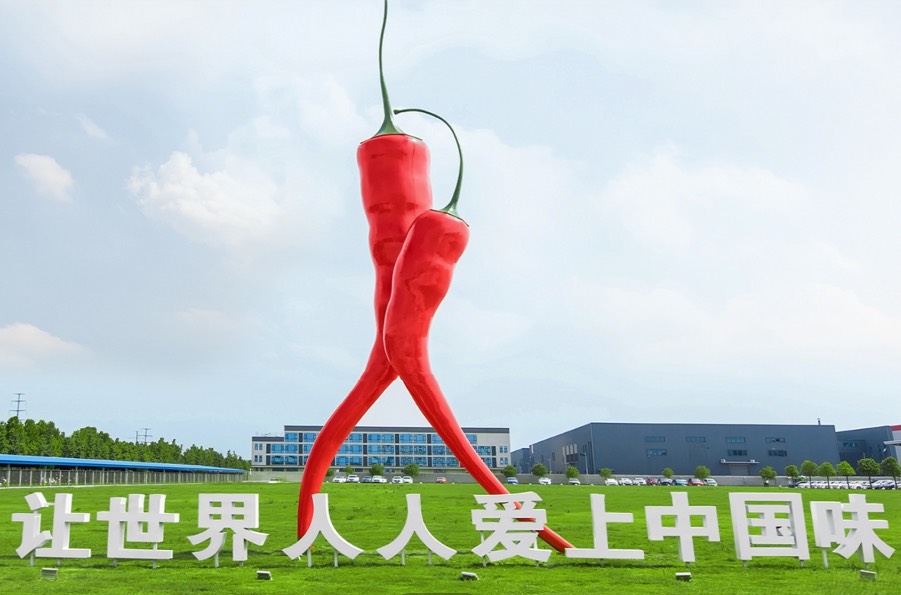 The spicy snack food maker's monthly sales from its recently launched specialty snack store initiative grew 38.1% in August from July
Key Takeaways:
Weilong sold 371,800 packages of its trademark spicy snacks in August through its new specialty retail channels, up nearly 40% from the previous month
Nearly 90% of the company's sales now come from offline distributors, with the rest from online channels
By Ken Lo 
Spicy snack maker Weilong Delicious Global Holdings Ltd. (9985.HK) finally gave investors a taste of profits this year after pulling low-priced and unprofitable products from its lineup. But such tweaks are hardly a recipe for growth, and can mostly just improve profitability.
Instead, a jumpstart for Weilong's flagging growth requires thinking outside the box – something the company may have found by opening up a third front outside its traditional offline and online sales channels.
Weilong, whose name is synonymous with spicy snacks in China, has partnered with dozens of specialty snack retailing channels in recent months, providing some new sizzle for its otherwise slow-growing sales. The company has also been reaching more young customers and developing brick-and-mortar sales networks with differentiated products and pricing strategies that are also showing some encouraging results in its latest monthly sales report.
Weilong said it sold 371,800 packages of its snacks through specialty retail channels in August, up 38.1% from July, according to the monthly report released earlier this month. The company also pointed out that with the diversification of distribution channels in China's snack food industry and fading of some conventional sales channels, it was embracing new growth opportunities presented by the rise of specialty snack shops as part of a multi-channel strategy.
Weilong is China's leading spicy snack food maker, based on sales in 2021. But even so, a high degree of fragmentation means Weilong controls just 6.2% of the market. At the same time, its significantly slowing business growth has raised concerns about bottlenecks in its traditional distribution network.
Weilong went public in Hong Kong last December, selling shares for an IPO price HK$10.56. After a brief honeymoon period when investors ate up the shares based in no small part on its famous name, the stock headed south and touched a low of HK$6.31 on Aug. 22, down nearly half from its post-IPO high of HK$12.14. With a sense of urgency at its back, the company has been working overtime to improve its profit margins.
New sales outlet
Weilong's interim results released last month disclosed some information about its move into specialty snack retailing channels, and the most recent announcement also discusses early promising results for the new model that launched in July.
The interim results, which only run through June, show just how stale Weilong's growth under its longtime sales model has become. The company's revenue of 2.33 billion yuan in the first half of this year represented just 3% growth year-on-year. Its bottom line was more attractive, as it swung into the black with a net profit of 447 million yuan for the period from a 261 million yuan loss a year earlier. Its gross margin rose to 47.5% for the latest reporting period, up 9.4 percentage points from last year's 38.1%.
Other listed spicy snack makers have seen far better revenue growth. Yanker Shop Food (002847.SZ) is one of those, posting mouth-watering 57% year-on-year revenue growth in the first half of this year; Zhou HeiYa (1458.HK), Juewei Food (603517.SH) and Jinzai Food (003000.SZ) all recorded double-digit year-on-year growth as well, of 20%, 11% and 49%, respectively.
While revenue growth is important, it means nothing if the new revenue comes with shrinking profitability. In that regard Weilong has done much better, as reflected by the big jump in its gross margin and return to profitability. It owes those gains in part to a product restructuring in the first half of the year to eliminate underperforming products, and also to price hikes. The company also benefited from falling raw material prices, a streamlining of its production processes and improvements in its cost management.
Of the company's 2.3 billion yuan in revenue in the first half of this year, nearly 90% came from offline distributors, which are its bread-and-butter sales channel. The remaining 10% came from online e-commerce channels such as Tmall, JD.com, Pinduoduo, Douyin and Kuaishou.
While the company has had relative success integrating conventional offline and newer online channels, it still faces headwinds from a shrinking customer base in the fiercely competitive market. The resulting lack of top-line growth may explain why its return to profitability has failed generate much excitement among investors, with its share price moving steadily downward this year to its latest close of HK$7.15 on Tuesday.
Specialty store buildout
Profit margins from selling through specialty snack stores probably aren't much higher than those for conventional offline channels. But both are likely higher than online channels due to the domination of several major platforms with big bargaining power in China's e-commerce universe.
In the first half of this year, Weilong's distribution and sales expenses totaled 367 million yuan, up 36.3% year-on-year, rising to 15.8% of its total revenue from 11.9% a year earlier. The company attributed the big jump mainly to two factors. Most importantly, its promotion and advertising expenses more than doubled, rising by 1.46 times year-on-year to 89.8 million yuan, as Weilong spent heavily on online activities like live broadcasting and hiring influencers to promote its products. Secondarily, the big jump also owed to expansion of the company's sales team, driving up its employee-related expenses during the period.
So, how does Weilong's stock stack up against its peers? The company's trailing price to earnings (P/E) ratio currently stands at relatively unsavory 19.4 times, lagging Zhou HeiYa's far sweeter 64 times and Juewei Food and Jinzai Food at 59 times and 30 times, respectively. Thus, it appears Weilong's shares have become less savory for investors due to its slow growth. But perhaps that could change if the new specialty store initiative can rekindle its stronger growth of earlier years.
Have a great investment idea but don't know how to spread the word? We can help! Contact us for more details.
The Bamboo Works offers a wide-ranging mix of coverage on U.S.- and Hong Kong-listed Chinese companies, including some sponsored content. For additional queries, including questions on individual articles, please contact us by clicking here.
To subscribe to Bamboo Works free weekly newsletter, click here