Strong Club Med Results Fail to Lift Fosun Tourism Back to Profits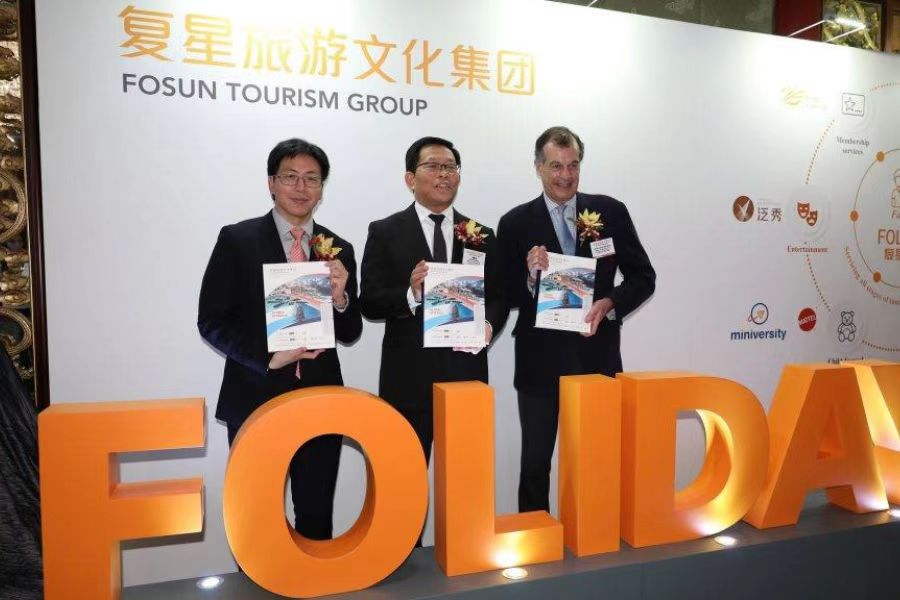 One of the world's top resort operators lost money in the first half of the year as lockdowns and travel restrictions continued to curb tourism in its home China market
Key Takeaways
• Fosun Tourism expects to post a loss of between 150 million yuan and 250 million yuan for the first six months of this year
• A strong performance by the company's Club Med business failed to fully offset losses at its Thomas Cook Travel unit and Atlantis Sanya resort on Hainan island
By Andrew Curran
A strong performance by the Club Med holiday resort chain in the first half of 2022 won't be enough to prevent parent company Fosun Tourism Group (1992.HK) from recording a loss for the six-month period. Still, those hordes of high-living customers enjoying the Club Med lifestyle have helped to significantly stem the company's losses.
Fosun Tourism, owner of the Club Med chain as well as the Atlantis Sanya mega-resort on China's Hainan island and the Thomas Cook Travel brand, told the Hong Kong Stock Exchange this week it expects to post a loss of between 150 million yuan ($22 million) and 250 million yuan (HK$290.7 million) for the first six months of this year.
While no loss is ever good, the latest forecast is still a positive because it's around 90% less than the 2 billion yuan loss Fosun Tourism recorded in the first half of 2021.
The Club Med brand, with 70 resorts worldwide, was the standout performer in Fosun's portfolio in the first half of 2022 and contributed the most to the group's recovery. Club Med operations worldwide recorded business volume of 5.7 billion yuan in the six months to June 30, up a whopping 336% on the same period last year. The latest figure was also equal to 90.2% of Club Med's revenue in the first six months of 2019, showing business for the chain is fast approaching pre-pandemic levels.
With all but eight of Club Med's resorts located outside China, and travel rebounding in most markets, the popular chain provided a handy hedge against Fosun Tourism's underperforming assets in its home market, where Covid control measures in the first half of the year put a major damper on domestic travel.
"Benefiting from the significant growth of business volume, the unaudited net profit of Club Med turned positive and improved significantly as compared to that of the first half of 2021 and recovered to a majority level of the same period of 2019," Fosun Tourism said in its profit alert.
Investors rewarded Fosun Tourism's positive report by boosting the stock by 7.1% in the first four trading days this week to close at HK$11.40 on Thursday.
But it wasn't all good news and free-for-all cocktails for the company due to weakness at its massive Atlantis Sanya resort on Hainan island, which typically accounts for about 15% of its resort operations revenue. The mega-property boasts 1,300 rooms, five underwater suites, a waterpark, aquarium and 10 food and beverage outlets. Normally it's a money-making machine for Fosun Tourism. But the resort's heavy dependence on domestic Chinese tourists was an Achilles heel in the first half of the year due to Covid 19-related lockdowns and other restrictions that prevented many people from traveling.
Business volume from Atlantis Sanya for the first six months of the year was 486.9 million yuan, just 47.1% of what it recorded in the same period last year. Despite the disappointing numbers, Fosun Tourism pointed out that business at the mega-resort was recovering nicely until March when Covid struck China's biggest cities, culminating in a two-month lockdown of Shanghai in April and May.
Sputtering Thomas Cook brand
Fosun Tourism's third big brand, Thomas Cook, also proved a drag on the group's fortunes in the first half of 2022. It attributed that to Covid 19 and the "early stages of the (brand's) business development."
Thomas Cook helped pioneer mass tourism and the travel industry when those concepts were in their infancy in the 19th century, becoming synonymous with affordable packaged holidays. But the European-centric brand floundered in 2019 and declared bankruptcy soon after that, stranding tens of thousands of travelers worldwide in a major crisis that made global headlines at that time.
Fosun already held 7% of Thomas Cook at the time of the collapse, and later negotiated a rescue package and acquired the brand outright. But with the onset of Covid and lingering reputational damage, reviving the storied brand has proven a challenge. Still, as the success of the Club Med brand attests, Fosun Tourism – which is part of the larger Fosun Group financial and pharmaceutical conglomerate – knows how to operate outside its home market.
Thomas Cook's Chinese arm continues to underperform, dragged down by travel uncertainty. But things are going slightly better at its British arm, where earlier this year business was up nine-fold year-on-year – helped no doubt by freedom of movement in the UK and strong local brand awareness.
Before Covid-19, Fosun Tourism was one of the world's biggest tourism companies, especially among leisure travelers. Then the pandemic clipped its wings and sent it into the red. But with over 1.4 billion people in its home China market where it is a leading resort operator, most analysts argue it's not a question of if, but rather when, the company gets its mojo back.
That kind of optimism is boosting the company's share price, as investors eye sunnier days ahead in the vast China market. Despite some wild swings caused by lockdowns and further waves of Covid 19 inside China, Fosun Tourism's shares are up more than 10% since the start of the year – easily outperforming the broader Hang Seng Index's 12% decline for that period.
The company's strong stock performance is similar to that for China-based competitors Trip.com (TCOM.US; 9961.HK) and Tongcheng Travel Holdings (0780.HK). All three have trended in the right direction so far this year, even though only Tongcheng is now profitable.
Analysts are tipping shares for all three companies to keep rising over 2022. Fosun has a one-year target trading price of HK$15.24 – up by a handy 25% on its latest price, according to eight analysts polled by Yahoo Finance. But with so much of Fosun Tourism's business still coming from within China, that target really depends on China ending it's "zero Covid" strategy and reopening to travel.
Still, as the first half of 2022 ended, the tone from the Fosun Tourism corporate bunker was upbeat. After the lockdowns in cities like Shanghai ended, the company almost immediately saw business improve, including at Thomas Cook and Atlantis Sanya.
"Fosun Tourism is preparing for an upturn in tourism, now that its businesses have resumed operations," said Chairman and Chief Executive Qian Jiannong. "It will continue to leverage the advantages of global presence and competitive products to grasp growth momentum in different regions."
Since the CEO's comments, Fosun Tourism has opened a new Club Med ski resort in Japan and confirmed it will start work on six new Club Med resorts inside China. Casa Cook, a spinoff from the Thomas Cook brand, has also just opened a series of small luxury hotels on some of Greece's tonier islands.
With so many fresh hotel openings, an optimistic CEO and investors happily backing the company, Fosun Tourism looks well placed to keep growing and return to profitability. With cash at hand of 3.4 billion yuan and a further 4.3 billion yuan in undrawn credit lines, it also looks sufficiently cashed up to keep funding its operations while it rides out its Covid 19 hangover.
To subscribe to Bamboo Works free weekly newsletter, click here