Sputtering WM Motor changes lanes with new U.S. listing plan – Part 1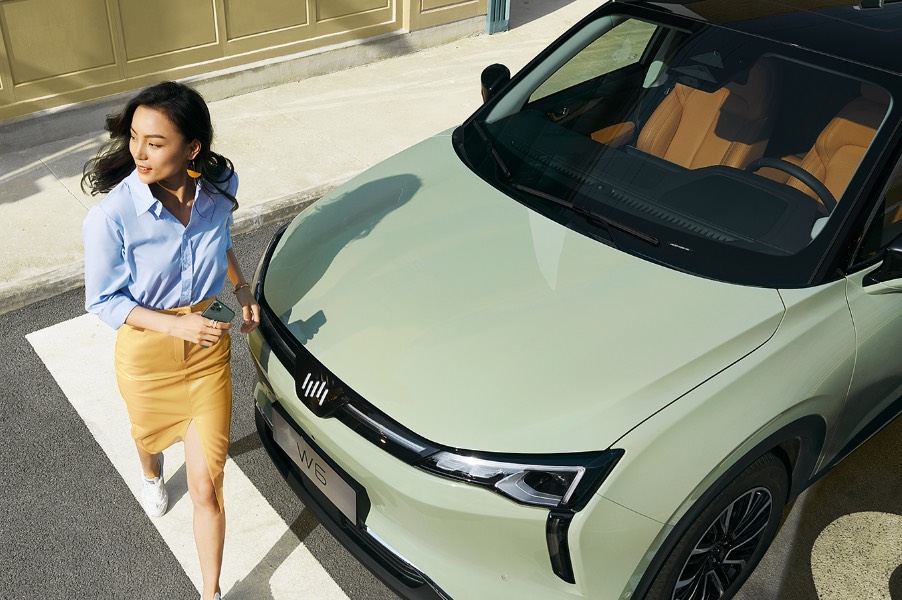 Following the collapse of its Hong Kong backdoor listing, the new energy vehicle maker is pinning its hopes on a potential merger with the U.S.-listed Kaixin Auto
Key Takeaways:
WM Motor could list in New York through a newly announced tie-up with Kaixin Auto, even though it suspended production and sales this year
The automaker's annual sales last year dropped significantly to just 30,000 units
To read the second part of this two-part series, click here
By Edith Au
The "old master" image apply for some sectors, turning "old" into "gold" for many tried-and-tested consumer brands. But it's hardly the case in the fast-moving auto sector, especially one that's making a massive shift to new energy vehicles (NEVs).
The race into NEVs is mostly filled with new names like Tesla (TSLA.US) of the U.S. and Nio (NIO.US; 9866.HK) and BYD (1211.HK; 002594.SZ) of China, which were barely known just a decade ago. China's WM Motor Technology Co Ltd. once hoped to become a standout in the field as well. But its recent road has been filled with potholes and setbacks, raising concerns about its future.
Its latest setback came earlier this month, when WM Motor's attempt at a $2 billion Hong Kong backdoor listing collapsed when its merger partner, Apollo Smart Mobility (0860.HK), slammed the brakes on the deal on Sept. 8.
But WM Motor didn't give up, even as it faces substantial challenges that threaten its very existence. Just days later on Sept. 11, U.S.-listed second-hand car dealer Kaixin Auto (KXIN.US) announced a plan to acquire WM Motor, in a deal that would give it 100% of the company in exchange for new Kaixin shares. More exact terms, including the value of such a transaction, were not disclosed.
The whole deal is full of questions, since Kaixin's own position is also somewhat precarious, and its ability to salvage the struggling WM Motor remains highly uncertain.
The Nasdaq requires that listed companies maintain a share price of $1 or higher, or they may face delisting. Kaixin's was well below that on Sept. 11 at just $0.28, and it was notified in March to get the price back up, or else. It finally came back into compliance through a 15-for-1 reverse share split on Sept. 15, putting it back above the $1 level with a closing price of $2.75 on Monday.
A roaring start
WM Motor was established in 2015 by Shen Hui, renowned as a pioneer in the globalization of China's auto industry, well before NEVs took off. Shen's achievements include helping Chinese automaker Geely acquire Volvo, the largest overseas acquisition in the history of Chinese auto industry at that time. He also played a pivotal role in restructuring Volvo's global governance structure after the purchase.
Shen's background, coupled with the promising potential of NEVs, put WM Motor in a pole position for attracting investment after its founding nearly a decade ago. Since its inception, the company has completed 12 financing rounds, raising about 41 billion yuan ($5.6 billion). Its Series D financing raised 10 billion yuan alone, making it the largest single funding round by a Chinese NEV maker at that time. Its investors have included prominent names like Tencent, Baidu, Sequoia China, Yingke Capital and the Yangtze River Industry Fund.
Drawing on his reputation to assemble a world-class management team, Shen built China's first independently operated car manufacturing plant for NEV production, setting WM Motor apart from the Mainland's other NEV newcomers. The company delivered its first model, the WM EX5, in September 2018. A year later, it was the nation's second-largest NEV maker with 17,000 units sold, making it one of China's "Four Little Dragons" at that time, alongside Nio, Li Auto (2015.HK, LI.US) and XPeng (9868.HK, XPEV.US).
WM Motor's decision to build its own vehicle plant from the get-go looks lavish, setting it apart from the other three "Dragons," which initially let others do their actual manufacturing under an OEM arrangement. In hindsight, some may argue that Shen's decision was not the wisest. The company now fully owns two highly automated plants in the cities of Wenzhou and Huanggang, capable of churning out 250,000 vehicles annually. But it isn't even close to using that capacity, leading to increased production costs.
Financial hardships
Car manufacturing is a notably capital-intensive industry. WM Motor's Hong Kong IPO prospectus, filed in June last year, showed how the company, like most of its peers, is heavily in the red. Its losses roughly doubled from 4.15 billion yuan in 2019 to 8.21 billion yuan in 2021 alone. The company also encountered a string of crises dating back as early as 2019 after some of its cars spontaneously caught fire, leading it to ultimately suspend all production and sales this year as it cut salaries, laid off staff and delayed some payments to conserve cash.
As those troubles unfolded, WM Motor sales declined sharply last year, with only about 30,000 vehicles sold, a major decline from 2021. At the same time, sales for the other three "Dragons" continued to charge forward to 122,500 for Nio; 120,800 for Xpeng; and 133,200 for Li Auto, putting WM in danger of losing its status in that select club.
WM Motor's journey towards a listing has also been filled with twists and turns. The company initially wanted to list on Shanghai's Nasdaq-style STAR Market but didn't succeed. It later shifted its sights to the U.S., but encountered resistance due to weak demand for Chinese stocks. It then turned to the Hong Kong backdoor listing plan with Apollo Smart Mobility, but that collapsed too, partly due to pandemic fallout. In the face of such setbacks, the company's latest option to list via the tiny and little-known Kaixin Auto looks like an act of desperation.
By comparison, the other three "Dragons" all made it to market at a friendlier time for new listings, giving them access to the capital they need to fund their growth and significantly enhance their competitiveness. The environment for new listings is far worse now, meaning WM Motor may have missed the best window to go public.
Its current predicament may owe at least partly to hubris, with Shen resting too heavily on his laurels from past achievements and relying on traditional car models in the designs of his NEVs. While self-confidence and solid track records are valuable, the rapidly evolving landscape for NEVs also requires adaptability and innovation – something that many traditional car giants also lack as they struggle to catch up with newer names like Tesla. In such uncharted territory, relinquishing constraints of the past may be one of the most important elements for companies to innovate and emerge as future leaders.
Have a great investment idea but don't know how to spread the word? We can help! Contact us for more details.
The Bamboo Works offers a wide-ranging mix of coverage on U.S.- and Hong Kong-listed Chinese companies, including some sponsored content. For additional queries, including questions on individual articles, please contact us by clicking here.
To subscribe to Bamboo Works free weekly newsletter, click here