RemeGen hopes for pain relief from expanded drug uses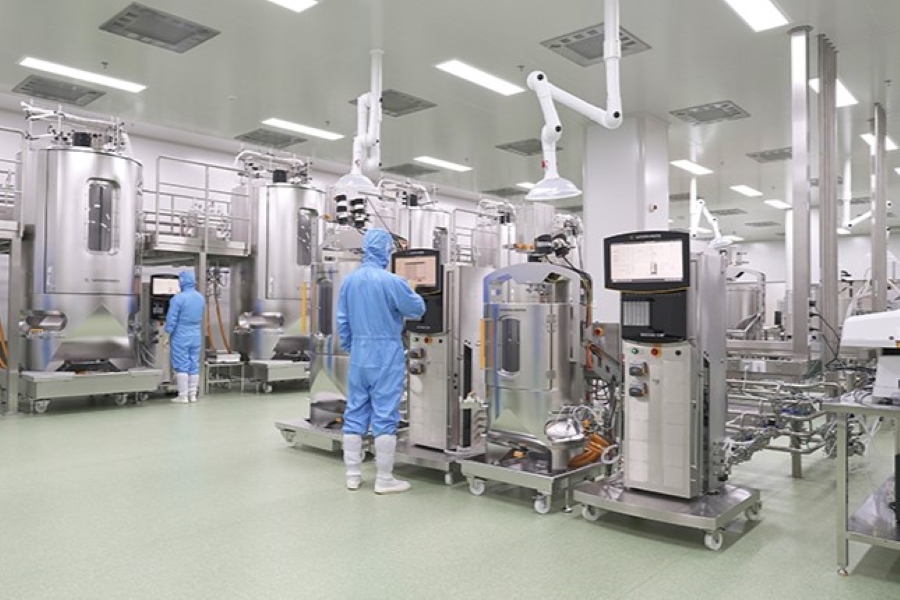 The innovative drug company has so far brought only two products to market, and its high sales expenses make investors worry about fallout from an anti-corruption drive
Key Takeaways:
RemeGen's sales expenses reached around 83% of sales income in the first half of the year and the company has flagged up a need for more spending
The pharma firm has applied to have the use of its autoimmune drug broadened to include arthritis treatment, triggering a 17.7% share price rally within a week
By Molly Wen
An anti-corruption campaign targeting China's healthcare sector has shone a harsh spotlight on pharmaceutical companies that invest heavily to inject their drugs into the medical system's supply chain.
Firms such as novel drugs maker RemeGen Co. Ltd. (9995.HK; 688331.SH) have seen their shares repeatedly hammered, as investors fret about the business impact of the government's campaign to weed out any kickbacks and other corrupt practices as medical products make their way from the factory to the hospital or clinic.
As a developer of "smart missile" drugs for cancers and autoimmune disorders, RemeGen needs to pour money into placing its cutting-edge medicines in the market. Its high ratio of selling expenses to revenues has sparked alarm since graft-busters renewed their clampdown on the pharmaceutical sector in July. And the company's latest earnings figures have further underlined its steep sales costs.
RemeGen's share price suffered one of the sector's biggest falls after toppling from a July 31 high point of HK$50.3. Its Hong Kong stock fell 13.6% in a single day on Aug. 2. The company has two approved products: the autoimmune drug telitacicept and a cancer drug disitamab vedotin. The cancer product belongs to the class of antibody drug conjugates (ADCs) that can direct a chemotherapy payload at tumor cells without harming healthy tissue.
Although its product lines are not complex, RemeGen's relatively high ratio of selling expenses to income has made investors anxious about harmful side effects from the government's anti-corruption efforts. CCB International issued a report saying that the crackdown was causing a rethink of aggressive marketing, and that hospital clients are likely to delay general procurement from the third quarter. As a result, the bank has raised its estimate for the drug maker's full-year loss to a maximum of 1.13 billion yuan ($115 million), after cutting its annual revenue expectations.
The company's selling expenses surged nearly 134% to 350 million yuan in the first half, compared with the first six months of last year. The sum was equivalent to around 83% of sales, compared with only around 57% in 2022. The financial report showed the rise was fueled by staff costs and marketing activities. Employee benefits soared 143% to 219 million yuan while market development fees also more than doubled, rising 116% to 106 million yuan from the year-earlier period.
The company pointed to its rising sales volume, saying it had to strengthen its workforce and promote itself within the medical science community to shore up its commercialization capability. At present, it has a sales force of more than 600 people for autoimmune drugs and a 600-strong team to sell oncology drugs. Both groups have access to more than 600 hospitals.
Earlier this month, RemeGen announced it had sought regulatory permission to have its autoimmune drug telitacicept used for the treatment of rheumatoid arthritis, which would raise the approved indications to two, if the application is successful. The news lifted RemeGen's stock out of the doldrums, powering a 17.7% rise over five trading days.
The drug had already gained conditional marketing approval in 2021 to treat a common type of lupus, in which the immune system mistakenly attacks healthy tissue. At the end of that year, the drug was included in a catalogue of prescriptions covered by national medical insurance.
Financial risks remain
Investors' keen interest in RemeGen stems partly from its pioneering work on ADC drugs, the latest frontier in precision therapy. The company's disitamab vedotin is the only ADC drug to have been approved for use in China, for patients with HER2-positive gastric cancer and urothelial carcinoma.
In April this year, the company got the green light to conduct clinical research into using the drug in combination with radiotherapy to treat HER2-positive advanced solid tumors, which could generate new market opportunities.
The company reported revenue of 419 million yuan in the first half, nearly 20% more than in the comparable period of last year. But its net loss swelled nearly 44% to 703 million yuan, as company finances were squeezed by the high selling expenses and R&D costs. R&D expenditure rose 20% to 540 million yuan in the first half from the prior-year period, while R&D investment to expand uses of the autoimmune medicine and cancer drug were 139 million yuan and 105 million yuan respectively. With another nine drug pipelines in clinical development, the company will likely need to keep pumping out the cash.
In its report to the A-share market, the company flagged up the risks, saying that "registration of new drugs and post-launch market promotion will generate higher costs, which may lead to further expansion of the company's losses in the short term and adversely affect the company's daily operation and financial condition." As of June 30, the company held cash and cash equivalents of 1.12 billion yuan, a sharp drop from 2.07 billion yuan on Dec. 31, 2022.
With limited revenue streams and a big R&D budget, the company will continue to rely on external financing to stay afloat. Drug makers can license out their products as another way of raising money, but RemeGen already granted clinical development and marketing rights for its ADC drug outside the Asian region (excluding Japan and Singapore) to Seagen, a global leader in the ADC field. The deal involved a down payment of $200 million, milestone payments of up to $2.4 billion and a cut of sales. According to the company's financial statement, disitamab vedotin is still in clinical trials overseas, meaning it cannot contribute new revenue in the short term.
In Hong Kong, the company's market value is about HK$21.3 billion ($2.7 billion), with a price-to-book (P/B) ratio of about four times. By contrast, fellow novel drug maker Innovent Biologics (1801.HK) has a ratio of 5.2 times and managed to shrink its losses by 80% in the first half, on higher revenue than RemeGen's income. With a justifiably lower valuation for RemeGen, investors will have to wait and see whether the drugs innovator can leverage its ADC credentials to outperform in the future.
Have a great investment idea but don't know how to spread the word? We can help! Contact us for more details.
The Bamboo Works offers a wide-ranging mix of coverage on U.S.- and Hong Kong-listed Chinese companies, including some sponsored content. For additional queries, including questions on individual articles, please contact us by clicking here.
To subscribe to Bamboo Works free weekly newsletter, click here