Questions hover over Alibaba cloud unit with chairman's surprise resignation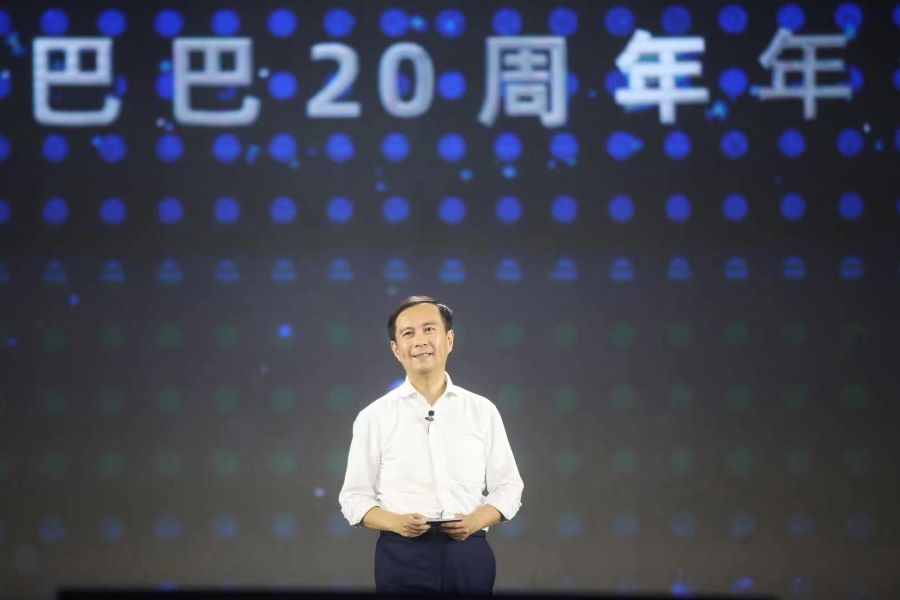 The e-commerce giant said its former Chairman Daniel Zhang will leave his new role as head of its Cloud Intelligence Unit to head a tech fund with $1 billion contributed by Alibaba
Key Takeaways:
Alibaba said its former Chairman Daniel Zhang will leave his new position as head of its cloud unit to manage a tech fund with a $1 billion contribution from the company
The cloud unit is facing a number of challenges, including Beijing's growing preference for state-run companies to handle sensitive data
By Doug Young
E-commerce giant Alibaba Group Holding Ltd. (BABA.US, 9988.HK) has had to navigate some extremely turbulent skies these last few years, marked by government clampdowns, a pandemic, a building economic slowdown and some major new competition. Now it will have to do so without its longtime pilot Daniel Zhang.
The company announced on Sunday that Zhang, whose previously announced departure as Alibaba's chairman and CEO occurred that same day, would also leave his newer job as head of the company's cloud division. He will retain his ties to Alibaba by heading a tech fund with a $1 billion contribution from his former employer.
It's a bit unclear if the departure was a real surprise, as many reports indicated, or whether it was planned. The signals seem to show there were probably at least a few weeks, if not months, between Zhang's decision to leave and the actual announcement.
On the one hand, the fact that Zhang's departure from the cloud unit, Cloud Intelligence Group, came the same day he officially relinquished his bigger title as chairman and CEO of Alibaba seems to suggest the move was planned. The fact that the company so quickly agreed to contribute $1 billion to his fund also hints at a certain level of planning.
Still, the fact that Alibaba didn't have any person-in-waiting ready to take over the cloud unit suggests there wasn't a lot of advance preparation time. Zhang's position as chairman and CEO of the cloud unit will be taken over on an acting basis by Eddie Wu, who also took over Zhang's former title as CEO of Alibaba on Sunday.
Wu is an Alibaba co-founder who later left the company before returning in the CEO's position. That's important, as his new CEO title could soon become largely ceremonial as Alibaba gets set to become a holding company that controls its six core businesses that are being spun off to operate independently under a plan announced in March.
Thus, the breakup would have left Wu as head of a company without any real operations after the breakup. That also suggests that he could be named as the cloud unit's new full-time chief when the unit names a permanent new management team, though he is more likely to stay at his CEO job at the Alibaba holding company.
In a letter to employees seen by Bamboo Works dated Tuesday, Wu focused on his new CEO title at Alibaba, without mentioning his new role at the cloud unit after Zhang's departure. "Looking forward, Alibaba's two main strategic focuses will be 'User First' and 'AI-driven,'" he wrote. "We will recalibrate our operations around these two core strategies and reshape our business priorities."
The lack of major movement in Alibaba's stock after announcement of Zhang's departure suggests that nobody was extremely surprised – or concerned – about the move. Alibaba's Hong Kong-listed shares fell 3% on Monday, but trading of its New York-listed shares, which may better reflect market sentiment since it occurred after the news was widely known, fell by a milder 1.5%.
Cloudy skies ahead?
So, why are we obsessing so much over whether Zhang's departure was planned or not? It's because the sudden shift could have big implications for Cloud Intelligence Group, one of the six major Alibaba units being spun off. The unit was considered one of Alibaba's most promising businesses, though its prospects have clouded a bit lately.
That leads us to speculate that perhaps Zhang was perhaps a bit tired after eight years at the company, including his last four that were marred by nonstop controversies after he took over as chairman in 2019 from legendary founder Jack Ma.
Alibaba was subject to criticism for its dominance of China's e-commerce market, and came under scrutiny as early as 2015 after rival JD.com (JD.US; 9618.HK) accused it of anti-competitive practices. That controversy culminated with a record 18 billion yuan ($2.5 billion) fine against the company by China's market regulator under Zhang's watch in April 2021.
That major slap came just months after Alibaba's financial affiliate, Ant Group, had to pull its mega-IPO that was set to become the world's largest in November 2020. Ant reportedly made the move after Jack Ma irked Chinese leadership with critical comments about the country's financial regulators, who were already worried about Ant's size and risks it could pose to the financial system.
Such turbulence was a far cry from the kudos that Zhang enjoyed much earlier in his Alibaba career, when he is credited with being the mastermind behind the annual "Double 11" shopping festival that has grown to become China's answer to the West's Black Friday.
Things weren't set to get any better for Zhang at Alibaba's cloud unit, which is facing its own headwinds both due to China's slowing economy and also on the policy front. China's growing concerns about data security are making it increasingly clear that it would probably prefer to see cloud services and related infrastructure run by state-owned companies.
The nation's three state-owned wireless carriers, which have a natural advantage due to their government connections and experience operating telecoms infrastructure, have all been stepping up their efforts in cloud services. Alibaba remains the leader with about a third of China's cloud services market, according to Canalys. But the unit also recorded its first-ever year-on-year revenue decline in this year's March quarter, though it returned to growth in the June quarter.
At the end of the day, we really can't blame Zhang if he simply wanted to take a break after all the controversy he weathered and future challenges he would have faced as head of Alibaba's cloud unit. His exit gives him a nice golden parachute managing a $1 billion-plus tech fund, in a role that should let him maintain a lower profile in the future.
Now, the many challenges he once had to deal with could fall to Eddie Wu, who looks set for his own wild ride as he helps to navigate Alibaba through the completion of its breakup, before turning his attention to reinvigorating the cloud division.
Have a great investment idea but don't know how to spread the word? We can help! Contact us for more details.
The Bamboo Works offers a wide-ranging mix of coverage on U.S.- and Hong Kong-listed Chinese companies, including some sponsored content. For additional queries, including questions on individual articles, please contact us by clicking here.
To subscribe to Bamboo Works free weekly newsletter, click here