Profits recover at Alibaba Health but prognosis unclear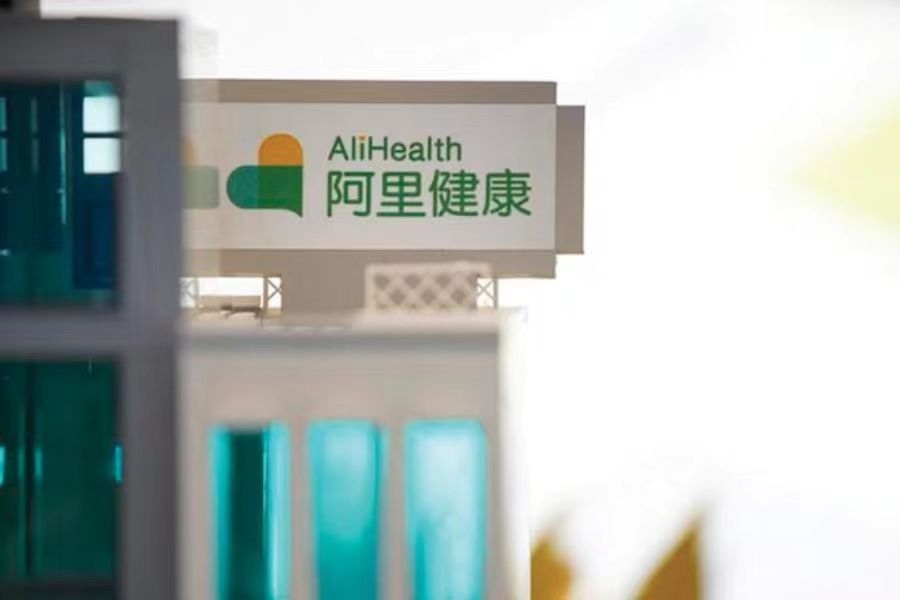 The digital pharmacy and healthcare provider returned to profit in the last fiscal year but is still struggling to limit its reliance on drug sales
Key Takeaways:
Alibaba Health delivered robust annual earnings, with revenue jumping 30% to 26.76 billion yuan
But its medical services division still accounts for just 3.5% of overall revenue
By Molly Wen
The Covid pandemic galvanized the market for online healthcare in China, as users switched to digital platforms for diagnosis and drugs.
Alibaba's health services arm was one of the companies to seize the opportunity and, as online medicine goes mainstream, the company is again seeing benefits flow to the bottom line.
Announcing annual earnings last Tuesday, Alibaba Health Information Technology Ltd. (0241.HK) reported a surge in revenues and powered from a loss to a profit of 534 million yuan ($75.2 million), a record high since its backdoor listing in 2014.
But the earnings figures for the year to end-March, while positive, were not impressive enough to sustain a share price rally. The next day, an early price bounce petered out in a weak Hong Kong market and the stock closed 4.5% lower at HK$4.67.
Investment bank Goldman Sachs said in a research report that the revenue growth was largely in line with its forecasts, and gave Alibaba Health a "neutral" rating. Meanwhile, Citi analysts lowered their price target from HK$12 to HK$9.5, citing the company's forward guidance for relatively slow revenue growth, but stuck with a "buy" rating.
In the last fiscal year, the company cashed in on the trend towards online diagnostics and drug dispensing. Its annual revenues jumped 30% to 26.76 billion yuan, while gross profit soared nearly 39% to 5.7 billion yuan, and gross margin rose 1.3 percentage points to 21.3%.
However, Alibaba Health still lags its rival JD Health (6618.HK) both in the scale of revenues and the rate of growth. JD Health's annual revenues jumped around 52% to 46.74 billion yuan last year, with gross profit rising just over 37% to 9.89 billion yuan.
Alibaba Health and JD Health have similar business models focusing on online drug sales, pharmaceutical platforms and medical consultation services. But JD Health gained an early advantage by harnessing the JD group's logistics network to fulfil orders quickly. JD Health achieved next-day delivery of 80% of its drug orders as early as 2021, while rival Alibaba Health managed only around 50% in the equivalent period.
However, the logistics gap is narrowing. The latest earnings report said Alibaba Health had built a nationwide network of 39 warehouses in 22 locations, including 28 drugs warehouses, which should shrink delivery times.
Transformation battle
Alibaba Health divides its business into three major categories: direct sales of drugs, the pharmaceutical e-commerce platform business, and the healthcare and digital services business.
The core money-earner has always been direct drug sales, in which the company buys pharmaceuticals from suppliers and delivers them straight to users. This segment generated 23.59 billion yuan in revenue in the last fiscal year, a rise of nearly 32%, helped by strong traffic in the Alibaba ecosystem. During the period, more than 130 million customers made one or more purchases from Alibaba Health's online drugstores, an increase of 18% year on year.
The second segment, the pharmaceutical e-commerce business, provides a sales platform for other online pharmacies, charging commissions and usage fees. The third category provides online health consulting services. Alibaba Health has invested heavily in developing both these strands, with the platform business contributing annual revenues of 2.24 billion yuan and 930 million yuan coming from healthcare and digital services.
Neither JD Health nor Alibaba Health have managed to break their dependence on drug selling, although telehealth services have been a growing market for more than a decade.
The revenue share from the core drugs business even edged higher in the latest fiscal year, to 88% from 87% a year earlier. Income from healthcare and digital services, once regarded as a key area of business transformation, jumped nearly 46% in the year but the overall revenue share was still only 3.5%, barely above the 3.3% in the previous year.
The profit model for online health services remains unclear, given low medical costs in China and the plethora of providers competing for business. Doctors take a big cut of the fees paid by users, and high promotion and operating costs take another bite out of revenues. In this challenging environment, none of the companies with online medical services as their core business have managed to turn a profit so far. Last July, Chinese media reported that the Alibaba department responsible for digital medical services had laid off many staff and retained only its online clinic business.
Policy questions
Last year, Chinese authorities issued updated guidance on pharmaceutical e-commerce. Rules published by the medical products regulator said third-party platform providers were not allowed to participate directly in online drug sales, triggering market concerns about constraints on pharmaceutical e-commerce companies.
Commenting on the implications, analysts at GF Securities said online healthcare companies may decide to spin off their pharmaceutical platforms if the policy is strictly applied, likely affecting the listed parents' profit performance.
However, measures introduced last August expand the pharmaceutical range sold on e-commerce platforms to include prescription drugs, potentially creating one-stop digital medicine shops. A plan issued by the State Council in December raised the possibility that medical insurance cover could be extended to drugs obtained via online platforms. Removing the current restrictions could be a significant boost for the market.
Shares in online healthcare platforms rallied in the early stages of the Covid pandemic but prices have fallen back since then. Alibaba Health's forward price-to-earnings (P/E) ratio now stands at about 55.9 times, below the 97 times for JD Health, as investors favor the scale effect at the bigger revenue earner.
In fact, uncertainty surrounds the growth outlook for online medical services, putting a question mark over Alibaba Health's ability to deliver stable profits over the longer term. Investors are likely to adopt a wait-and-see stance for now.
To subscribe to Bamboo Works weekly free newsletter, click here