NEWS WRAP: OneConnect's losses narrow as cost cuts offset revenue decline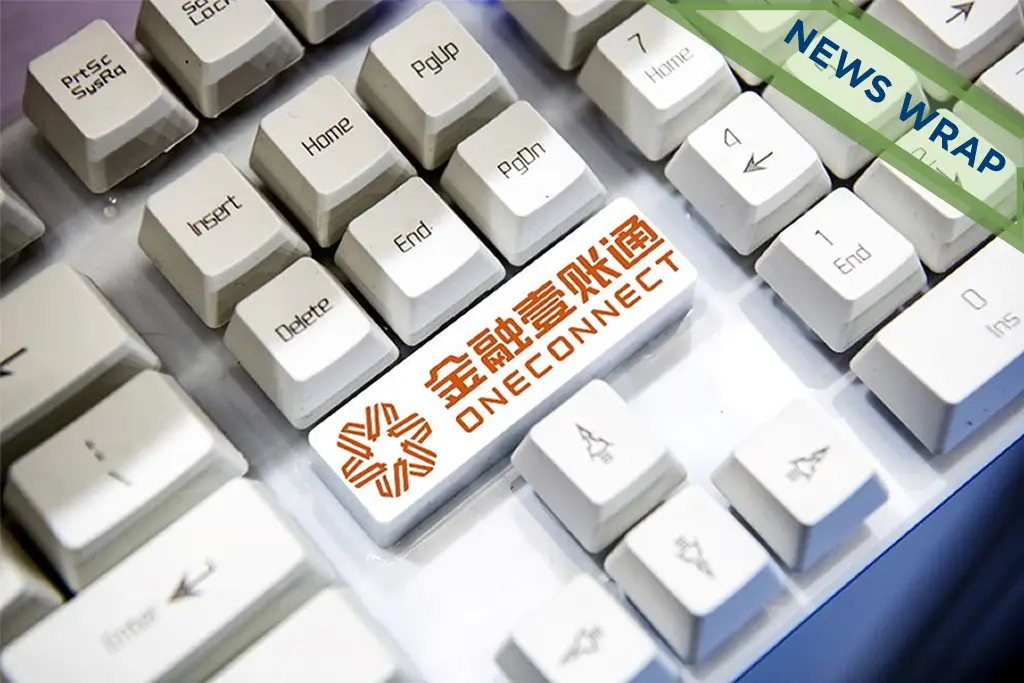 The provider of technology products and services to banks and insurers blamed a "lagging" business recovery for its 14% revenue decline in the three months to June
By Doug Young
OneConnect Financial Technology Co. Ltd. (OCFT.US; 6638.HK) reported its revenue fell 14% in the second quarter, as rising business from new customers wasn't enough to offset a big decline in demand from existing ones.
Despite the declines, cost controls and the company's broader strategy of focusing on higher-margin large customers over less profitable smaller ones helped OneConnect to significantly narrow its losses during the period, according to its latest financial report released on Wednesday.
OneConnect provides financial technology products and services to other financial institutions, mostly banks and insurance companies. Its largest customers are financial services giant Ping An, and Ping An's Lufax (LU.US) online consumer lending arm, though the company is trying to diversify its revenue from those two sources.
It reported its revenue fell to 973 million yuan ($134 million) in the three months through June from 1.13 billion yuan a year earlier. Revenue from Ping An, its largest customer, fell 15% year-on-year to 581 million yuan, accounting for 60% of the total. Revenue from Lufax dropped by a sharper 32% to 73 million yuan, making up 7.5% of the total; while revenue from remaining third-party customers dropped by a milder 7% to 319 million yuan.
It blamed the declines on the "lagging effect of businesses' recovery," which led to a "decline in transaction-based and support revenue."
Among its three largest service segments, operation support and cloud services recorded declines of 21.4% and 12.7%, respectively, accelerating from smaller declines in the first quarter. Its other major segment, project implementation services, recorded a 36.4% gain.
"We continued to implement our second stage strategy of deepening customer engagement to focus on serving premium-plus customers and product integration in the second quarter of 2023," said Chairman Shen Chongfeng. "We believe the macro-economic indicators are showing positive signals, making us cautiously optimistic about our business outlook."
The company did not provide any third-quarter forecasts.
Despite the falling revenue, OneConnect was able to slash its operating costs by an even larger 35% to 440 million yuan. As a result, its operating loss narrowed sharply to 79 million yuan from 278 million yuan a year earlier, while its net loss also narrowed to 82 million yuan from 245 million yuan.
One bright spot for the company was its small but growing international business. Within that, the company said that interest income from its virtual bank in Hong Kong rose 45% year-on-year to 34 million yuan. While the number is still small, accounting for just 3.5% of OneConnect's total revenue, it could eventual become an important contributor if it continues to grow at its current rate.
OneConnect's U.S.-listed shares fell about 4% in the two trading days after the report came out. The stock is down around 20% so far this year. The analyst community is relatively bearish on the company, with four out of six analysts polled by Yahoo Finance rating it a "hold" or "underperform."
Have a great investment idea but don't know how to spread the word? We can help! Contact us for more details.
To subscribe to Bamboo Works weekly free newsletter, click here