New Horizon Health finds formula for profits ahead of schedule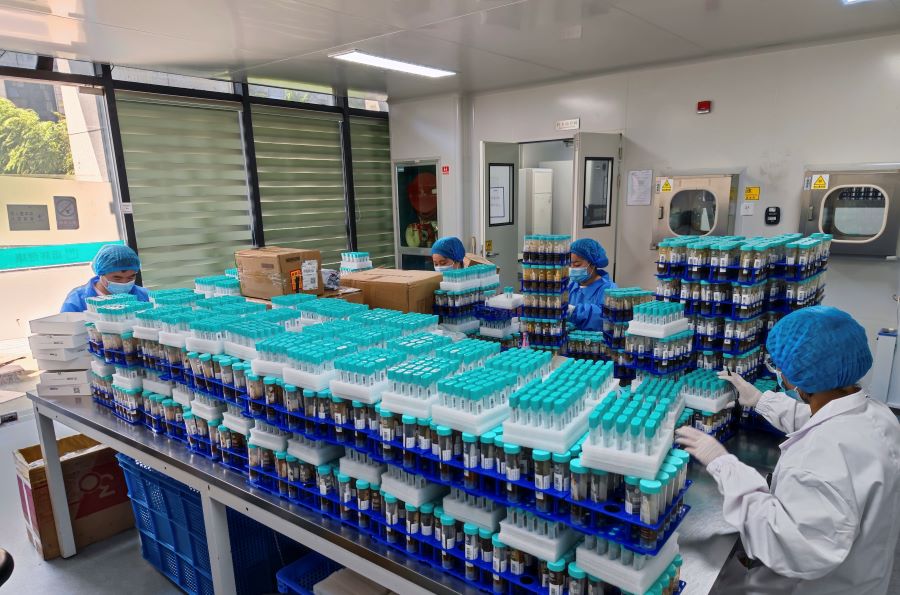 One of China's leading makers of early cancer screening products recorded an adjusted profit in the first half of the year as its revenue more than tripled
Key Takeaways:
New Horizon Health posted a 61.3 million yuan adjusted profit in the first half of 2023, benefiting from soaring revenue for its three approved products
The company sees big growth potential for its home-based cervical cancer screening product
By Molly Wen
Despite taking advantage of a special that program that lets money-losing innovative drug makers list in Hong Kong, many from the group continue to struggle in the current frosty market. But a whiff of spring is in the air as a small but growing number of those companies emerge from their cocoons with first-ever profits. New Horizon Health Ltd. (6606.HK) has become the latest such "butterfly" from the group, taking flight on soaring sales for its early cancer screening products.
The company's results for the first half of 2023, released on Monday, showed not only soaring revenues, but also a move into the black. New Horizon's revenue grew by 265% year-on-year during the six-month period, while its adjusted profit of 61.3 million yuan marked a major improvement from its adjusted loss of 106 million yuan a year earlier.
That represented New Horizon's second consecutive profitable six-month period and its first-ever 12-month period as a profitable company, as it achieved breakeven a year ahead of its previous target. The company previously recorded an adjusted profit of about 1.06 million yuan in the second half of last year, representing its first-ever profit on that basis. New Horizon's home-use products are notable compared with traditional early cancer screening technologies for their high sensitivity and specificity, as well as convenience and safety, and lower time and cost requirements.
New Horizon has entered a new stage of rapid growth on the back of aggressive efforts to commercialize its products, providing a strong boost to its major performance indicators. Its revenue more than tripled to 823 million yuan ($113 million) in the first half of the year, while its gross profit rose by a factor of four to 750 million yuan. Its gross profit margin also rose sharply to 90.9% in the latest period from 82% a year earlier. At the same time, its sales and marketing expenses as a percentage of total revenue dropped from 86% to 69.4%, as it became more cost efficient.
New Horizon's stock opened 4.9% higher the day after the report's release, but later reversed the gains and closed down 1.6% to HK$17.24 amid broader market weakness. On Wednesday last week, when the company was in its quiet period before the results announcement, a short seller report alleging inflated data circulated on the internet, sparking a selloff that caused its stock to fall sharply that day, before paring the losses to close down 6.9%.
New Horizon reacted quickly, saying the report seriously distorted the facts as it also threatened legal action. It held a conference call to address the report's allegations over prices and inflated sales. Its latest financial report also included a detailed account of the company's revenue, shipments, gross profits and other key performance figures for its three star products, addressing potential doubts raised by the report.
Rapid growth for core products
New Horizon Health now has three major products on the market. Among those, its best-seller with the fastest growth is ColoClear, a China-approved screening product whose core evaluation abilities are for its negative predictive value and sensitivity to advanced adenoma colorectal cancer. ColoClear generated 490 million yuan in revenue in the first half of the year, up 566% over the same period of 2022. The product shipped about 539,000 units in the first half, with a recognized revenue volume of about 429,000 units, and a gross profit margin of 91.5%.
We should note that ColoClear's revenue recognition methodology differs from that used by makers of general testing reagents and medical devices. The company typically first ships its products to its various channel partners. Revenue is only recognized and the actual collection process begins after the consumer completes the sample, sends it back to the laboratory and the test report is completed.
Failure of some consumers to complete the sampling process and return the kits results in the discrepancy between shipment and revenue recognition volumes. Such a model of collecting payments only after completion of tests also makes New Horizon's accounts receivable look relatively high.
CEO Zhu Yeqing said data from the company's past few semi-annual reports always shows actual accounts receivable for the current period as larger than the previous period. He said that indicates a virtuous cycle for payments, giving the company sufficient cash flow to ensure accounts receivable won't become a burden on future development.
The company's Pupu Tube, China's first fecal occult blood self-testing device, recorded 124 million yuan in revenue in the latest reporting period, up 80.9% year-on-year. Its UU Tube, China's first Helicobacter pylori self-test screening product approved in January last year, also generated 206 million yuan in revenue, up 147.4% year-on-year. As a fast-moving consumer medical product priced in the 100 yuan range, UUTube generated a gross profit of 190 million yuan in the first half of the year, with a gross profit margin of 94.2%.
As a leader in China's early cancer screening industry, New Horizon has experimented with a number of models in commercializing its products. Those include distribution through hospitals, over consumer medical channels and using private medical examination channels, depending on the different nature of its products.
ColoClear initially used private medical examination centers as its main channel, but has more recently branched into distribution using channels dominated by private hospitals and clinics. Its current network includes nearly 1,000 private hospitals, community hospitals, clinics and outpatient departments, as well as about 300 public hospitals. Pupu Tube and UU Tube mainly distribute through consumer medical channels, including insurance companies, health management companies, and internet platforms such as JD.com and Tmall.
New focus on cervical cancer
Zhu said ColoClear is already a star product with the potential to generate annual revenue of $1 billion in the future. Meantime, New Horizon is betting big on CerviClear, a cervical cancer home screening product now in the clinical research phase. "Education for the cervical cancer screening market is far better than for colorectal cancer, and existing detection methods aren't good enough," said Zhu. "CerviClear can screen for HPV infection through a home-based urine test, which addresses privacy and secrecy issues. I believe there will be more room for growth after CerviClear hits the market.
New Horizon's Chief Scientific Officer Chen Yiyou revealed at the company's media event that CerviClear had completed a baseline enrollment of 16,000 people for its clinical testing in China by the end of June, and expected to complete its entire prospective screening clinical study in 2026. After that, it aims to obtain approval from China's National Drug Administration in 2027. The company and EC Healthcare (2138.HK), Hong Kong's largest non-hospital medical service organization, launched CerviClear in Hong Kong this March, with a price of HK$1,800 ($230).
New Horizon currently trades at a price-to-sales (P/S) ratio of about 4.5 times, while U.S.-listed Burning Rock Biotech (BNR.US), another maker of cancer screening products, trades at a lower 1.8. Such discrepancy could reflect New Horizon's stronger prospects with its recent move to profitability. Its stock may have suffered a temporary setback from the short-seller attack, but its more detailed disclosure of performance figures could help to win back any doubters.
Have a great investment idea but don't know how to spread the word? We can help! Contact us for more details.
The Bamboo Works offers a wide-ranging mix of coverage on U.S.- and Hong Kong-listed Chinese companies, including some sponsored content. For additional queries, including questions on individual articles, please contact us by clicking here
To subscribe to Bamboo Works free weekly newsletter, click here