Mixue Bingcheng brews up success with age-old formula: low prices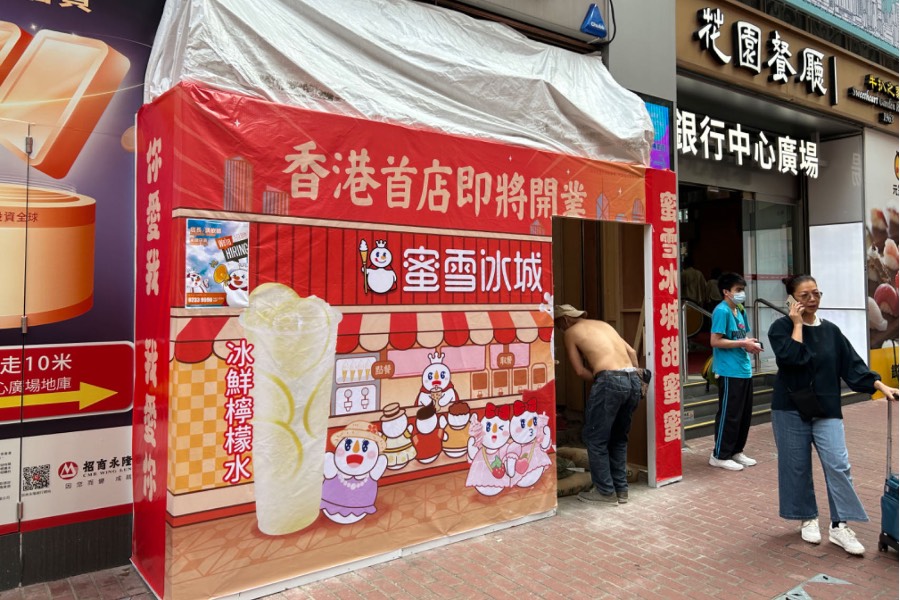 The leading ice-cream and tea chain is preparing to open its first store in Hong Kong, boosting its image locally as it reportedly gets set to list in the city next year
Key Takeaways:
Mixue Bingcheng reportedly plans to raise up to $1 billion in a Hong Kong listing, after abandoning earlier plans to list on China's A-share market in Shenzhen
The tea and ice cream chain has more than 25,000 stores, including outlets outside China in Vietnam, Malaysia and Indonesia
By Lau Chi Hang
"I love you, you love me, Mixue Bingcheng ice-cream & tea." It may sound syrupy, but the latest theme song from China's leading purveyor of tea and ice cream, sung by an animated snowman to the tune of "Oh, Sussana," has gone viral on leading video platforms Douyin and Bilibili, nicely reflecting the company's saccharin style and spirit.
Mixue Bingcheng is all about simplicity, directness and, most importantly, low prices. It's quickly developed a loyal following who flock to its thousands of stores to sample its no-frills ice-cream and tea drinks.
New shops from the chain have sprouted like weeds on the Mainland these last few years. But they've been absent from adjacent Hong Kong until a recent ad appeared in the city's bustling Mongkok area, announcing the imminent arrival of the city's first Mixue Bingcheng.
From small beginnings
Mixue Bingcheng Co. Ltd. initially planned to list in China's A-share market in Shenzhen last year, but ultimately withdrew its application. More recently, reports emerged it had hired Goldman Sachs, BofA and UBS to underwrite a Hong Kong listing, with a preliminary target of raising $1 billion. Against that backdrop, the opening of stores in Hong Kong seems like an obvious trick to pave the way for the listing by raising local public awareness.
In China's crowded premium tea drink market, Mixue Bingcheng stands apart for its dominance. Founder Zhang Hongchao was born in the countryside and set up his first shaved ice store in a small shop in the Central China city of Zhengzhou in 1997. To everyone's surprise, the chain he started has bubbled into a network of more than 25,000 stores, including outlets in Vietnam, Singapore, Malaysia, Indonesia and Thailand.
Many may ask why gaining dominance through low pricing is such a big deal. But such a balancing act is actually quite tricky, requiring cost controls while simultaneously maintaining quality. After a few years of hard work, Zhang gradually figured things out, realizing he would need to build his own modern factories and control his entire supply chain to control both costs and quality, and achieve economies of scale to bring his costs even lower.
Starting at the edges
Using his low prices, Zhang employed a strategy of "encircling from the periphery," starting out by focusing on China's smaller, less affluent third- and fourth-tier cities. He aimed to chase a huge market for affordable drinks from those areas' more cost-conscious consumers seeking certain levels of quality despite their relatively low consumption power.
Zhang's other big strategy centered on where to open his stores. Put simply, he would only open new outlets near schools to court students who were willing to spend their limited funds on popular snacks like shaved ice and frozen drinks. He also chased locations where construction was still in progress, seeking early leases at low prices in spots likely to become popular once work was complete.
But what really turbocharged Mixue Bingcheng's growth was its embrace of franchising. That embrace has bought Zhang a flood of income for everything from franchising fees to fees for supplying ingredients, equipment, packaging, and other business supplies.
That combination has produced frothy results for Mixue Bingcheng, including profits that rose from 440 million yuan ($60 million) in 2019 to 1.91 billion yuan in 2021, according to its application to the Shenzhen Stock Exchange last year. The company's revenues quadrupled from 2.56 billion yuan to 10.35 billion yuan over that period.
While many marvel at how quickly Mixue Bingcheng has grown, some also wonder whether China's premium tea industry can continue to grow at such a rapid pace. Such concerns are becoming more acute as consumers start to rein in their spending with China's slowing economy.
Bloody battlefield
China's 11 largest tea drink operators had nearly 60,000 stores by the end of March last year, even as several chains had yet to embrace the franchising model, according to Mixue Bingcheng's IPO prospectus from last year. As more companies embraced franchising, the sector has become a bloody battlefield near saturation. When the shakedown begins, a company of Mixue Bingcheng's size may be among the first to bear the brunt of any consolidation.
At the same time, other rivals like the once-highbrow HeyTea and Nayuki Holdings (2150.HK) are also eying the smaller cities that are the pillars of Mixue Bingcheng's success. And, of course, there are the many other smaller brands that are also going down market to get a slice of the pie, which is likely to pose more big challenges for Mixue Bingcheng.
Keeping its thousands of franchised stores in line may also be tricky, since such external partners may not be able to implement and enforce the company's strict systems and deviate from its operational standards. With such a massive store network, there are many places where things could go wrong.
Food safety is also a major potential issue, especially in today's market where safety standards are rising fast. Given its huge number of franchised stores, Mixue Bingcheng may have difficulty ensuring high quality at every one of those, and a single black sheep could drag down the entire brand.
When a customer complained about a spider found in a Mixue Bingcheng drink at a franchised store in Zhengzhou this year, the store failed to provide any explanation and instead offered up only bad attitude. It paid the price when it was eventually visited by inspectors from the State Council's Food Safety Commission and was forced to close during the investigation.
Investors have also taken note of looming problems for this massive tea-making complex, and are casting their own growing doubts over its prospects. Shares of Nayuki, one of the few publicly traded companies from the group, now trade around HK$4, well below their highs of more than HK$13 shortly after the company's 2021 IPO. As the market heats up and saturation looms, everyone must be wondering when this tea bubble will finally burst.
Have a great investment idea but don't know how to spread the word? We can help! Contact us for more details.
The Bamboo Works offers a wide-ranging mix of coverage on U.S.- and Hong Kong-listed Chinese companies, including some sponsored content. For additional queries, including questions on individual articles, please contact us by clicking here.
To subscribe to Bamboo Works free weekly newsletter, click here