Medical imaging group Rimag sets growth focus with IPO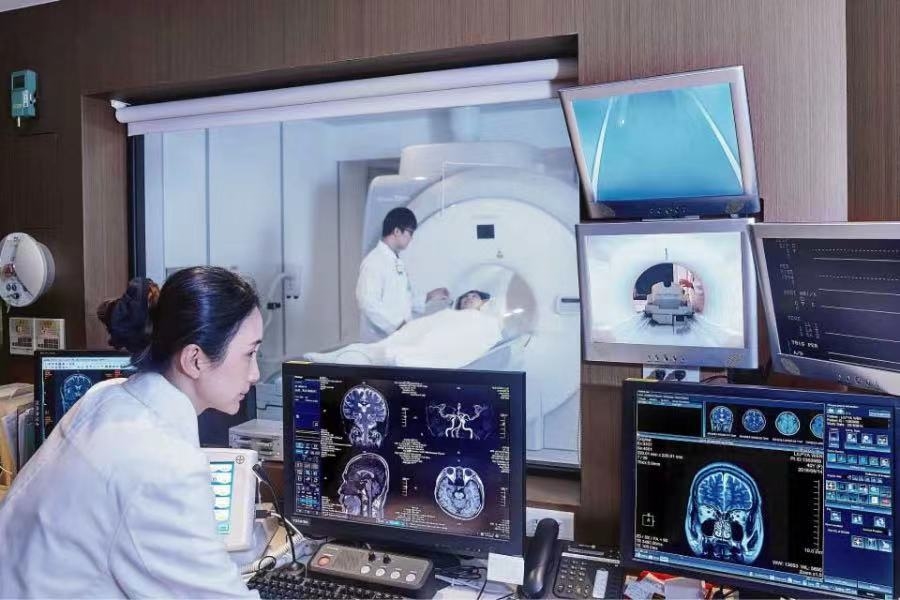 Buoyed by a healthcare boom, the provider of medical imaging services has filed to list on the Hong Kong Stock Exchange.
Key Takeaways:
Revenues have been rising at Rimag Group, which boasts China's biggest independent network of medical imaging centers
The company has not turned a profit but enjoys a higher price to sales (P/S) ratio than the overall leader in the Chinese medical imaging market
By Molly Wen
As medical demand soars across China, the healthcare system has been forced to find ways to meet a growing need for specialized services.
In the case of medical imaging, for example, the cost of buying and maintaining cutting-edge diagnostic machines would be prohibitive for many hospitals outside the big cities. But third-party providers of specialist imaging services have stepped in to bridge the gap.
A leading chain of medical imaging centers, Jiangxi Rimag Group Co. Ltd., is now looking to finance further growth by listing its shares on the Hong Kong Stock Exchange. The company operates China's biggest third-party network of imaging centers by number of locations, according to the preliminary prospectus, filed in mid-May. The company also leads the imaging center sector in terms of equipment volume, average daily exams, number of imaging medics and amount of patient fees, the prospectus said.
Since its launch in 2014, the company has built 84 imaging centers in 16 provinces, autonomous regions and municipalities in China, establishing a presence in major cities as well as 54 regions at county level.
Its flagship imaging centers in first- and second-tier cities offer examinations and screening services for individuals, while other facilities in smaller cities or regions supply diagnostics or equipment and infrastructure services.
Rimag operates its own medical imaging centers or helps partners run their centers. This business segment generated revenues of 339 million yuan ($48.3 million) in 2020, rising to 442 million yuan the following year and 498 million yuan in 2022, accounting for more than 60% of total revenues.
The company also helps medical institutions to select and buy their own imaging equipment, as well as offering customer support and cloud platform services.
Big market potential
China is severely lacking in medical imaging equipment, relative to its population size. For example, Japan and the U.S have 4.5 times and 1.8 times more capacity for computed tomography (CT) scans per million people than China. Spending constraints on Chinese medical institutions at all levels make it hard to deploy enough advanced imaging equipment to meet clinical needs. Large public hospitals with the right equipment are struggling to cope with outsized demand, creating a business opportunity for third-party providers.
Since 2013, the Chinese government has introduced policies to encourage the growth of medical imaging chains, especially regional imaging hubs at the county level. Rimag began in Jiangxi in 2014 as a shared imaging services provider for medical institutions in third- and fourth-tier cities.
China's overall market for medical imaging centers remains in its early stages but revenues have already grown from 800 million yuan in 2018 to 2.3 billion yuan last year, according to the research report cited in the prospectus. That figure is expected to reach 18.9 billion yuan in 2030, it said.
Helped by supportive policies, Rimag's revenue climbed from 502 million yuan in 2020 to 784 million yuan last year. But high costs ate into profits. The company logged gross annual profit of 157 million yuan, 175 million yuan and 237 million yuan in the past three years. But it ended up with net losses of 120 million yuan, 382 million yuan and 15.06 million yuan. The company cited price fluctuations for medical equipment and consumables, in particular the costs of buying equipment and depreciation on imaging machines installed at its centers.
Risk of policy shift
However, the company faces uncertainties as China boosts public spending on primary healthcare. In February, the National Health Commission announced that China would create more than 800 integrated medical communities at county level to devolve medical resources to smaller cities.
These networks would include centers for imaging, electrocardiography, pathology and medical testing, according to a document issued by the State Council in March. If the networks are able to build their own imaging centers with government money, the market for third-party providers would be likely to contract sharply.
Many heavyweight investors have been attracted to the model of third-party medical imaging services, despite the limited market size. In 2016, Rimag completed its Series A financing with investment from Beijing Goldman Sachs. Series B to D financing quickly ensued between 2018 and 2021, with investors including CICC Capital, Baiyi Investment, JD Health (6618.HK) and The People's Insurance Company (1339.HK). The Series D round led by JD Health raised 626 million yuan, leaving Rimag with a valuation of around 7.18 billion yuan.
Despite being in the red, Rimag is not short of capital, with about 340 million yuan in cash at the end of last year. The company could be pushing ahead with an IPO under pressure from institutional investors looking to cash out. The prospectus said the proceeds will be used to expand the firm's network of imaging centers, to attract and retain talent, and develop imaging technology and platform capabilities.
The market leader in China's medical imaging sector is Shanghai United Imaging Healthcare (688271.SH), a developer and manufacturer of medical equipment. The company listed on Shanghai's Nasdaq-style STAR Market last year with a market capitalization of over 100 billion yuan and has a current price-to-sales (P/S) ratio of about 12.5 times. Although Rimag has yet to pass the listing hearing, its P/S ratio is still 14.4 times based on its Series D valuation and 2022 revenue. Investors may need to weigh up the company's prospects carefully, as maintaining its growth pace may be a challenge in the long run.
To subscribe to Bamboo Works weekly free newsletter, click here