MedBot seeks commercial edge with dual-use surgical robot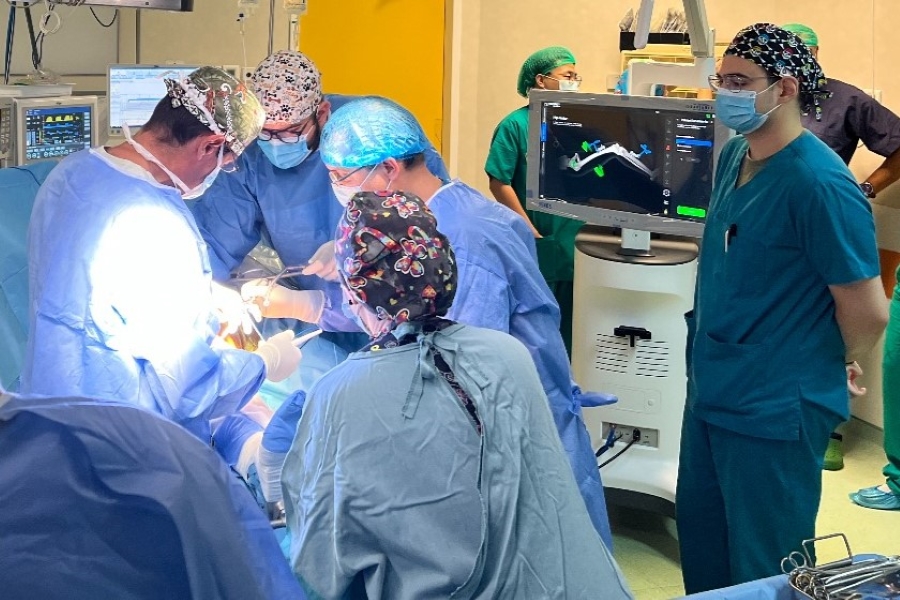 The company's orthopedic robot is the first domestically developed device to be approved for both hip and knee surgeries
Key Takeaways:
Even with its latest product, MicroPort MedBot faces intensifying competition in the field of medical automation from dominant imports and rival Chinese devices
The company made only 47.6 million yuan in revenue in the first half of the year and posted a net loss of 545 million yuan, reflecting the challenge of penetrating the surgical robotics market
By Molly Wen
Robots are quite literally on the cutting edge of medical science. Alongside doctors and nursing staff, they are an increasingly essential part of a surgery team, assisting in keyhole procedures and joint replacements.
The medical robot market is dominated by foreign brands such as the U.S. company Intuitive Surgical (ISRG.US), but China has been investing heavily to nurture domestic champions including Shanghai MicroPort MedBot (Group) Co. Ltd. (2252.HK).
The company celebrated a commercial milestone last Friday after gaining Chinese marketing approval for its MedBot "SkyWalker" robot to be used for both hip and knee surgery.
MedBot is one of several up-and-coming Chinese brands vying for a slice of the robot-assisted surgery business, alongside Tinavi Medical Technologies (688277.SH) and Shenzhen Edge Medical.
Investors welcomed MedBot's latest advance in the precision surgery business, sending the company's shares up 6.7% in the two days after the announcement.
The company said its self-developed SkyWalker robotic arm could now be deployed for both total knee arthroplasty (TKA) and total hip arthroplasty (THA), operating with greater precision and efficiency than human surgeons in slicing bones and implanting replacement joints. The robot-enabled surgery also results in better postoperative outcomes and fewer medical complications, as well as speeding up the training process for surgeons, the announcement said.
MedBot won approval in April last year for its device, equipped with China's first domestically produced surgical robotic arm, to be used for knee operations. The approval for other orthopedic operations would help Chinese products better compete against Western surgical technology at home and overseas, the company said.
Medical robots are typically classified into five main types according to the type of surgery they are used for. There are laparoscopic, orthopedic and pan-vascular robots, with the other two categories performing trans-natural orifice surgery or percutaneous puncture. In all five types, the aim is to carry out minimally invasive surgery. The company has had three flagship products approved by Chinese medical regulators: the Toumai Laparoscopic Surgical Robot, the DFVision 3D Electronic Laparoscope and the SkyWalker robot.
Robot rivalry
Competition is rapidly heating up in the field of surgical robots. The MedBot brand is up against imported products such as the sophisticated Da Vinci robot from the U.S. as well as a host of newly approved devices from other Chinese manufacturers. Last year at least 15 surgical robot products were approved in China, including three for endoscopic surgery, 10 for orthopedics and two for neurological operations, according to data from industry media outlet EO Healthcare.
Unlike other medical device makers, surgical robot manufacturers can count on three revenue streams: systems, consumables and services. Surgical robots are sold to hospitals for a one-off price including hardware and supporting software. The robotics companies also sell items to be used with the robots during surgeries, such as robotic arms, stabilizers and other specialized products. Thirdly, they provide after-sales maintenance and other services. Taking the Da Vinci as an example of the business model, manufacturers generate revenue from selling systems in the early stage and continue to make profits over the longer term by providing consumables and services.
Given the sheer size of the equipment, surgical robots usually cost millions or even tens of millions of yuan. The Da Vinci retails for more than 20 million yuan ($2.74 million), affordable only for China's top-tier hospitals that have substantial budgets and a big patient base.
Hospitals that have invested in a Da Vinci may be reluctant to switch to alternative robots, even if domestic brands offer discounts to boost sales. The clinical value of the new machine could be considered unproven, or buyers may be afraid of losing out if the utilization rate ends up being modest. And in that case it is even harder for robotics companies to turn a profit by selling consumables and services.
MedBot's half-year results illustrate the challenge of turning cutting-edge medical technology into commercial success. Although three of its products have gained marketing clearance, the company's revenue in the first half of the year only amounted to 47.6 million yuan. Its core product, the Toumai laparoscopic robot, was approved in January last year but only four of the devices had been commercially deployed by the end of June this year. Only one SkyWalker robot, approved in April last year for knee surgery, had been installed by the middle of this year.
Faced with cutthroat competition, surgical robot makers need to invest heavily to penetrate and educate the market. MedBot's selling and marketing expenses nearly tripled in the first half of the year to 126 million yuan, compared to the same period a year earlier. These were mainly staff costs for the business team, training for doctors and expenses from clinical verification.
During the six-month period, the company's net loss grew to 545 million yuan, as multiple product launches pushed up sales costs.
The company is looking to break into overseas markets to gain faster traction for its products. Aside from China, the SkyWalker has been certified by medical authorities in the U.S., the European Union, Brazil and Australia. It is the first Chinese surgical robot approved for marketing in all five jurisdictions.
The company listed in November 2021 at HK$43.2 per share. It was the darling of the market in those early days, when its stock price reached HK$73.45. However, with the Hong Kong market in a slump and the medical sector struggling, MedBot shares have been sliding and now trade around HK$20. The price-to-book (P/B) ratio is about 16 times, much higher than the 4.5 times for market peer Tinavi Medical Technologies.
MedBot has established itself as a market leader in Chinese surgical robotics, but it needs to translate that status into stronger commercial success in order to strengthen investor confidence.
Have a great investment idea but don't know how to spread the word? We can help! Contact us for more details.
The Bamboo Works offers a wide-ranging mix of coverage on U.S.- and Hong Kong-listed Chinese companies, including some sponsored content. For additional queries, including questions on individual articles, please contact us by clicking here.
To subscribe to Bamboo Works free weekly newsletter, click here