Maoyan Leans on Tech Giants to Tap China's Film Rebound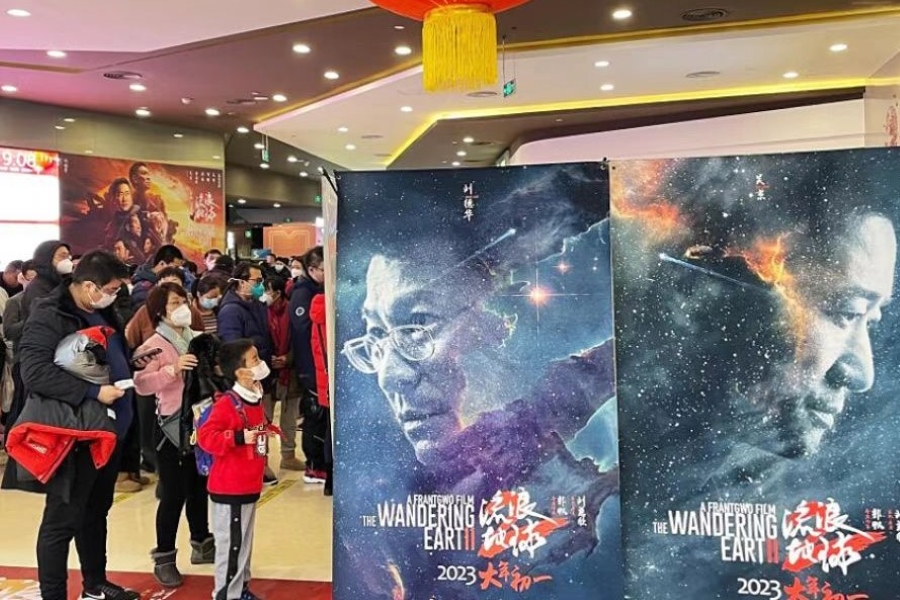 The online ticket seller and film producer has renewed key agreements with Tencent and Meituan as China's film industry starts to recover
Key Takeaways:
Maoyan has announced renewed tie-ups with internet giants Meituan and Tencent in a bid to capitalize on China's rebounding box office
Observers expect a strong recovery for China's film industry, following a solid performance during the recent Lunar New Year holiday
By Tina Yip
China's film industry became a poster child for the damage wrought by the pandemic, as the nation's theaters often sat empty or half-full during repeated closures as Beijing tried to keep the virus at bay. The damage reached a peak last year, with the annual box office plunging 36% to just 30 billion yuan ($4.36 billion) as cities tried in vain to stop the spread of the highly contagious Omicron variant.
But the hard-hit industry looks set to for a rebound after Beijing's abrupt scrapping of nearly all of its Covid controls in early December, which should benefit companies like Maoyan Entertainment (1896.HK). The online ticket seller and movie investor's name was in its own spotlight last week, after it announced its renewal of two strategic tie-ups with Internet giants Tencent Holdings (0700.HK) and Meituan (3690.HK) in its bid to get more bang for the buck in the upcoming rebound.
Things are looking good so far for such a rebound, as Chinese crowd into cinemas after three years of avoiding them. The country's box office this year through Feb. 19 already reached 12.7 billion yuan, equal to 42.2% of the total for all last year, according to China Movie Database. Two blockbusters accounted for about two thirds of that, with both films counting Maoyan among their backers.
Timing of the company's tie-up renewals looks like a savvy way to strike while the box office is hot. One of last week's announcements saw Maoyan say it was renewing its strategic cooperation framework agreement with Meituan through the end of 2025, including continued key access through its special portal on the online-to-offline (O2O) service giant's home page navigation menu. Maoyan said the two also intend to renew their cooperation in other areas such as payments, settlement and infrastructure services.
The same day, Maoyan also announced it had entered a marketing promotion framework agreement that would give it traffic and technical support from Tencent, and give Maoyan access to use Tencent's products, channels, software and intellectual property through the end of next year. Maoyan's service payments under the deal were capped at 110 million yuan this year and 150 million yuan next, with the final amount based on the actual number of Maoyan products sold through the partnership.
Independent analyst Ivan Chow said the latest calculations under the Tencent deal looked aimed at controlling Maoyan's costs. "Maoyan's marketing and promotion expenses nearly doubled in a year, from 280 million yuan in 2020 to 506 million yuan in 2021. Now the service fee will be calculated in terms of sales volume and capped in the latest agreement … which will be more advantageous to Maoyan," he said.
Maoyan has history with both of the internet giants. Its Maoyan Pictures unit was originally incubated within Meituan, and then was later merged with Tencent-backed Weiying to form the current Maoyan Entertainment. Tencent currently holds 13.95% of the listed company, while Meituan also holds 7.31%. Given Maoyan's longer-term involvement with both companies, it should come as little surprise that its stock was largely unchanged over the three trading days following the two announcements.
Countering Alibaba
The Tencent tie-up is a textbook case of how the internet giant incubates smaller startups by giving them preferred positions in its vast ecosystem, usually in exchange for a stake in the companies. Other examples of such nurturing include Tongcheng Travel (0780.HK), real estate services giant KE Holdings (BEKE.US; 2423.HK) and ride sharing giant DiDi Global (DIDIY.US).
According to Chow, Maoyan's simultaneous announcements of the two partnership extensions are clearly aimed at countering one of its archrivals, Alibaba Pictures (1060.HK), which is controlled by Alibaba Group (BABA.US; 9988.HK), as the two market leaders vie to reap the bounty of China's rebounding film market.
Maoyan started as China's leading online movie ticket seller. But as that business has slowed, it has more recently shifted its focus to content development, including movie production, distribution and promotion. That effort now appears to be finally paying off. In the first half of last year, its entertainment content services revenue reached 533 million, nearly as much as the 592 million generated from online ticketing services. That part of the business accounted for 44.8% of overall revenue, up 8.1 percentage points year-over-year, reflecting its faster growth than the older ticketing business.
Maoyan has benefited from a recent preference in China for domestic movies, which now account for about 60% of the box office. Many of those are increasingly patriotic and nationalistic movies that have been favored by the country's film regulator, which should work to the benefit of domestic producers like Maoyan.
Strong "golden week"
Following a strong box office during this year's Lunar New Year holiday, the Chinese film industry is looking ahead to the next big holiday that will come with Labor Day on May 1. Movies have been jockeying for release slots during that holiday period, including "Godspeed", a comedy starring Qiao Shan; Hong Kong director Alan Mak's "The Procurator"; and the patriotic "Born to Fly," centered on fighter-jet test pilots.
"'Born to Fly'will be a candidate for box office winner because its subject and background have been proven popular by the classic hit 'Top Gun,'" said Chow. "It tells a story about the Chinese Air Force and used real J-20 fighter jets for shooting. That, coupled with the trend of nationalist films in China, should make this movie a blockbuster."
China's movement beyond the shadow of Covid-19 has proven good medicine for film company stocks, which have rebounded significantly over the past three months. IMAX China (1970.HK) shares have soared 78.5% in that time, while Alibaba Pictures is up 26.2%, and Maoyan is up 25%. Alibaba Pictures leads the group in valuation terms with a lofty forecast price-to-earnings (P/E) ratio of 46.4 times, while Maoyan is lower but still relatively high at 31.3 times. That apparent preference for Alibaba Pictures could owe to its more upstream position in the industry.
Investment banks remain quite confident about Maoyan. Morgan Stanley said details in the company's latest agreements with Meituan and Tencent look better than expected, prompting it to raise its earnings forecast by 10% for this year and next, and reiterate its "overweight" rating. It ranks Maoyan as its top choice in the film industry, and raised its target price for the company to HK$13.90 from HK$12.60, representing a premium of more than 30% above its current levels.
To subscribe to Bamboo Works weekly free newsletter, click here