LightInTheBox outpaces e-commerce rivals on low-end product focus, geographic diversity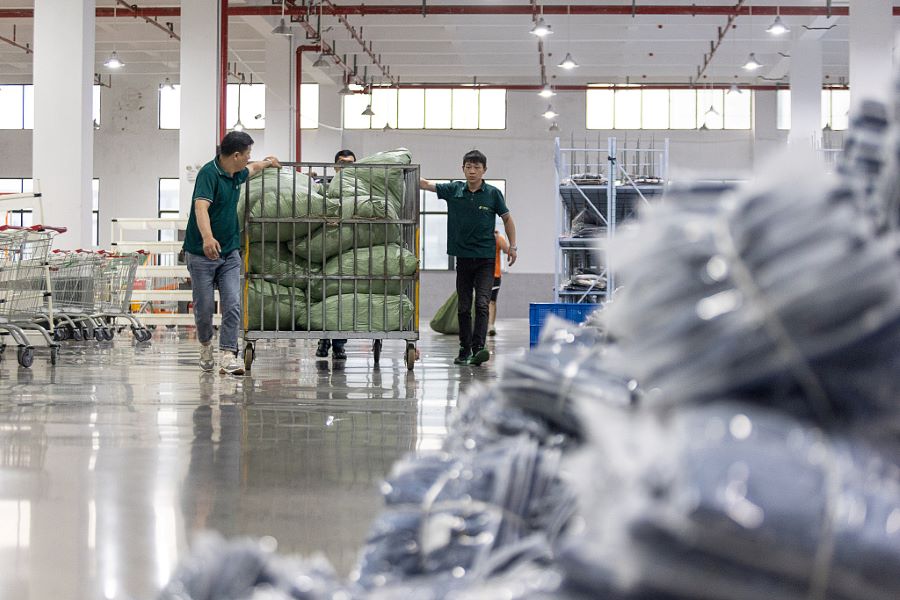 The operator of online sites specializing in cheap apparel posted record quarterly revenue growth in the second quarter, though it lost money due to heavy spending on marketing
Key Takeaways:
LightInTheBox's revenue rose 45% in the second quarter, but it forecast the growth rate would slow in the current quarter due to 'macroeconomic turbulence'
The company is better positioned than its peers due to its more global sales footprint and its focus on cheaper apparel for cost-conscious buyers
By Warren Yang
When times are rough, consumers naturally tend to gravitate toward bargains. While that's bad for luxury brands and other higher-end goods, discount retailers of items like clothing can flourish. That seems to a big factor behind the latest strong quarterly results from LightInTheBox Holding Co., Ltd. (LITB.NY), operator of online shopping sites specializing in cheap apparel.
In difficult times it also helps to be geographically diverse, which is another major driver behind the company's strong second-quarter performance, even as other major Chinese e-commerce companies reported much weaker growth. But even there, LightInTheBox signaled it could face some turbulence in the coming quarters.
LightInTheBox's revenue jumped 45% to about $192 million year-on-year in the April-June quarter, representing its fastest quarterly growth since its IPO a decade ago, according to its latest earnings report released last Friday. Apparel sales grew about 50%, outweighing a decrease in sales of other goods that include everything from toys to wigs.
The company's second-quarter results are impressive for an online retailer, given the fragile state of the Chinese economy right now. Private consumption, in particular, remains weak in China amid record high unemployment among youth who are major users of e-commerce sites.
But then again, LightInTheBox's strong performance also makes sense since the low-cost products that are its specialty are exactly what shoppers want right now. And while they can perhaps do without the likes of extras like hairpieces, many may still want to update their wardrobes if they can do it cheaply.
And perhaps more importantly, LightInTheBox also sells the majority of its products to customers outside China, so global demand can help it offset weakness at home. The company didn't provide a regional breakdown for its sales in its latest quarterly report. But its annual report for 2022 shows it earned nearly 80% of its revenue last year from Europe and North America, with the remaining 20% coming from other countries.
LightInTheBox has been around for some time. It was created in 2007 by Guo Quji, who previously spent a few years at Google's China unit. The company is now led by He Jian, who took over at the helm in 2018, following its acquisition of Ezbuy, a Singapore-based e-commerce platform that he founded.
While the company is best known for its customizable wedding dresses, it sells a full range of clothing for all genders and age groups. It has its own design team, but it outsources the manufacturing of its products to third-party partners and ships them directly to its customers in more than 140 markets via international couriers like DHL and FedEx. LightInTheBox operates its own warehouses near its suppliers to keep logistics costs low and uses internet platforms like Google and Facebook for marketing.
This way, LightInTheBox can target consumers around the world without having to deal with the hassle of setting up and managing costly international retail infrastructure. And thanks to the relative simplicity of its operations, the company enjoys a pretty good gross profit margin that is well above 50%, much higher than e-commerce giant Alibaba's (BABA.US; 9988.HK) margin below 40%.
Clothing focus
Apart from the actual cost of the products it sells, other costs LightInTheBox deducts from its revenue to get to its gross profit are mostly just shipping fees it pays to receive its products from its suppliers. Alibaba books a wider variety of expenses, including those related to logistics and the operation of its mobile apps and websites, as part of its cost of revenue.
LightInTheBox's margins on apparel are better than those for other products, so it's no surprise that the company appears to be increasingly focusing on the former. The share of clothing sales in its overall revenue went from just a little more than 40% in 2020 to 85% in the second quarter. That helped LightInTheBox improve its gross profit margin from 44% to 58% during the period.
Yet things are not all rosy for the company. It has been ramping up its marketing to get a leg up on the competition in a highly crowded industry, where it may be increasingly butting heads with more aggressive Chinese fashion names like Shein and PDD's (PDD.US) Temu that are also targeting lucrative Western markets.
The increased spending on marketing pushed LightInTheBox into the red last year, and that trend continued this year. The company's marketing costs jumped more than 60% year-on-year in the second quarter and by more than two-thirds in the first half of the year. LightInTheBox remained unprofitable in the second quarter and the first six months of this year, although its net loss narrowed as its revenue grew.
Despite its strong revenue growth in the second quarter, the company gave a cautious outlook for the July-September period. It expects to earn revenue of between $145 million and $160 million for the current quarter, which would represent more than 30% year-on-year growth at the top of that range, marking a relatively large slowdown from the strong second-quarter performance.
"As we move into the third quarter (of) 2023, we are seeing that macroeconomic turbulence, together with normal seasonality in the apparel sector, is impacting on our top-line performance," LightInTheBox said.
Investors gave a thumbs-up to LightInTheBox's latest results, sending its shares up 4.6% on the day of their release. But the stock is still down more than 80% from what it fetched in its IPO in 2013, and it trades at a price-to-sales (P/S) ratio of just 0.2. Valuations for other e-commerce companies are also depressed, though not quite as much. The P/S ratio for Alibaba is stuck below 2, and the multiple for another online discount retailer, Vipshop (VIPS.US), is well below 1.
The weak valuations show that investors aren't so thrilled about this group in general – understandably, given all the downbeat headlines about China's sluggish economy. LightInTheBox may be slightly better positioned due to its global focus. But to truly stand out in the pack, it will need to demonstrate that it can rein in spending and return to profitability, as it has already proven its ability to grow its revenue through good and bad times.
Have a great investment idea but don't know how to spread the word? We can help! Contact us for more details.
The Bamboo Works offers a wide-ranging mix of coverage on U.S.- and Hong Kong-listed Chinese companies, including some sponsored content. For additional queries, including questions on individual articles, please contact us by clicking here.
To subscribe to Bamboo Works free weekly newsletter, click here