Kingdee transition still ongoing as cloud unit casts shadow on profits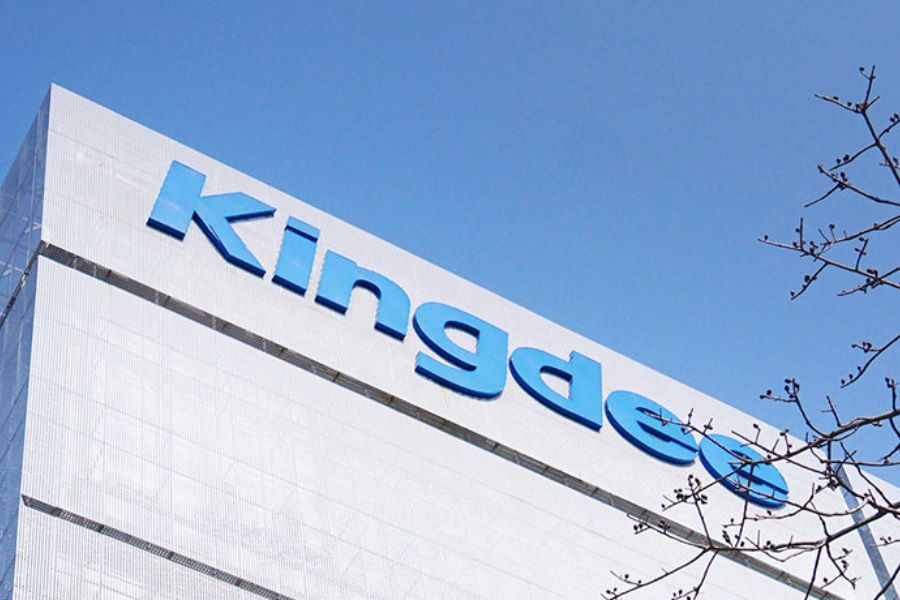 China's biggest corporate software maker is scaling back its enterprise resource planning (ERP) business, but costs for its newer cloud unit are still nearly one-third of revenue
Key Takeaways:
Kingdee's revenue rose 17% in the first half of the year, as its net loss narrowed but still remained substantial
The software developer is transitioning swiftly into a provider of cloud-based software as a service (SaaS) products, while its legacy ERP business is dwindling
By Edith Terry
Investors may be tiring of hearing the same tune from Kingdee International Software Group Co. Ltd. (0268.HK), one of China's oldest software makers that is looking for a new chapter by providing more lucrative software as a service (SaaS). Its name means "golden butterfly," and following release of its six-month results last month, Kingdee's shares fluttered up briefly. But like Kingdee's own story, the lift was quite transitory, and the stock is down nearly 60% from its high in January.
Kingdee's founder, chairman, and chief software architect Xu Shaochun, who also uses the name Robert, has been saying for at least the past seven years that his company's future is in the cloud. In the early days, its cloud services business revenue jumped 138.3% to 125.2 million yuan ($17.2 million) in the first half of 2016.
At the time, Xu predicted cloud services would deliver 40-50% of its total revenue within three years. In 2017, he famously took a hammer to his laptop and bashed a data server after pulling out of the business of running network computer servers to concentrate on cloud services.
Kingdee isn't the only company to chase cloud-based services, which fall into the broader category of SaaS. Such services are more attractive than the traditional software business because they provide companies like Kingdee with recurring revenue streams from supplying computing services, rather than just one-off fees for software sales.
Kingdee's cloud future has arrived much faster than Xu predicted, buoyed in part by the company's alignment with government policy of developing indigenous technologies. Cloud services represented 79.5% of Kingdee's 2.6 billion yuan revenue in the first half of 2023, compared to 76.4% in the first six months of 2022.
The company projects the domestic market for its previous focus in ERP application infrastructure and middleware software will be worth around 23 billion yuan by 2030. By comparison, it says, the domestic financial software and related SaaS market will be worth more than twice that at 47.5 billion yuan by 2030, while the domestic market for human capital management software and related SaaS will be worth another 44 billion yuan.
Despite the promise of those cloud-based services, investors may be put off by Kingdee's continuing losses. While the 2.6 billion yuan in revenue for the first six months of this year represented a 16.8% year-on-year gain, the company lost 284 million yuan for the period, narrowing from a 356 million yuan a year earlier. Down, yes, but not enough. Nearly 830 million yuan in R&D expenses were a big driver of the latest loss, up 4.3% year-on-year and accounting for nearly one-third of revenues.
Despite its continuing losses, eight out of 10 analysts canvassed by Yahoo Finance rate Kingdee as a "buy" or "strong buy," and the 26 analysts who cover it estimate its sales will grow 15.6% this year. Its price-to-sales (P/S) ratio of 6.93 is ahead of peers such as consumer-focused Kingsoft (3888.HK) at 4.6 and the smaller Weimob (2013.HK), at 4.39.
Trend spotter
Born on a farm in Central China's Hunan province, Kingdee founder Xu worked in a factory, then a local tax bureau before moving to the southern boomtown of Shenzhen and borrowing 5,000 yuan to set up his own business. He used his twin degrees in computer science and accounting to develop innovative technology, such as applications for businesses that sound a warning when electricity bills are over budget.
Xu founded Kingdee in 1993 and has managed to spot the latest industry trends as his company evolved from its origins selling accounting software based on Microsoft Windows to Chinese companies, to a range of accounting and other products for small- and medium-sized domestic customers. He watched as Microsoft and others began moving their software to the cloud on servers based in data centers, and saw his own opportunity to focus on similar SaaS applications for enterprises.
While the U.S.-China tech wars have proved a headache to many businesses, they have actually benefitted Kingdee by helping it scoop up customers. In 2021, former Kingdee President Shen Chongfeng said in a media interview that U.S.-China tensions were providing a "once-in-a lifetime" opportunity for domestic cloud businesses to take off, as Chinese companies were forced to reduce their reliance on rival foreign products from names like Oracle (ORCL.US) and SAP (SAP.DE).
The tech tensions have only increased since then, and in the first six months of this year Kingdee's two major services for large clients won 297 new customers with a total contract value of 550 million yuan, much of that recurring revenue. Many of the new customers were big state-owned enterprises. Overall, the company reported that annual recurring revenue for cloud subscriptions grew 36.3% year-on-year to 2.54 billion yuan in the first half of 2023.
Digging deeper into the company's financials, Xu's conviction that Kingdee's future lies in the cloud has, among other things, left it deeper in debt. R&D costs have helped drive its gearing ratio to 65%, up from 58% just six months earlier, with borrowing up about 200 million yuan to 590 million over that period. The company's cash and cash equivalents decreased over the same period from 1.9 billion yuan to 1 billion yuan, showing the pressure it is feeling to return to profitability.
Have a great investment idea but don't know how to spread the word? We can help! Contact us for more details.
The Bamboo Works offers a wide-ranging mix of coverage on U.S.- and Hong Kong-listed Chinese companies, including some sponsored content. For additional queries, including questions on individual articles, please contact us by clicking here.
To subscribe to Bamboo Works free weekly newsletter, click here