Kappa's China Franchisee Stumbles in Race for China Sportswear Market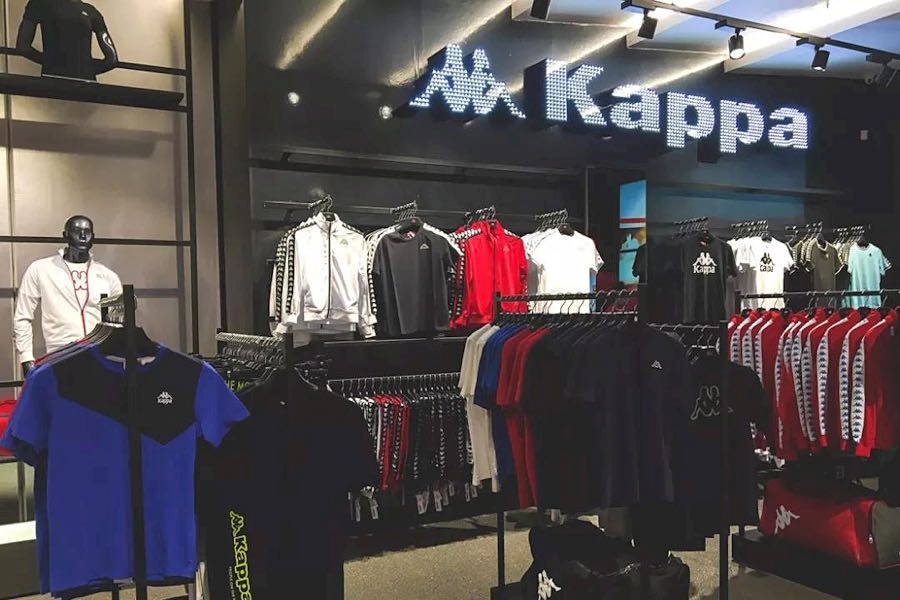 China Dongxiang took a big hit from Covid last year, but has been gradually falling further behind its local rivals as Chinese increasingly opt for homegrown brands
Key Takeaways:
China Dongxiang trailed its domestic peers in the fourth quarter, dragged down by strict Covid-control measures and its overreliance on the fading Kappa brand
The sportswear maker is falling further behind big local names like Anta and Li Ning, as Chinese consumers increasingly favor domestic brands
By Ken Lo
It may be an also-ran in the west, but Kappa counts itself as one of China's top three international sports brands, alongside Nike (NKE.US) and Adidas (ADS.DE). That distinction owes to the efforts of China Dongxiang (Group) Co. Ltd. (3818.HK), which acquired China rights to the century-old Italian brand before the Beijing 2008 Olympics. But Kappa stumbled badly in China at the end of last year, taking Dongxiang with it, as the country imposed some of its toughest Covid controls since the pandemic began in 2020.
China Dongxiang announced just before the Lunar New Year that sales for its Kappa stores declined between 10% and 20% year-over-year in the nine months to December, the first three quarters of its current fiscal year. The decline was even worse in the quarter through December, when sales fell between 20% and 30%, as stores in some of China's largest cities were forced to close for extended periods and people were often confined at home.
Dongxiang wasn't alone in feeling the pinch, though its fourth-quarter decline was the worst among its peers. Rival Xtep (1368.HK) reported a high single-digit sales decline for the quarter, while Anta (2020.HK) said sales for its core brand products would decline by a high single-digit amount. 361 Degrees (1361.HK) was the only player not to report a decline, saying sales for its core brands were flat year-on-year during the quarter.
On a full-year basis, Xtep recorded a mid-teens sales increase last year, while Anta achieved low-single-digit growth for its core brand products. With its sales down more than 10% between April and December, China Dongxiang also appears to be the big loser for all of last year.
'Foreign gene'
Dongxiang's shares were surprisingly sanguine after the latest announcement, dipping slightly by 1.22% in the first two trading days after it came out. The shares are actually performing well since the Hong Kong stock market started rallying last November, beating the broader market by rising more than 70% since then.
Dongxiang's laggard sales performance behind leaders Anta, Li Ning Co. (2331.HK) and Xtep is nothing new. Those three local giants are valued at HK$320 billion ($41 billion) and HK$210 billion and HK$28 billion, respectively, far higher than Dongxiang's HK$2.4 billion. The gap may owe largely to Dongxiang's "foreign gene" in Kappa, which is facing more difficulty as Chinese consumers are increasingly drawn to national brands.
The Beijing 2008 Olympics provided a lift not only for sports in China, but for legendary Chinese gymnast Li Ning, founder of the sportswear brand bearing his name, who famously lit the flame at the opening ceremony. That touched off a spark that has boosted local sports brands ever since. In 2021, boycotts of some western brands that refused to use Xinjiang cotton in their products sent a chill over foreign names like Nike and Adidas. While Kappa said it wasn't part of the western movement, Chinese consumers punished it anyway.
In Dongxiang's annual report for its last fiscal year, Chairman Chen Yihong said Chinese consumers increasingly favor local brands, representing a sea change in the country's sportswear industry. Foreign brands once ruled the space, known for their better quality and trendier and more fashionable images.
Shrinking store count
Dongxiang's bleak outlook is also reflected in the declining number of its Kappa stores. That number, excluding kids apparel, stood at 1,066 at the end of last year, down by 117 stores or 9.9% over the previous nine months. And compared with its all-time peak of 3,751 stores in 2010, its stable of stores has shrunk by more than two-thirds.
Part of its decline may owe to Dongxiang's less aggressive spending on new and upgraded products. Its interim report showed Dongxiang spent just 16.63 million yuan ($2.45 million) on product design and development expenses during the six months through last September, equal to only about 2% of revenue. That was lower than Anta's R&D-to-revenue ratio of about 2.33% in the first half of last year, and far below Xtep and Li Ning's R&D expenses of more than 100 million yuan and 230 million yuan, respectively, in the same period.
Dongxiang's gross margin has stood steady at over 60% in recent years. But poor returns on its investments have affected its bottom line. In its last fiscal year, the company recorded investment losses of 1.47 billion yuan, with losses stemming from fair value changes in its holdings of Alibaba (BABA.US; 9988.HK) stock accounting for about a third of that. Such losses were a major factor behind the company's net loss of 1.75 billion yuan for the year. The company's 386 million yuan net loss in the first half of its current fiscal year was also mainly due to 355 million yuan in investment losses during the period.
As stock markets have improved, Alibaba's shares have risen about 40% since the end of last September, meaning Dongxiang could post investment gains in the final half of its current financial year that runs through March. If that happens, the company could well return to profitability. It could also pay a dividend to investors to thank them for their support, especially considering the company paid a special dividend of 0.0117 yuan per share with its interim results despite reporting a net loss for the period.
Even after its recent stock surge, Dongxiang's latest price-to-sales (P/S) ratio is just 1.11 times, far less than multiples for Anta, Li Ning and Xtep, which trade between 2 times and 6.7 times. It seems the market is still quite conservative about prospects for this sportswear company, perhaps over concerns that foreign brands are losing the longer race to their domestic rivals in China. If that's the case, even an aggressive dividend policy may not be enough to lure investors back to the owner of China rights to the fading Kappa brand.
To subscribe to Bamboo Works weekly free newsletter, click here