IPO-bound Sipai Health Languishes in the Red Despite Insurance Bonanza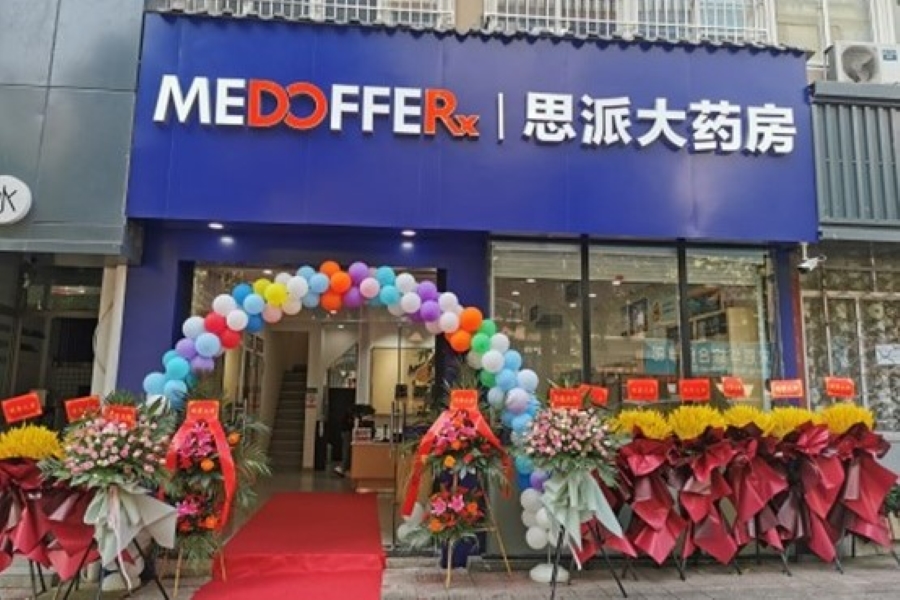 The provider of popular "Hui Min" health insurance is unlikely to get a high IPO valuation even though it is backed by premium investors such as Tencent
Key Takeaways:
Sipai Health Technology has filed to list in Hong Kong for a third time, despite piling up losses of over 5.7 billion yuan since 2019 and being unlikely to turn a profit any time soon
The company offers a wide range of digital healthcare and pharmacy services, with its high-margin insurance business attracting market interest and concern
By Ellie Si
In China's fast-growing online medical market, companies have been competing to create integrated platforms for everything from drug prescriptions to health insurance. And two ambitious stars of the digital healthcare business are also locked in an IPO race.
The two contenders have similar business models and are both making their third attempt to nail a listing on the Hong Kong Stock Exchange. So will the winner be Beijing Yuanxin Technology, or another company that recently refiled its IPO prospectus, Sipai Health Technology Co. Ltd.?
Sipai Health was established in 2014 and now operates across healthcare, pharmaceuticals and insurance. From the outset, it secured backing from big names in the investment arena, including Tencent Holdings (0700.HK), although the tech giant hedged its bets by also funding healthcare venture Beijing Yuanxin Technology. In eight financing rounds since 2015, Sipai Health raised nearly 4 billion yuan ($550 million) and lured other investors such as F-Prime Capital, Eight Roads Ventures, Jeneration Capital, Ping An Ventures and IDG Capital.
According to Sipai's preliminary prospectus, Tencent holds 27.77% of the company's shares, the firm's founder Ma Xuguang holds 7.54% through Lucky Seven, and president Li Ji holds 5.31% through Spire Succession, and three employee incentive platforms hold 5.37%, 2.14% and 1.33% of the shares respectively.
A line-up of star investors can act as a double-edged sword. High-profile backing propels companies to faster growth but can also put them under greater pressure to go public. Even though a market slump left many companies trading below their IPO prices, Sipai still chose to file for an IPO at the Hong Kong Stock Exchange in August 2021 and February 2022, but it failed both times to cross the finish line. Will it be third time lucky for the IPO hopeful?
Losing 5.7 billion yuan
In its prospectus, the company describes itself as operating diverse businesses that outperform many of its peers. It currently focuses on three areas: specialty drugs, research services for physicians, and health insurance.
Sipai operates China's largest privately owned pharmacy for high-value prescription drugs, and also runs the biggest oncology site management organization (SMO), measured by 2021 revenue, according to a CIC report quoted in the prospectus. Its health insurance services connect hospitals, surgeons and medical experts in more than 150 major cities across China, providing membership services to 23.9 million individuals and 876 companies.
The company said that it had woven the three business strands into a highly synergized ecosystem, with its medical research platform and specialized pharmacy helping doctors stay on the cutting edge of treatments. Its broad network of healthcare service providers can help pharmaceutical companies choose locations and subjects for clinical trials. And the system can generate a stream of patients for the pharmacy's specialized drugs used to treat serious illnesses such as cancer.
But this medical ecosystem has not pushed the company into profit. Sipai's revenue increased steadily from 1.04 billion yuan in 2019 to 2.7 billion yuan a year later and 3.47 billion yuan in 2021, according to its financial statements. Revenue grew nearly 22% in the first half of this year to 1.89 billion yuan from the year-earlier period, with the specialty pharmacy business accounting for 90% of the total.
However, expanding revenues were accompanied by mounting net losses. The company's cumulative losses in the past three and a half years exceeded 5.7 billion yuan. But the company has vowed to turn a profit in the next three to five years by various means including boosting revenues and improving operational efficiency.
Investors have been enthusiastically chasing companies with innovative healthcare service models. But in general, these companies have negative or very thin profit margins, leaving them reliant on cash infusions from investors to stay in business.
For example, Beijing Yuanxin Technology has a similar ecosystem to Sipai Health. Its losses more than tripled between 2019 and 2021 from 201 million yuan to 757 million yuan, and it logged a net loss of 530 million yuan in the first eight months of this year. MediTrust Health, with a comparable model and counting Boyu Capital and CICC among its star investors, was also reported to be gunning for an IPO. But its IPO prospects were clouded by a scandal a few months ago about breaching business secrets.
High-margin insurance business
Another factor behind Sipai's appeal for big-name investors is its insurance business, which places the company in a prized category known as "Hui Min Insurance" concept stocks.
"Hui Min" products are government-backed commercial healthcare policies that allow people to insure against the costs of critical or chronic illness. They offer affordably low annual premiums of up to 200 yuan but can pay out high sums extending into the millions of yuan. The policies took off in 2020 and were broadly adopted across China.
The insurance business can be more profitable than healthcare provision. The company's specialty pharmacy business commands a gross margin of less than 6%, although it contributes the lion's share of revenue. But the pattern is reversed in the insurance business, which contributes the smallest revenue slice but enjoys a much heftier gross margin. The gross margin from insurance services rose from 39.5% in 2019 to 67% in the first half of this year, far higher than the 5.4% for the company's pharmacy business and 17.7% for its Site Management Organization (SMO) business.
As a result, insurance is the part of the business portfolio that has attracted most investor interest in recent years, especially since the launch of "Hui Min Insurance" at the end of 2019. The new product reshaped the company's insurance business. After some initial declines, the operation's gross margin started to climb as commission on insurance sales rose and marginal costs dropped.
But the company's "Hui Min Insurance" business is battling growing competition as providers crowd into the market offering similar products. And the policies are already widely distributed in urban areas, making it harder to gain new endorsements from other municipal governments. Also, the business model of low premiums for policies that are open to people with pre-existing conditions has its downsides. The sustainability of the insurance could be called into question if low renewal rates coincide with a need to fund big payouts.
So far, investors have been willing to award decent valuations to the two companies.
Sipai Health gained a pre-IPO valuation of $1.72 billion and made 3.47 billion yuan in revenue last year, which produces a price-to-sales (P/S) ratio of 3.5 times. Meanwhile, fellow IPO candidate Beijing Yuanxin Technology commands a P/S ratio of higher than 4.6 times. With that said, the overall weakness in the Hong Kong market and the red ink stains on the companies' financial accounts mean they may face an uphill battle to achieve high-valuation listings.
To subscribe to Bamboo Works weekly free newsletter, click here