Innovex Stitches Up IPO Application with Key Device Approvals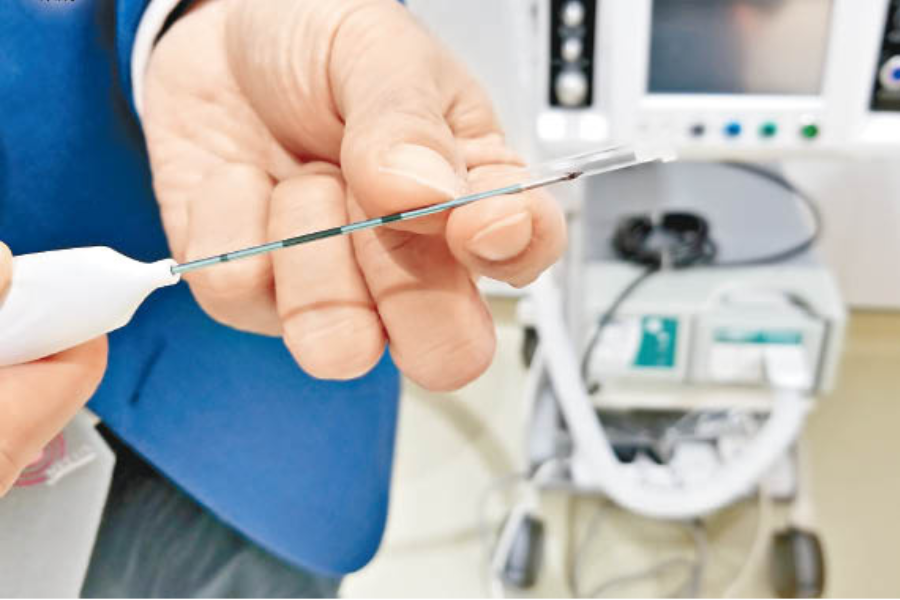 The medical equipment maker hopes to wow investors with recent regulatory nods for two of its devices in its second filing for a Hong Kong IPO
Key Takeaways:
Innovex Medical has made its second filing for a Hong Kong IPO as it prepares to launch two recently approved new products in its drive to move up the value chain
The company lost 1.07 billion yuan in the past two and a half years, and is saddled with heavy administrative and R&D costs
By Emily Chan
Conventional wisdom says to strike while the iron is hot, and that's exactly what medical device maker Innovex Medical Co. Ltd. is doing.
The maker of minimally invasive surgical equipment filed an initial application to list in Hong in April this year, though that expired in October. Now it has filed again with an updated application last week that includes recent regulatory approval for two products that are a key part of its drive to move up the value chain. That marketing green light marks the start of Innovex's next big test as it looks for the big sums needed to commercialize some of its first devices from the active medical products area.
The company is focused on the ongoing move to non-vascular intervention therapies, which sees doctors thread tubes or catheters through natural openings in the human body or small incisions to reach organs and tissue. Such devices can be used to collect samples, perform imaging diagnosis and for other therapeutic processing.
Compared with traditional open surgeries, the technique is more precise and creates less tissue damage, leading to faster recovery. It is used to treat a wide range of conditions, including respiratory, digestive, urological, and reproductive diseases. Endoscopes, active medical devices and non-active consumables are among the most common medical equipment using the technique.
Innovex was founded in Shanghai in 2009 and offers a portfolio including all three types of the above-mentioned devices. Its preliminary prospectus calls the company a leading provider of integrated non-vascular interventional surgical solutions in China that also has a global presence.
The company started as a developer of low-tech disposable medical consumables like guiding wires, balloon catheters and stone extractors. It started to develop endoscopes in 2014. Its first single-use ureterorenoscope and video processor won approval in the EU in 2017 and became its first two endoscopic products for sale. The same year it ventured into the field of active medical devices and got its first single-use high-frequency sphincterotome approved in both China and the EU.
The company now has a total of 33 products approved for sale in China, the U.S., Europe and Japan. Another 15 products are under development, some now in the clinical trial stage or under regulatory review.
Heavy spending
The company's prospectus shows it recently received approval for two key active medical products: a single-use electrosurgical snare and a plasma radiofrequency generator called NW-100. The company says the latter is probably the first medical device designed for intervention surgeries in the digestive field in China and possibly the whole world.
The company sells its products through a global network that reaches more than 60 jurisdictions worldwide, including distributors that reach over 1,500 hospitals in its domestic China market. Banking on its growing arsenal of products, the company's operating revenue soared by 86% in 2021 to 255 million yuan ($36 million). But the figure fell by 13% year-on-year to 79.8 million in the first half of 2022, as pandemic flareups and resulting Covid control measures caused many non-vascular intervention surgeries to get delayed or cancelled.
The company's two big breadwinners are its endoscopic products and non-active consumables. The former's contribution to total revenue rose from 37.5% in 2020 to 53.8% in the first half of this year, while the latter's share fell from 61% to 45.8% over that time. The company is just entering the active medical equipment category, which includes the two recently approved products and another approved in January. Accordingly, that category only contributed 0.4% of its revenue in the first half of the year.
Despite bringing multiple products to market and boasting sizable revenue, Innovex has yet to turn a profit. Its 170 million yuan net loss in 2020 more than tripled last year to 695 million yuan. It lost another 204 million yuan in the first half of this year, bringing its total losses in two and a half years to over 1.07 billion yuan, mostly due to high administrative and R&D costs.
Taking last year as an example, its administrative and R&D costs reached 272 million yuan and 291 million yuan, respectively, each more than the company's total revenue. But good news for investors is that more than 80% of those two items came from equity-based compensation, meaning they posed no threat to the company's cash.
Excluding such equity-based compensation and declines in the fair value of its financial assets, the company logged a combined 70 million yuan in adjusted net profit over the past two and a half years. But it also admitted that its R&D spending would continue strong as it hires more employees and develops more higher-end products. It also warned its marketing and distribution expenses will grow as more of those products win approval and need to be commercialized.
Valuation set for hit?
China's market for disposable medical-use endoscopes is growing by leaps and bounds, with the number of disposable endoscopes approved by the national regulator rising from just seven in 2020 to 23 last year. The number of leaders in the field now totals over 10, showing things are getting crowded. Innovex lowered prices for some of its endoscopes in the first half of the year to better compete, causing its overall gross margin to fall from 64.3% in the first half of 2021 to 57.5% in the same period this year.
The company has raised 890 million yuan in six funding rounds over the past three years, attracting big names like Temasek and Hillhouse Capital, which helped to pump up its valuation from 591 million yuan to 6.25 billion yuan in the process. Whether it can keep such a high valuation if it makes it to market this time is the big question, especially in the current climate of investor caution.
Since it lacks profits, we can use price-to-sales (P/S) ratios of some of Innovex's peers to try and gage what kind of valuation it might get in the current market. Global disposable endoscopic giant Ambu A/S (AMBU-B.CO) and Hong Kong-listed Venus Medtech (2500.HK) currently command P/S ratios of 5.8 times and 12.2 times, respectively, averaging 9 times. Using that ratio and extrapolating Innovex's first-half revenue to the entire year would give the company an IPO valuation of 1.76 billion yuan, less than a third of what it got after its last financing round.
To subscribe to Bamboo Works weekly free newsletter, click here