HeyTea brings its bubbly brew to Europe. But are its prospects deflating?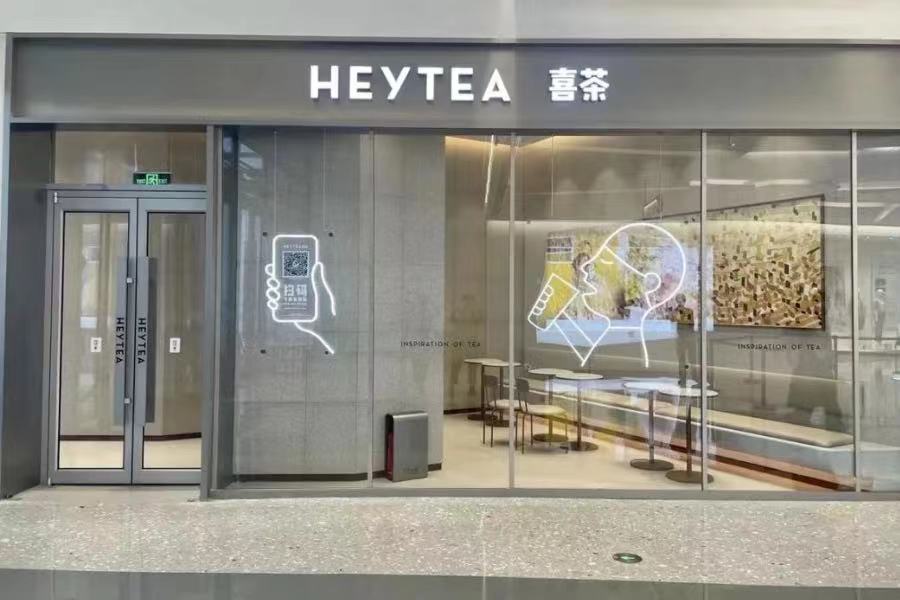 Chaotic opening in London's Chinatown may create the wrong kind of buzz as China's leading bubble-tea chain tries to expand beyond Asia
Key Takeaways:
HeyTea's opening of a London store, its first outside Asia, was marked by long lines and general chaos, leading some to complain on social media
The premium tea chain has been mum on potential plans to revive a stalled IPO, even as some rivals may be considering Hong Kong and U.S. listings
By Edith Terry
When HeyTea founder Nie Yunchun opened his first bubble-tea shop in an alleyway in the South China city of Jiangmen in 2012, he set his sights high – to rival Starbucks as an icon for China's millennials and Gen Z-ers. Starting out as Royal Tea, Nie, aimed to make the stodgy drink favored by China's older generation "cool" by offering multiple flavors, both sweet and salty, with a cheesy froth on top.
His idea took off, and by September 2022, Heytea had 841 outlets in 74 cities in China and Hong Kong, plus four in Singapore. The franchise took a major step beyond Asia when it opened a store this month on London's Shaftesbury Avenue – its first outside Asia. But the event was hardly sweet, marred by long waits and a power failure that made things worse for 11 overwhelmed employees.
The store had to close temporarily on its opening day – not the most auspicious sign for Heytea's first taste of catering to Western palates. Amid the bungled launch, investors were left wondering whether HeyTea's global move might signal a revival of its plans for a long-delayed IPO.
In late July, Bloomberg reported that "new style" beverage companies Mixue Bingcheng, XSQ Tea, GoodMe, Auntee Jenny, and ChaBaiDao, each with more than 6,000 stores, were preparing to list in Hong Kong or the U.S. HeyTea wasn't on the list, and was last rumored to be moving in that direction in September 2021, when it reportedly appointed UBS as lead underwriter for a Hong Kong IPO to raise as much as $500 million.
To date, only one maker of premium trendy tea drinks has served up an IPO. Nayuki Holdings (2150.HK) raised $654 million in its June 2021 listing. Mixue Bingcheng filed for an IPO in China's A-share market last September, but never listed.
Driving the latest wave of rumors are hopes that Hong Kong IPOs might begin to revive soon after a year and a half in the doldrums. After a slow start to the year, funds raised in the second quarter rose 55% from the first quarter, with 11 companies raising a total of $1.32 billion in the June quarter.
At the same time, regulators on China's domestic A-share markets appear to be giving high-growth but low-tech food and beverage listings the cold shoulder lately, forcing them to seek funds in other markets.
In such an environment, Mixue Bingcheng has now reportedly shifted its sights to Hong Kong. If HeyTea were to try a similar listing, it could face stiff competition from not only from Mixue, but also any of the other chains that might attempt a listing.
HeyTea has been a sponge for investor capital to date, raising a combined $595.1 million in seven funding rounds, giving it a frothy valuation of $9.3 billion when it was reportedly looking to list in 2021. Its investors included such heavy-hitters as China's Hillhouse Capital and Hongshan, previously known as Sequoia China, as well as IDG Capital and Singapore's Temasek.
Staying on the sidelines?
As a private company, HeyTea only releases selective financial data. During its heyday the company disclosed it generated 600 million yuan ($87.2 million) in 2017, double the previous year. While the latest annual figure is undoubtedly much higher, its growth rates are almost certainly much lower now following a difficult period during the pandemic.
There are plenty of reasons for HeyTea to keep any potential IPO on hold. Nayuki hasn't fared too well since its 2021 IPO, with its shares now trading at about a quarter of their IPO price. But its forward price to earnings (P/E) ratio of 25 suggests investors may see better times ahead as the company shifts to a strategy of smaller store formats. By comparison, Nestlé, whose products include Nestea and Nescafe beverages, has a forward P/E ratio of 21.
HeyTea's new London store could signal a new phase in its story, though it may have to adjust its marketing strategy to succeed in the West. Its current strategy relies heavily on social media, including paying influencers to help generate buzz for its brand and products. It generally abstains from paid advertising that may be equally important to keeping customers coming back.
The social media strategy can also backfire in cases like the problem-plagued London opening. One customer complained online of waiting four hours for service, only to be turned away once the store closed.
While moving beyond super-saturated Asian bubble tea markets may look good in theory, HeyTea will also face significant challenges from more established rivals already in rapidly saturating Western markets. Britain is already home to Asian brands including Taiwan's Gong Cha, Chun Fun How and CoCo Fresh Tea & Juice.
Gong Cha could be especially formidable, having moved its global headquarters to London in 2020 and with plans for 500 British stores. CoCo Fresh Tea & Juice also already operates European stores in Barcelona, Rotterdam, Stockholm and Madrid. The global bubble tea market is expected to be worth $2.46 billion this year, with countries like Canada and the U.S. "gaining traction," according to a report from Fortune Business Insights.
Back home, HeyTea's switch from a direct ownership model to also include franchised stores in November 2022 has gotten a tepid reception. The move marked a reversal for the chain, which had brushed off such plans as recently as 2017. The switch may reflect pressure HeyTea is feeling from more aggressive rivals like Mixue and even coffee chain Luckin (LKNCY.US) that have used franchising to expand more rapidly.
After reducing prices by 30% in January last year, HeyTea began rolling out more compact franchised stores in smaller markets outside China's first and second-tier cities. But consumers weren't impressed, noticing a clear difference between both the tea and look of the newer stores, which had previously been carefully controlled by Nie.
HeyTea could command premium prices in its first incarnation, charging up to 30 yuan per cup – far more than Mixue's average closer to 10 yuan. But its costs have always been higher as well, due to steps like including fresh juice and real tea leaves in its drinks, instead of powder or frozen products. As it considers its future path, including a potential IPO, the company may need to take steps to position itself more clearly in the crowded market.
Have a great investment idea but don't know how to spread the word? We can help! Contact us for more details.
To subscribe to Bamboo Works weekly free newsletter, click here