NEWS WRAP: Hesai drives beyond China in new tie-up with Germany's Webasto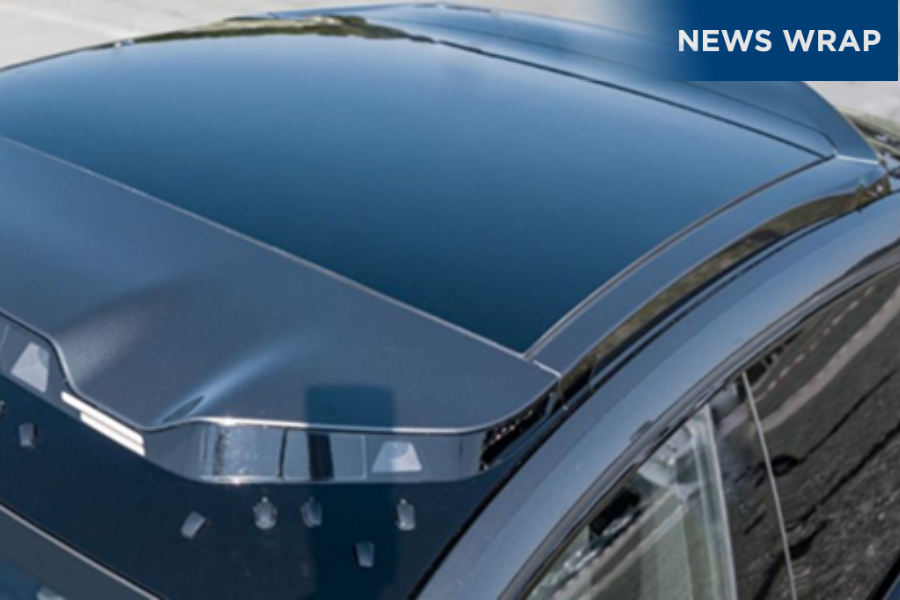 The Chinese company will supply its light detection and ranging (LiDAR) technology used in autonomous driving to the German maker of automotive roof systems
By Teri Yu
Automotive light detection and ranging (LiDAR) technology maker Hesai Group (HSAI.US) said on Monday it will provide its LiDAR sensors for use in advanced driver assistance systems (ADAS) built by Webasto, a German maker of automotive roof systems.
Hesai said its flagship AT128 LiDAR has been integrated in Webasto's current roof sensor module, which features several cameras and Hesai's LiDAR technology that captures ultra-high-resolution three-dimensional point clouds and can perceive objects as far as 200 meters away. Hesai added its recently introduced ET25 long-range LiDAR, which is only 25mm thick, will be well-suited for rooftop integration and installation behind the windshield.
"We want to see our cutting-edge LiDAR technology adopted by leading automotive OEMs and become a mainstream component in series-production vehicles," said Bob in den Bosch, one of Hesai's senior global sales executives.
No value or other commercial details of the partnership were disclosed. But the partnership represents an important step in Hesai's attempts to become more geographically diverse. Most, if not all, of the company's current 11 ADAS OEM customers are based in or owned by mainland Chinese entities, and thus Webasto will give Hesai a foothold outside of China.
Hesai shares rose 2.4% in Tuesday trading to $10.75 in New York after the announcement. But they are still down more than 40% from their $19 IPO price in February.
Hesai commanded around 47% of the global LiDAR market by revenue in 2022, according to Yole Intelligence, an independent research company based in Europe. Its stepped-up effort to find more international partners will reduce its reliance on Chinese customers.
Shanghai-based Hesai announced the Webasto partnership not long after reporting strong growth in its latest financial quarter. Its second-quarter revenue more than doubled year-on-year to 440.3 million yuan ($60 million). Its quarterly LiDAR shipments recorded an even stronger 10-fold increase to 52,106 units, boosting its cumulative LiDAR shipments above 190,000 units. The company's total ADAS LiDAR shipments also reached an all-time high of 45,694 units in the three months to June, up from 1,651 units a year earlier, making Hesai the world's largest maker of ADAS LiDAR units.
The company achieved positive operating cash flow of 58.3 million yuan, as its quarterly net loss narrowed sharply to 74.4 million yuan from a 265 million yuan loss a year earlier. China's large field of listed EV makers have reported varying growth in their latest quarterly results, with leading player BYD (1211.HK) reporting its sales doubled. Companies like Hesai are expected to benefit from growing EV sales, especially in China, since such cars often include automated driving systems.
Hesai raised $190 million in its listing earlier this year, valuing it at $2.62 billion, making it the world's top LiDAR company based on market value. The company counts Chinese tech firms Baidu (BIDU.US; 9888.HK), Xiaomi (1810.HK) and Meituan (3690.HK) among its backers.
The company become embroiled in a lawsuit earlier this year when it was sued by San Francisco-based peer Ouster Inc. over alleged patent infringement. Hesai denied the allegations, and said it will fight the lawsuit.
Have a great investment idea but don't know how to spread the word? We can help! Contact us for more details.
The Bamboo Works offers a wide-ranging mix of coverage on U.S.- and Hong Kong-listed Chinese companies, including some sponsored content. For additional queries, including questions on individual articles, please contact us by clicking here.
To subscribe to Bamboo Works free weekly newsletter, click here