Genscript Bio Gets Booster from Subsidiary's New Cancer Drug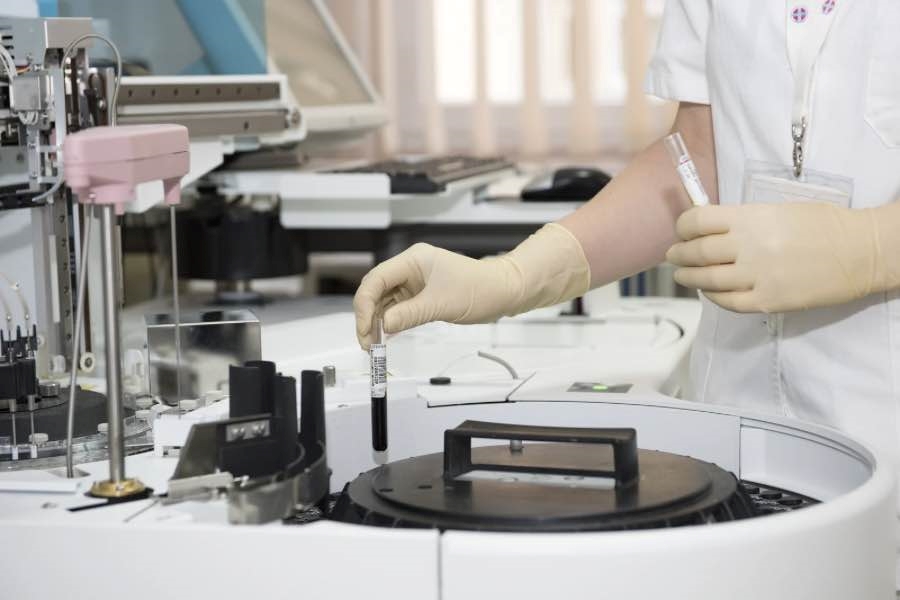 The company's Legend Biotech unit has found recent success with Carvykti, a chimeric antigen receptor T-cell (CAR-T) therapy, which earned $134 million in its first nine months on the market
Key Takeaways:
After years of losses, Legend Biotech's new cancer drug Cavykti offers it a chance to finally start contributing revenue to its parent, Genscript Biotech
Some analysts believe Genscript may have become profitable last year, but also worry over its mounting R&D and sales expenses
By Emily Chan
The good news is coming thick and fast these days for Genscript Biotech Corp. (1548.HK). In early January, it disclosed that China's National Medical Products Administration (NMPA) accepted its new drug application (NDA) for Cilta-cel , a chimeric antigen receptor T-cell (CAR-T) therapy being developed by its Legend Biotech (LEGN.US) subsidiary. Last Wednesday, it announced that sales of the new drug, marketed in the U.S. under the Carvykti name for treatment of multiple myeloma, reached $55 million in last year's fourth quarter.
Two days later, the company revealed that a Phase 3 trial for a new indication for the therapy reached its primary endpoint, showing that after years of being a drag, Legend Biotech was finally providing a revenue boost to its money-losing parent.
The stream of good news has been good medicine for Genscript's shares, which have climbed from HK$24.85 at the end of last year to a high of HK$30 on Jan. 27 after announcement of the research progress, a gain of more than 20%.
Carvykti is the first CAR-T cell therapy developed by a Chinese company, and gained global reach through a 2017 partnership between Legend and Janssen Biotech, a subsidiary of Johnson & Johnson (JNJ.US). The product was approved a year ago by the U.S. Food and Drug Administration (FDA) to treat adults with relapsed or refractory multiple myeloma who have received at least four lines of therapy. It then obtained conditional approvals in the EU and Japan.
Big revenue
As a single-use drug, Carvykti's success won't come from its affordability – one injection costs as much as $465,000. With such high costs of treatment, Carvykti was able to churn out an impressive $24 million in sales in last year's second quarter, its first full quarter on the market. The treatment went on to earn another $110 million in the third and fourth quarters, giving it net sales of $134 million in just nine months on the market.
Under their collaboration, Janssen was required to make an initial $350 million payment to Legend, as well as subsequent milestone payments, in exchange for a 50% interest in Cilta-cel's overseas market rights and a 30% interest in Greater China. On that basis, Legend Biotech should record at least $167 million in revenue last year, consisting of $67 million in sales revenue and two $50 million milestone payments from Janssen in February and April. That income marks a major turning point for a subsidiary that lost $304 million in 2020 and $386 million in 2021, contributing to Genscript Bio's own losses during those years.
With Cilta-cel proven to work well as a late-line therapy, Legend and Janssen are now turning their attention to its potential use as an earlier treatment. That effort encompasses several follow-up clinical development programs, including multiple Phase 3 studies of Cartitide-4, Cartitide-5 and Cartitide-6. One of those programs was the subject of last week's announcement, which said Cartitide-4 had reached the primary endpoint in Phase 3 trials for treatment of adults with relapsed and lenalidomide-refractory multiple myeloma.
At the Johnson & Johnson quarterly earnings meeting last week, Chairman and CEO Joaquin Duato said the Cartitide-4 data is key to advancing Carvykti for more advanced treatments. His comments, which implied Cilta-cel was advancing toward becoming a first-line cell therapy for multiple myeloma, were a strong booster for the product, attracting positive ratings from brokerages.
In its latest research report on Genscript, Jefferies said the company's cell therapy business is on the right track, and is expected to obtain more approvals in the future. It upgraded its rating from "hold" to "buy" and sharply boosted its target price to HK$35 from HK$16, meaning it still sees about 20% potential upside from the current price. CICC believes that Genscript reversed its three years of losses in 2022 and will report a net profit of $289 million. It gave the company an "outperform" rating and a target price of HK$31.20.
Once a big drag on Genscript, Legend Biotech went public on the Nasdaq in 2020. It has not provided any new financial results since early August last year, when it disclosed a loss of $196 million to $229 million in the first half of 2022, according to its preliminary interim results for the year.
Mounting R&D spending
Last Oct. 21 Legend said that it would restate its financial statements from 2019 through last year's first quarter because management believed the valuation of recognized commercial approval revenue related to Cilta-cel was underestimated during that period, resulting in a material accounting error.
Genscript Biotech's own 2022 interim results show its revenue rose 32.7% to $305 million in the first six months of last year. It said Legend Biotech, which was classified as its cell therapy business, contributed about $57.1 million, up 68.4% year-on-year. Genscript recorded a $226 million loss for the period, mainly due to an adjusted net loss of $161 million from its cell therapy business.
But even if cell therapy keeps bringing in more revenues, the business continues to incur high R&D and marketing expenses. Genscript said R&D spending in the first half of last year was $177 million due to increased patient enrollment in a number of Phase 3 clinical trials and an increase in its R&D activity. Its sales and distribution expenses rose 49% to $86.94 million during the period due to additional staffing and promotional costs for commercializing new drugs. If Cilta-cel is approved for sale in China this year, the company's marketing expenses in its home market are likely to rise further still as it commercializes the drug.
Genscript currently trades at a price-to-sales (P/S) ratio of 12.6, ahead of the 8.6 times for WuXi AppTec (2359.HK), another Chinese developer of CAR-T therapies, showing investors are more bullish on the former's potential. Now the company needs to keep milking its Cilta-cel cash cow for more revenue, and eventually profits, to justify that higher valuation.
To subscribe to Bamboo Works weekly free newsletter, click here