Fourth Paradigm rides AI wave to IPO, but faces choppy waters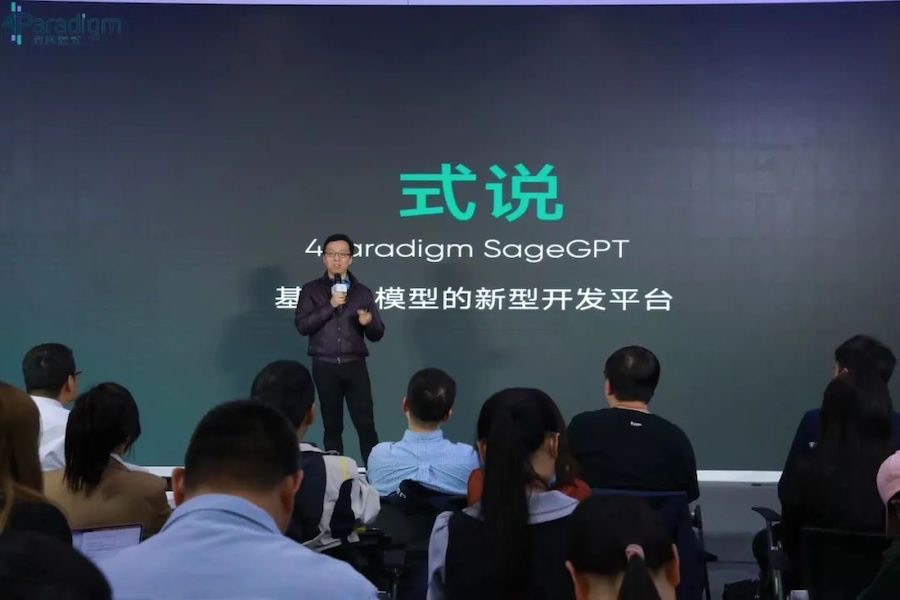 After three failed tries, the leading Chinese AI giant's listing application was finally accepted by the Hong Kong Stock Exchange
Key Takeaways:
Fourth Paradigm's IPO application has been accepted by the Hong Kong Stock Exchange, as it targets up to HK$1.15 billion in fundraising
The AI company lost 291 million yuan on 644 million yuan in revenue in this year's first quarter
By Lau Chi Hang
With artificial intelligence (AI) all the rage these days, companies from the space are seizing on the craze to tap capital markets to feed their hungry R&D machines. Following the 2021 IPO that made SenseTime (0020.HK) China's first AI company to list in Hong Kong, another sector leader, Beijing Fourth Paradigm Technology Co. Ltd. (6682.HK) has finally been approved to list in the city, following three failed attempts. It hopes to raise up to HK$1.15 billion ($147 million).
Fourth Paradigm was founded in September 2014, specializing in platform-based AI software that assists other enterprises in developing their own decision-making AI applications. The company has assembled an A-list ofinvestors from its 11 previous funding rounds, including Sequoia Capital and Tencent, as well as Haitong International Investment.
Fourth Paradigm first filed for a Hong Kong listing in 2021, but was rejected then and in two subsequent attempts. It received another setback in March this year when its name appeared on the U.S. Commerce Department's "entity list," a sort of blacklist limiting the company's ability to buy U.S. products and services. That prompted Goldman Sachs to withdraw as its IPO sponsor, with China's own CICC International taking over.
IPO catalyst
Initially viewed as an existential threat, the blacklisting has instead turned out to be an IPO catalyst. To understand why, it's necessary to look at the listing against the broader context of growing China-U.S. tensions sparked by China's rapid rise. Acutely aware of the key role technologies will play in the future, the U.S. is going to great lengths to try to limit China's development in key areas like AI, both by itself and by getting its allies to impose their own similar restrictions.
Concurrently, the U.S. has also banned Western private equity firms, hedge funds and other institutional investors from investing in Chinese tech firms in certain sectors, with an ultimate goal of hampering their development.
Beijing has tried to counter such measures by stepping in to give greater assistance to its semiconductor and AI industries, not only with policy measures but also capital. In addition to the National Integrated Circuit Industry Investment Fund to support the chip sector, the government has also made extra efforts to helpenterprises raise funds in the capital market, with IPOs as one of the main financing channels.
Against that backdrop, Fourth Paradigm made its fourth listing application in Hong Kong not long after landing on the U.S. blacklist. After getting the green light for the listing from China's securities regulator in July, Hong Kong gave its own green light as well.
But now could come the hard part, as the company will need to win over investors who might be concerned about its future. In that regard, SenseTime may serve as a cautionary tale. After a post-IPO honeymoon period, things started to go south for SenseTime as investors got tired waiting for profits, while the broader stock market slumped and longtime backers Alibaba and SoftBank's Vision Fund sold their shares. SenseTime's shares fell as much as 85% from their high, wiping out more than HK$200 billion in market value.
Fourth Paradigm is now seeking to raise funds in this type of climate that is anything but friendly.
According to its prospectus, the company's revenue grew from 942 million yuan in 2020 to 3.1 billion yuan in 2022, while its losses rose from 750 million yuan to 1.6 billion yuan over that time. Its revenue rose 33.6%year-on-year in the first quarter of 2023 to 644 million yuan, while its loss widened by nearly 11% to 291 million yuan.
Policy support
Losing money is common for high-tech companies in emerging areas like AI, especially when they are starting out. Instead, what matters is a company's prospects. The world was impressed in 2016 when Lee Sedol, South Korea's champion at the game of go, was defeated by the AI-powered AlphaGo. Fast forward to the advent of ChatGPT, which again amazed everyone this year, showing AI is the wave of the future and Fourth Paradigm is on the right track.
At the same time, syncing with national policies is also important for a company's development in China. Giants like Tencent and Alibaba have faltered in recent years due to restrictive policies from Beijing. But AI has been just the opposite, receiving strong government support. In April, the Political Bureau of the Communist Party's Central Committee proposed making more efforts to develop general-use AI and create an innovation ecosystem to facilitate that. The first meeting of the Central Committee's 20th Financial and Economic Commission in early May also stressed the need to develop new technologies like AI. All that shows that Fourth Paradigm is in a government sweet spot, and is likely to get continued policy support.
Hobbled by restrictive measures
While they get strong support at home, Chinese AI developers still face numerous constraints due to restrictive measures like the ones we've mentioned earlier. Their lack of access to U.S.-supplied advanced chips poses a major obstacle for China's AI industry, since strong computing power is critical to their success. That will put them at a strong disadvantage to their Western peers that have access to such technology.
At the same time, global capital is also becoming far less welcoming to Chinese AI. Souring relations between China and the U.S. have made European and American institutional investors reluctant to invest in Mainland Chinese companies, afraid such investments could be undercut at any time if such companies fall victim to sanctions. Many funds have not only stopped investing in Chinese enterprises from areas they consider risky, but have even started to sell off their existing Chinese investments in such areas.
With that kind of sentiment hovering above them, Mainland Chinese internet companies could become sitting ducks at any time, even though many posted commendable results in the first half of the year as Covid restrictions ended and Chinese government crackdowns eased. Without such support from European and American institutional investors, who are major players in the Hong Kong stock market, Fourth Paradigm's IPO could face an uphill climb, with more challenges ahead once it's listed.
Have a great investment idea but don't know how to spread the word? We can help! Contact us for more details.
The Bamboo Works offers a wide-ranging mix of coverage on U.S.- and Hong Kong-listed Chinese companies, including some sponsored content. For additional queries, including questions on individual articles, please contact us by clicking here.
To subscribe to Bamboo Works free weekly newsletter, click here