Falling flour prices lift Nissin Foods as pandemic-related demand fades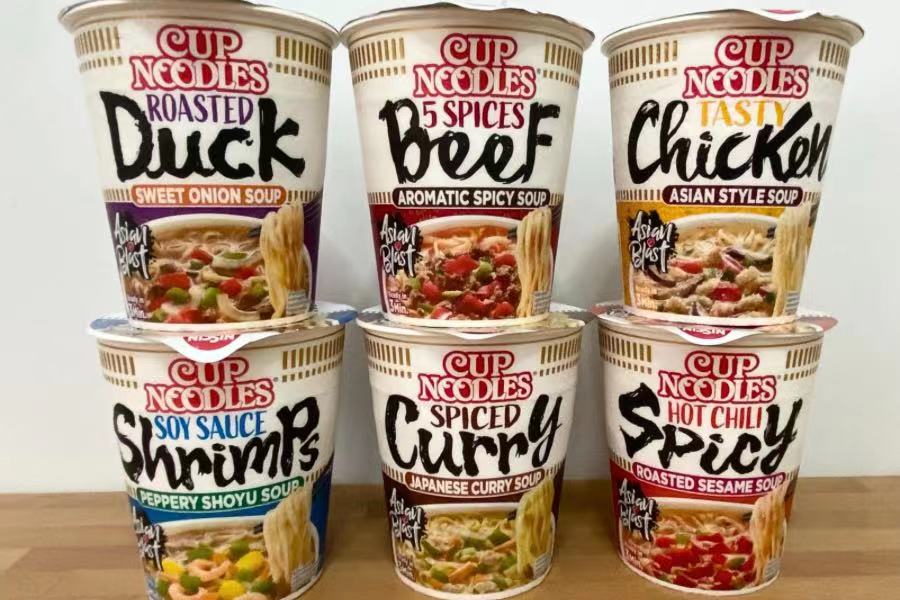 Revenue for one of China's top instant noodle makers fell 3.6% in the first quarter, even as its profit grew thanks to sharply lower material costs
Key Takeaways:
Nissin Foods' revenue contracted by 3.6% in the first quarter, extending a 1% drop in the second half of last year, as pandemic-related demand eased
The company is valued strongly compared to local and global peers due to its positioning as a premium brand in the large Chinese instant noodle market
By Doug Young
What's the best cure for a post-Covid hangover?
The answer is "plunging material costs," at least if you're Nissin Foods Co. Ltd. (1475.HK), one of China's top instant noodle makers. The company's latest results show its revenue took a hit during the quarter as life returned to more-normal conditions in Hong Kong and the Chinese mainland, its two primary markets.
Covid historians will recall that the first quarter of 2022 was a nadir for both Hong Kong and China, as both got their biggest taste of the highly contagious Omicron variant that left many people confined to their homes for extended periods. That translated to a boom for companies like Nissin, since people often fell back on this kind of easy-to-make comfort food during the difficult period.
But with Covid now rapidly fading, Nissin's revenue slipped into contraction mode starting in the second half of last year, falling by 1% during the final six months of 2022 after growing 9.7% in the first half of the year. That trend accelerated in the first quarter, with revenue down 3.6% to HK$1.02 billion ($130 million) in the first three months of the year, according to Nissin's latest financial report released last week.
Sales fell 6.2% for the company's mainland Chinese division, which accounts for about two-thirds of its business. Its Hong Kong sales, which account for the remaining one-third, fell by a milder 1.3%. Both declines were largely due to high year-ago comparisons at the height of Omicron outbreaks that included memorable photos of supermarket shelves stripped bare of all goods in Hong Kong during a wave of panic buying.
But if demand was slumping as Covid-weary residents returned to pre-pandemic routines, that was more than offset by falling prices for the raw materials that are Nissin's biggest cost. Most notably, the cost of wheat used to make flour has fallen by about half over the last year, following a huge spike at the start of the Russia-Ukraine war in February 2022.
As a result, Nissin's cost of sales fell 9.2% in the first quarter, nearly triple the rate of its revenue decline. The company also took the forward-looking move of selling down its inventory in anticipation of pre-pandemic-level demand and less disruptions to its supply and distribution chains.
All that activity helped the company boost its gross profit 8.8% in the first quarter, as its gross profit margin improved by 4 percentage points. The bottom line was that Nissin Foods' first-quarter net profit rose 22% to HK$110 million, even as revenue was falling.
"As the market for high value-added products expands in mainland China, the group has taken steps to expand its geographical sales areas and strengthen its Cup Noodles brand," Nissin, which is controlled by Japan's Nissin Foods Holdings (2897.T) said in a statement. It noted that revenue for all of last year rose 4.1%, the result not only of strong demand in the first half of the year but also price increases to offset soaring flour prices at the start of the year.
The Hong Kong-listed Nissin's shares fell slightly the day the results came out last Wednesday. But they gained back those losses in the next two trading days, and were up 1.7% from pre-announcement levels by the end of last week. The shares have traded in a relatively narrow range this year. But they are up about 40% over the last 52 weeks, most of that from a rally last year when the company was emerging as a strong bet to benefit from the pandemic.
Highly valued
In fact, the Hong Kong-listed Nissin and its peers are all quite highly valued for such a traditional industry, albeit one with big growth potential due to the vast size of the China market. The company currently trades at a price-to-earnings ratio of 24, which is the same as rival Uni-President (0220.HK) and ahead of Ting Yi's (0322.HK) 22. All three of those are slightly ahead of global giant Kraft-Heinz's (KHC.US) P/E ratio of 21, perhaps reflecting a premium due to the growth potential for a China market where such instant noodles are one of the most preferred forms of do-it-yourself convenience foods.
All of the companies also offer modest dividends to sweeten their appeal to investors, though Nissin's modest payout of 15.16 Hong Kong cents per share last year only translates to a 2.2% return on the company's latest stock price.
Instead, the high ratios for all three of these noodle makers really does seem pegged to the big growth potential of China's food market. Nissin is well placed to benefit from that potential due to its positioning as a premium brand because of its background as a Japanese company, which are generally perceived in China as higher-quality.
Nissin has also been taking steps to take greater control of its various China assets, moves that will not only give it more say over how those assets are run but will also bring bigger profits due to its higher ownership stakes. Such moves are relatively common these days among foreign companies in China, which often enter the market with local partners in their early stages and later buy out their partners as they become more familiar with local conditions.
Last November the company won the bidding to buy out its joint venture partner in Zhuhai Golden Coast Winner Food Products Ltd., an instant noodle maker and distributor on the Chinese mainland. A year earlier, Nissin also paid HK$13.7 million to boost its stake in its Hong Kong and Macau distributor MCMS to 81% from a previous 51%.
Despite the first-quarter revenue decline, analysts actually expect Nissin's revenue to pick up during the rest of the year. The five polled by Yahoo Finance forecast the company's revenue will rise 7.2% for all 2023, implying they expect it to return to growth soon, including potential double-digit gains in the remainder of the year. They expect the company's annual profit for 2023 to rise by an even stronger 23% as Nissin benefits from a potent combination of increasing demand and lower prices for flour and other raw materials.
To subscribe to Bamboo Works free weekly newsletter, click here