E-sports Company NeoTV Races Towards New York IPO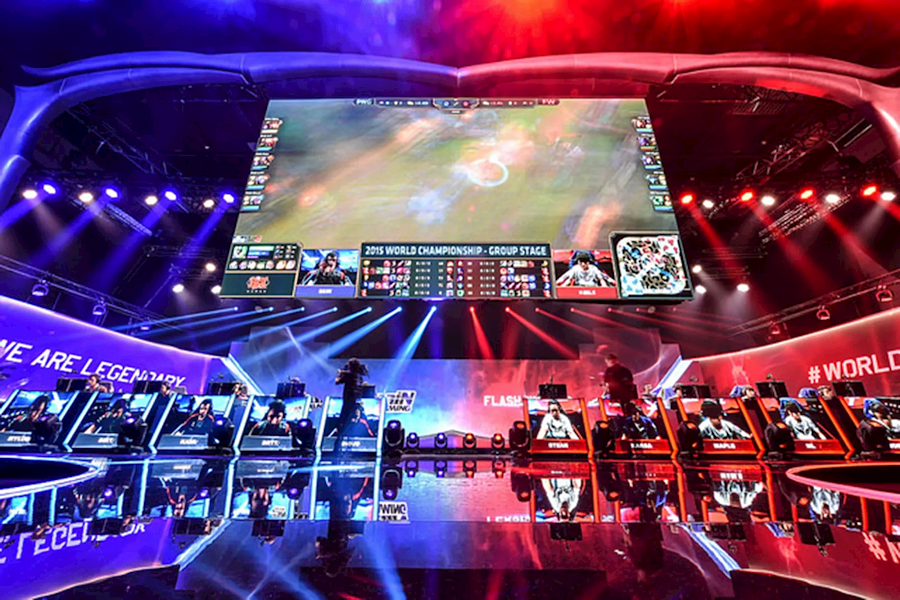 China's No. 2 operator of electronic gaming competitions and tournaments has filed for a U.S. listing, two weeks after its larger rival VSPO announced a major new funding
Key Takeaways:
NeoTV has filed for a U.S. listing, reporting its revenue fell 32% in the first half of last year as it suffered under China's Covid-control measures
The company was profitable before last year, but is a distant second in China's fast-growing e-sports sector behind the much larger VSPO
By Doug Young
Last week we wrote about leading Chinese e-sports company VSPO and how it could be lining up for a U.S. or Hong Kong IPO later this year after raising a fresh $265 million from Saudi Arabia. Now, the country's much smaller No. 2 e-sports company, NeoTV Group Ltd., has filed for its own U.S. listing, aiming to beat its larger rival to market.
There are a number of noteworthy elements about NeoTV's new IPO filing last Friday, including its revelation that China's e-sports industry took a major hit last year during the country's widespread lockdowns and other measures to try to control the Covid Omicron variant. There's also an interesting regulatory element in the prospectus, which indicates we could see a month of "March Madness" for smaller Chinese IPOs in the U.S. next month as companies race to beat a deadline that we'll describe in more detail shortly.
At the end of the day, there's no doubt that e-sports is an industry with huge growth potential, and that China is a leader in the global sector. NeoTV's prospectus cites third-party research saying China's e-sports industry was worth 127 billion yuan ($18 billion) in 2021, roughly double the 60 billion yuan four years earlier in 2017. It adds the e-sports livestreaming business grew even more explosively, rising six-fold to 18.5 billion yuan from 3 billion yuan over the same period.
At the same time, China is also quite a risky place for such companies due to fickle regulators who periodically crack down on a gaming sector that they believe is frivolous and even potentially harmful to the nation's youth. Such thinking has led to frequent halts in approval of new games, including the latest that lasted for 10 months through last April, causing major suffering for the sector. China has also taken steps to limit the amount of time minors can spend gaming, and similar limits would almost certainly apply to e-sports as well when it gets big enough.
All that said, NeoTV really is quite the minnow compared to the much larger VSPO, which is probably why the latter attracted Saudi Arabia's Savvy Games Group, the gaming investment arm of the country's sovereign wealth fund, that could value the company at around $1 billion. Even before that deal, VSPO's backers included leading game company Tencent (0700.HK), as well as short video giant Kuaishou (1024.HK).
VSPO enlisted several big-name investment banks, including CICC, Bank of America and Credit Suisse, when it filed for a Hong Kong IPO last year that it later abandoned, at least temporarily. That implied the company was probably planning to raise a minimum of $100 million, and probably as much as $200 million.
By comparison, NeoTV has no major backers, and is dominated by its founder and chairman, Lin Yuxin, who currently owns 66% of its shares. NeoTV's IPO is also being underwritten by a single smaller investment bank, Prime Number Capital. That fact, combined with the company's likely valuation of less than $100 million, implies this particular IPO will probably raise a much smaller total amount of around $20 million to $30 million at most.
Revenue setback
Next, we'll delve into NeoTV's actual financials, which show a company that was growing relatively quickly before hitting a major stumbling block last year. The company's revenue grew 30% in 2021 to 226 million yuan from 174 million yuan the previous year. But the figure fell by 32% in the first six months of last year to just 48 million yuan from 71 million yuan in the year-ago period.
Those figures are quite small when compared to VSPO's revenue, which totaled 1.3 billion yuan in just the first nine months of 2021, according to its previously filed prospectus.
NeoTV took an especially big hit in the first half of last year due to its reliance on the Shanghai market, China's commercial hub and also the city where NeoTV holds many of its e-sports tournaments and other activities. The company didn't provide financials for the second half of the year, though it's likely it continued to suffer as China continued its strong Covid control efforts before abruptly abandoning its "zero Covid" policy in early December.
NeoTV was actually profitable before last year's lockdowns – an achievement that VSPO can't boast. It reported a profit of 18 million yuan in 2021, up 17% from the 15.4 million yuan a year earlier. But it fell into the red with a 2.9 million yuan loss in the first six months of last year, as Shanghai was partially or completely locked down for much of March, and all of April and May.
With China's zero Covid policy now in the history books, there's no reason to doubt that NeoTV should return to earlier revenue and profit levels this year. A pricing of the company's shares at a price-to-sales (P/S) ratio of about 2 and price-to-earnings (P/E) ratio of about 30 would yield a roughly 500 million yuan market value, or about $70 million, based on its 2021 financials.
We'll close with a quick look at the regulatory development we mentioned earlier, which NeoTV referenced in its prospectus, and could result in a small flood of new Chinese IPOs in New York next month. Earlier this month, China's securities regulator rolled out new rules governing overseas listings for Chinese firms, removing a big cloud of uncertainty over whether such listings would be allowed in the future.
Those rules say any new listing candidates need to get the regulator's approval before proceeding, with the notable exemption for any new listing declared "effective" by an overseas regulator before March 31. In the U.S., such "effective" declarations are made by the Securities and Exchange Commission, and generally come very late in the IPO process. Thus, an actual pricing and trading debut often occurs just after a new listing application is declared "effective."
In NeoTV's case, the company could face difficulty getting the "effective" declaration before the end of March since its new prospectus is its first public filing and the SEC will probably still have many questions. But there are quite a few other, smaller Chinese IPOs that have been pending for a while, some for several years. Those could now make a final rush to get the "effective" declaration and start trading before March 31 in order to receive the Chinese regulatory exemption.
To subscribe to Bamboo Works free weekly newsletter, click here