Chinese Companies Raise Big Bucks in New York, Hong Kong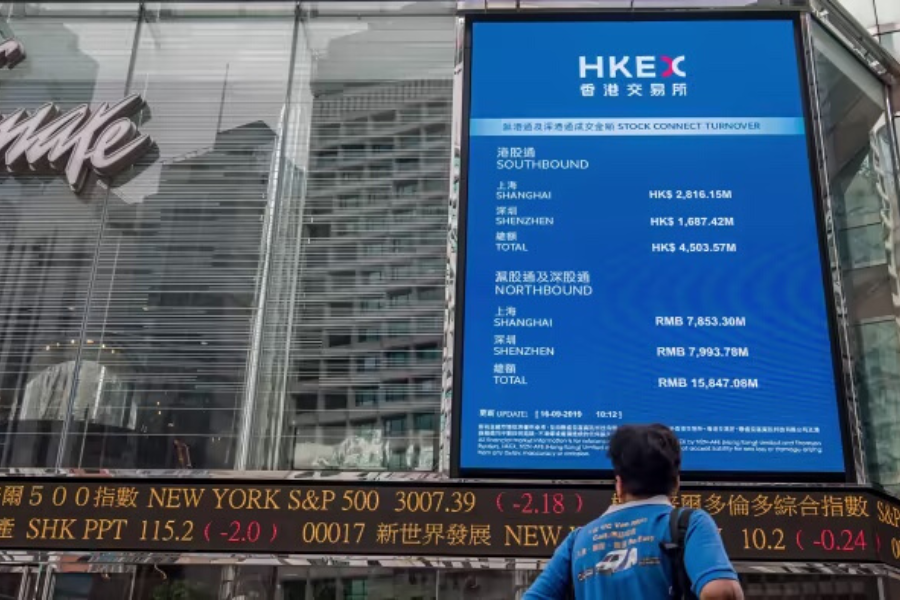 Eight U.S.- and Hong Kong-listed Chinese companies have collectively raised more than $2 billion this month, mostly through new share issues
Key Takeaways:
Eight Chinese companies have collectively raised more than $2 billion this month in Hong Kong and New York, seizing on recent positive market sentiment
The movement could augur a new fundraising wave as Chinese companies issue new shares and make IPOs after a pause of more than a year
By Doug Young
Long-suffering U.S.- and Hong Kong-listed Chinese companies are taking advantage of recent positive sentiment to raise billions of dollars, bringing new meaning to the old adage "make hay while the sun shines." This month alone, the group has raised more than $2 billion in at least eight deals, led by a $580 million fundraising by data center operator GDS (GDS.US; 9698.HK).
The amount almost certainly would be even larger if not for the long Lunar New Year holiday, which saw mainland China and Hong Kong close for most or all of this week. Accordingly, we can probably expect to see more similar fundraising once companies get back to work, as they rush to strike while the iron is hot.
The positive sentiment is also sparking a new wave of Chinese IPOs in New York, which is also likely to accelerate with the return from the holiday. Two major new Chinese IPOs have debuted since late 2022, ending a drought of more than a year. And another application filed last week by autonomous driving technology firm Hesai Group could become the biggest New York listing from the group since mid-2021, potentially raising up to $300 million.
The Hang Seng China Enterprises Index is up 56% from a low at the end of last October, rebounding after a dismal period that saw it lose more than half of its value from a peak in February 2021. Even after the recent rally, the index is still down by about a third from its 2021 peak, showing these stocks still have some climbing to do to return to their former glory.
The group has faced a number of challenges over the last two years from both sides of the Pacific. In China, they faced a brutal wave of regulatory crackdowns targeting everything from private educators to tech companies engaged in anti-competitive behavior. China's draconian pandemic control measures made things worse last year, causing frequent disruptions as companies were often forced to close or limit operations for weeks or months at a time.
On the other side of the Pacific, the U.S. securities regulator threatened to delist all Chinese companies due to its inability to access their audit records, which China considered "state secrets." That threat was mostly removed in the second half of last year after the U.S. and Chinese securities regulators signed a landmark deal to address the issue.
The easing of the delisting threat, combined with recent signals that the regulatory crackdowns in China were also easing, helped to spark the rally for Chinese shares starting last November. The movement gained momentum in December when China abruptly scrapped its "zero Covid" policy that was strangling the economy.
First to market
The rally has sparked a rush by cash-starved Chinese companies to raise money while investors are still feeling generous.
An analysis by Bamboo Works shows that shares of the eight companies that raised funds in January have all outpaced the broader rally. The gains have ranged anywhere from "just" 68% for drug maker Ascentage Pharma (6855.HK), which raised $70 million, to more than 200% jumps for internet video companies iQiyi (IQ.US) and Bilibili (BILI.US; 9626.HK), which raised $442 million and $385 million, respectively.
Medical companies were the most active on our list, accounting for three of the eight fundraisers we tracked. They were followed by internet entertainment and internet services, which each had two companies on the list. The eighth fundraiser was hotel operator H World Group (HTHT.US), which raised $260 million.
With the exception of GDS, which issued convertible notes, all of the new fundraising has been through new share sales. That differs from the past, when most major new fundraising has been through the issue of notes. In this case the preference for new shares is almost certainly related to recent big hikes in interest rates as the U.S. Fed tries to tame inflation. Such hikes make new bonds less attractive for issuing companies, since they must also offer higher interest rates.
Another hotel operator, Atour (ATAT.US), was one of the new IPOs during the recent rally, and also looks likely to become one of the next major fundraisers. The company originally filed for a U.S. IPO in June 2021 just before much of the controversy erupted in the U.S.-China stock dispute.
Atour put its plan on ice after that, but revived it late last year and ultimately listed in November. But it raised just $52 million – far less than the $350 million it originally targeted. Since selling its IPO shares for $11 on Nov. 11, the stock has more than doubled to its latest close of $24.66. That leads us to predict the company will take advantage of the recent share gains to sell some more stock, potentially raising another $100 million to $300 million.
Others likely to raise more funds include money-losing medical and internet companies that already have some revenue coming in and may be nearing profitability, similar to Ascentage, Bilibili and iQiyi.
Then there's IPOs, which are almost certain to quickly gain momentum as many companies rush to sell shares to take advantage of strong investor interest. The list of applicants could include many companies that withdrew their applications back in 2021, such as shared bike operator Hello Inc., dating app Soulgate and medical big data company LinkDoc.
At the end of the day, the just-begun Year of the Rabbit looks set for a fast start in terms of overseas fundraising by Chinese companies after a lull of more than a year.
To subscribe to Bamboo Works weekly newsletter, click here