Cardiology Specialist Gets Pumped with $400 Million Cash Injection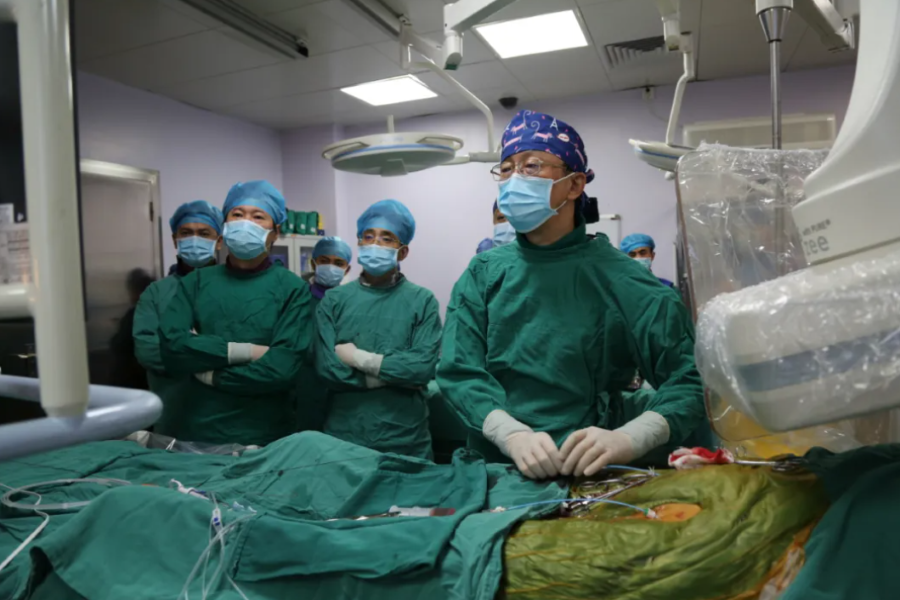 New funding by Hong Kong Asia Medical Group comes less than a year after the company was rumored to be seeking a $500 million IPO
Key takeaways:
Hong Kong Asia Medical Group, one of China's biggest cardiovascular medical service providers, has secured around $400 million in new funding
The company is believed to be considering an IPO this year in Hong Kong
Tina Yip
Who says only young companies can play the big-bucks fundraising game in China's fast-growing medical sector? Not Hong Kong Asia Medical Group, a cardiovascular disease specialist founded 23 years ago, which has just landed a fresh $400 million in new funding as it's rumored to be preparing for an IPO.
The heart lies at the core of human physiology, pumping blood into our circulatory systems to juice up other organs with the oxygen and nutrients they need to keep us alive.
But hearts can also be fragile. According to the National Center for Cardiovascular Diseases of China, cardiovascular disease was the leading cause of death among urban Chinese in 2018. By June last year, some 330 million Chinese suffered from such conditions. Patients with high blood pressure, abnormal blood cholesterol, diabetes and obesity are increasing, which could push up the incidence and mortality rates for cardiovascular diseases in China further still.
Working from its base in one of Asia's leading financial hubs,Hong Kong Asia Medical Group is aiming to expand its reach with the new series-D funding, whose major investors include the venture capital arm of property developer Country Garden (2007.HK) and venture capital firm Primavera Capital Group, founded by former Greater China Goldman Sachs Chairman Fred Hu. Taikang Life Insurance, ICBC International, ABC International, BOCOM International, Hudson Bay Capital and Sherpa Venture Capital also participated in the round, and existing investors like Legend Capital and General Atlantic increased their holdings as well.
Some reports last year said the group was planning to apply for a Hong Kong listing to raise $500 million, though nothing was ever publicly announced. The most recent fundraising may have been a step to boost the company's valuation for another IPO attempt. Such a large valuation is important for its older investors who are waiting to cash out, including Sequoia Capital, one of China's top venture capital firms.
Sequoia is one of the company's older fans, having invested hundreds of millions of dollars in 2017, followed by close collaboration to expand Hong Kong Asia Medical's domestic and overseas business operations. The latest funds will most likely be used for more expansion. The company plans to pursue innovation in its services and become a world-class cardiology-focused medical institution with clinical treatment, patient care, research and education all integrated into its mission.
The privately owned cardiology hospital franchise was established in 1999. Despite its base in Hong Kong, it only has a small clinic in the city. Its three main facilities are in mainland China, including two in the central city of Wuhan and one in the Western Xinjiang region. It manages close to 3,000 hospital beds and has partnerships with multiple top cardio hospitals in China.
One of its main facilities is Wuhan Asia Heart Hospital, a top Chinese cardiology specialist with eight Class 100 Laminar Flow operating rooms, seven catheter rooms for cardiovascular interventions and total area of 46,000 square meters. By the end of 2020, a total of 4.73 million cardiac patients had been treated in the facility's 21 years of operation, and more than 357,000 cardiac surgeries of all kinds were performed. It ranks among the country's top three in terms of number of procedures completed at the hospital's cardiac surgery and cardiology/intervention centers.
Several factors have converged to make healthcare a major theme for investors in China in recent years, including an increasingly aging population, adverse health effects of city living and growing wealth among patients. That works especially to the advantage of providers of higher-end services like those offered by Hong Kong Asia Medical Group.
Life insurance synergy
China's undersupply of public hospital beds has also provided an opportunity for private companies like Hong Kong Asia Medical to swoop in to plug the gap, and make money at the same time.
That said, building hospitals and getting them up and running takes time. Companies in the medical sector also typically take longer to grow than those from the sexier tech space. A good example is CR Medical (1515.HK). Its revenue in 2020 grew by 30% year-on-year to 2.75 billion yuan ($434 million), mostly from acquiring other hospitals and absorbing their revenues. But profits fell by 20% year-on-year to 400 million yuan, which the company attributed to the impact of the Covid-19 pandemic. But even before the pandemic, the company's revenue only grew 2% in 2019, and its profit dropped 9% that year.
CR Medical is controlled by a state-owned enterprise, which brings certain advantages that private hospital operators can only envy. By comparison, private Chinese hospitals often have a hard time building up their brands and gaining consumer confidence, and are also under great financial pressure. The need for big money to attract the best talent and purchase expensive medical equipment is partly why hospital investment requires time and patience. If that's the case, how can we gage whether Hong Kong Asia Medical Group can attract enough investment to thrive over the longer term?
Most importantly, the big names that have flocked to Hong Kong Asia Medical Group are probably betting on the great potential of China's healthcare market. Demand is growing slowly but surely for medical services, especially cardiovascular treatment, as China is already relatively prosperous and Chinese are getting more affluent. Combined with rising consumption in the medical sector now, risks for investors in high-quality hospitals are well under control compared to investing in the tech sector.
Such healthcare providers are also getting a boost through synergies between their business and the insurance business of some of their investors. Such investors, such as Taikang Insurance, may like companies like Hong Kong Asia Medical Group because the two share a similar customer base.
Having secured another huge financing, all eyes will turn to what's next for this big name in China's private healthcare sector, and whether the next step could be an IPO.
To subscribe to Bamboo Works free weekly newsletter, click here