Baidu's Results Shine, But Its Upcoming ChatBot Could Steal the Show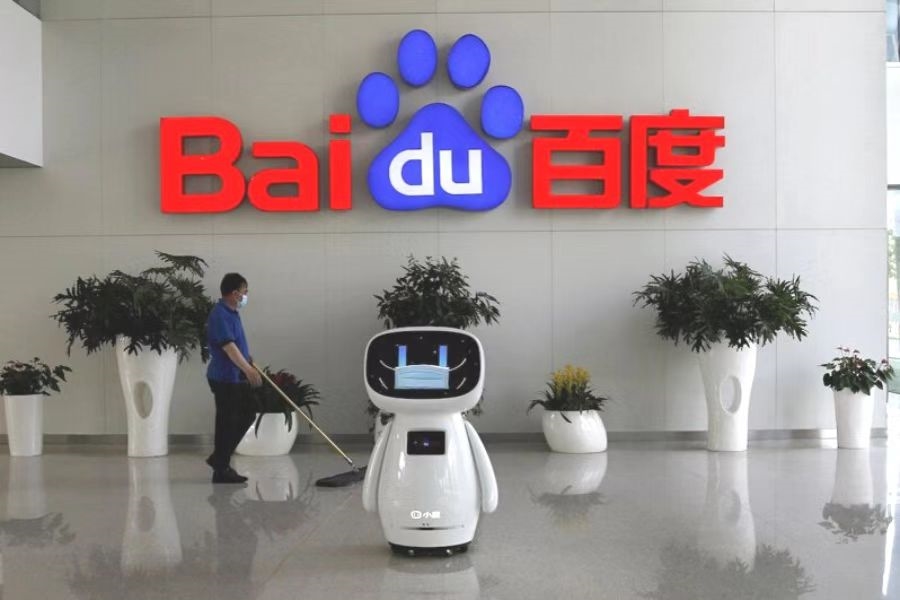 The search leader's latest quarterly results beat expectations, even as its new Ernie chatbot has captured headlines despite China's tougher oversight of such AI technology
Key Takeaways:
Baidu reported flat revenue growth in the fourth quarter, as its net profit rose 189%, exceeding market expectation
China may be weighing restrictions on conversational AI, which could hurt Baidu and other AI firms in the long run
By Ken Lo
Baidu Inc. (BIDU.US; 9888.HK) founder and chairman Robin Li has always regarded global search leader Google as his No. 1 role model. China's own leading search engine has followed the U.S. giant to nearly every field it has entered, including artificial intelligence (AI).
That AI focus has served Baidu well lately, combining with relatively strong performance from its key advertising and cloud businesses to power the company past market expectations in both revenue and profit in its latest quarterly results. Its performance for the entire year was a bit less stellar, though mostly due to factors beyond its control like China's economic downturn and pandemic-related restrictions. Tech companies generally performed poorly last year, and Baidu managed to outpace the industry average, including a recovery in the latter half of the year.
The company registered fourth-quarter revenue of 33.08 billion yuan ($4.81 billion), similar to the level the previous quarter and the same as a year earlier, according to its financials released last week. But its bottom line looked much stronger, including a 189% year-over-year rise in net profit to 4.95 billion yuan, and a 32% rise in non-GAAP net profit to 5.37 billion yuan.
Things were less stellar for the whole year, with revenue and net profit declining by 1% and 26.1%, respectively. Like many Chinese companies hit by the pandemic, Baidu went into cost control mode in the second half of the year, allowing it to post 14% growth year-on-year for its core non-GAAP operating profit during that period.
The company is often credited as one of China's most internationally competitive tech companies in AI. It learned its lessons the hard way after being outmaneuvered by other leading Chinese tech firms in the move to the mobile internet, and thus has thrown its full weight and resources behind its drive to become a leading AI company.
First-mover advantage
Robin Li addressed three topics in Baidu's latest financial report, starting with a heavy dose of optimism that revenue will begin growing again in the coming quarters. The company has already seen revenue from its cloud business revive, especially from customers in fields like healthcare, tourism, business services and lifestyle.
The company also has a first-mover advantage in AI, and has doubled its investment in the area over the past several years. Many of its current services, including search, cloud computing, autonomous driving and AI chat, are enabled by AI technologies. Li mentioned the global headline-grabbing sensation ChatGPT, saying such chatbots could become a major new source of internet traffic, which could help its core search business and provide new opportunities for its advertisers, content-creators and merchants.
Two weeks before the results announcement, the company seized on the chatbot craze with the announcement of its own product, the "Ernie Bot," which will be powered by large-scale language models and integrated into the company's entire business operation. Li said Ernie will make its debut this month, a move that looks similar to Microsoft's recent integration of ChatGPT into the latest version of its Bing search engine and Edge web browser.
Li also talked about long-term sustainable development, emphasizing Baidu's recent efforts to optimize costs and implement other restructuring measures like the ones that helped it improve its performance in the second half of last year.
But AI is clearly the closest thing to Li's hear these days, seen as key to the company's future as growth for its original search business stalls. Accordingly, he spent much of his time on the company's latest earnings call talking about the subject and how it fits in with Baidu future.
Baidu is unquestionably at the cutting edge among its Chinese rivals in the AI race, with big advantages due to its early start and deep investment that have made it a leader in autonomous driving and AI chat. But the company – and China's entire AI sector, for that matter – face one major challenge beyond their control, namely China's fickle policy environment.
Bye-bye ChatGPT
Despite making headlines around the globe, ChatGPT is unavailable in China and quite possibly never will be. According to press reports, Chinese tech companies including Tencent (0700.HK), Alibaba (BABA.US,9988.HK) and Baidu have all been instructed not to provide ChatGPT services to the public, and are required to notify authorities before developing their own AI chatbots. The Chinese government is erring on the side of caution because ChatGPT tends to give answers that violate China's strict censorship requirements. Tencent's popular WeChat platform has also shut down some apps that are quasi-AI-ChatBots.
Beijing's efforts to curb the use of AI chatbots will inevitably affect tech companies' ability to use such features to attract users and advertisers, leading many to predict they could lose their edge over foreign rivals. That's because Chinese tech companies will need to create completely separate versions of their products for the national and international markets, similar to what ByteDance has done with Douyin and its better-known international edition TikTok.
Baidu is benchmarking itself against Google parent Alphabet (GOOG.US). The latter's net profit margin reached a high of 32.41% in the first quarter in 2021, before declining steadily to 17.92% by the fourth quarter, mostly due to the global economic slowdown and its impact on advertising revenue.
Baidu is more susceptible to macro factors than Alphabet, and has barely broke even in the past year and a half. Even after its relatively strong fourth quarter, its net profit margin was only 15%. Thus, it's no surprise that Baidu's projected price-to-earnings (P/E) ratio is also lower at 14.5 times versus 17.1 times for Alphabet.
While it might lag Alphabet in management efficiency, Baidu is still one of the few fat "cash cows" in China's tech sector, with $26.87 billion in cash and short-term investments. That gives it the resources to carry out a newly announced plan to buy back up to $5 billion worth of its shares. While that could help to support the stock, investor enthusiasm for the company's big AI plans will be the most important catalyst for its longer-term prospects.
To subscribe to Bamboo Works weekly free newsletter, click here