As its stock gets set for upgrade, Boan Biotech still faces two big risks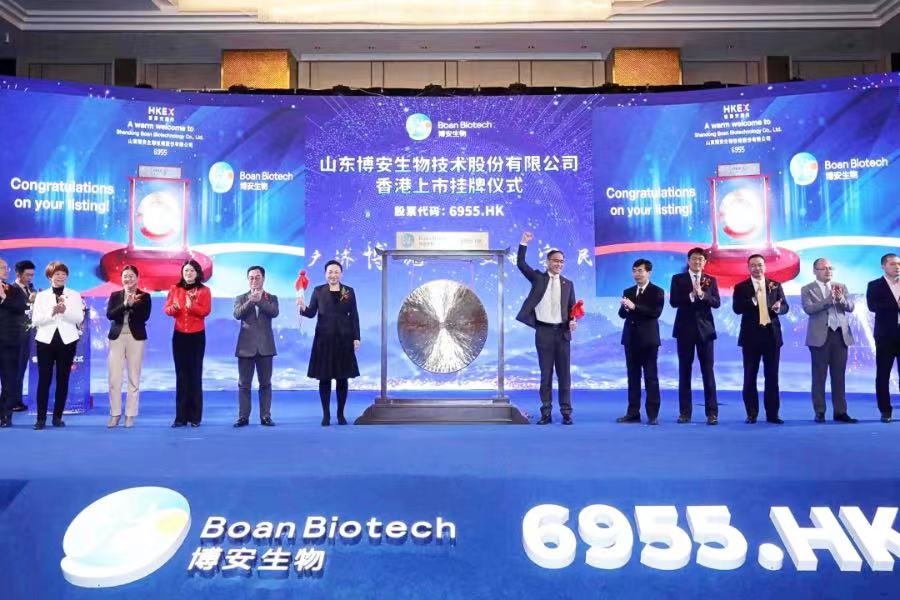 Listed at the end of 2022, the biopharmaceutical company is about to have a designation reserved for high-risk stocks removed from its ticker
Key Takeaways:
With two products now generating revenue, Boan Biotech will soon have the "B" marker for high-risk tickers removed from its stock symbol
Boan faces stiff competition in its main area of biosimilar drugs, and could also face price pressure if its products are included in China's centralized drug program
By Ellie Si
Strong sales for its two drugs are proving good medicine for Shandong Boan Biotechnology Co. Ltd. (6955.HK), helping the biosimilar drug maker become one of eight biotech stocks about to lose a marker for high-risk shares just four months after its listing.
Boan announced last week that its application for the upgrade had been approved, and that the "B" marker that designates high-risk stocks will be removed from the company's Chinese and English stock abbreviations effective April 19.
Hong Kong allows biotechnology companies without revenue and profits to file for listings – something forbidden for stocks from other industries. But it also requires them to add the "B" marker to caution investors to their risky status. At the end of last year, 56 such companies had listed in Hong Kong.
Companies can apply to have the marker removed if their annual revenue is higher than HK$500 million ($64 million) and their market value exceeds HK$4 billion. The removal puts such stocks on equal footing with other regular listed companies on the exchange.
That means such stocks have greater opportunities to be included in the benchmark Hang Seng Index, a move that typically broadens a stock's investor base. The "B" removal also increases the chances for stocks to join a program allowing mainland Chinese investors to buy certain Hong Kong-listed stocks, which often also improves their liquidity and profile, making it easier to raise equity and debt financing.
Boan's market capitalization stood at HK$9.65 billion on April 14, easily meeting the HK$4 billion requirement. Last year its revenue also more than tripled to 516 million yuan ($75 million) on growing sales for its two products, Boyounuo and Boyoubei, fulfilling the other condition for the upgrade.
Despite being relieved of the marker so soon after its listing, Boan has yet to prove itself in terms of R&D capabilities. Adding to its drawbacks, the biosimilar drugs that are its main breadwinners are a fiercely competitive market. Then, there's always the possibility it could face pressure to reduce its prices if its drugs are included in China's national drug procurement program. With all those questions hanging over it, the company will need to keep giving investors reasons to buy its stock even after the status upgrade.
Established in 2013, Boan was acquired by Luye Pharma (2186.HK) in 2019, and then spun off not long after that. It was listed in Hong Kong in late December last year after filing twice, though it was forced to add the high-risk tag due to consecutive years of losses and insufficient revenue.
Focus on biosimilars
Boan's current pipeline includes the two drugs on the market, and five others in development for treatment of cancer, metabolic and ophthalmological conditions, from the biosimilar space. Such drugs, which are essentially generic versions of popular biological drugs that have been on the market for years, are cheaper to develop and have higher success rates, and can substitute for the original drugs after their patents expire.
Before Boan, Henlius Biotech (2696.HK) also successfully had its "B" marker removed after posting significant revenue growth, much of that for biosimilars, three years after listing in Hong Kong. According to the company's annual results, its biosimilar sales revenue last year reached about 2.34 billion yuan, accounting for 73% of its total, including 1.69 billion yuan from its trastuzumab biosimilar Hanquyou for breast cancer.
But not many investors are bullish on biosimilar-focused companies. Boan's share price fell blew its IPO price on its trading debut, and at last Friday's close of HK$18.94, it was still 4.3% below its listing price of HK$19.80. The company's price-to-sales (P/S) ratio is still quite high at 23 times, well above Henlius' 2.7. But that inflated value likely factors in expectation for a continued surge in Baoan's revenue growth this year.
The difficulty for makers of biosimilars lies in such drugs' relatively low R&D barriers to entry. That means many producers often face intense competition.
Boan is a classic example of the difficulties many biosimilars makers face. Boyounuo, its first approved product that can be used to treat a number of cancers, including lung and colorectal, is a biosimilar for Roche's original Avastin, which has been sold in China since 2010 after its U.S. launch in 2004. A number of companies have been scrambling to launch biosimilars since Roche's patent expired in 2018. Boan's launched in 2021, becoming the fourth biosimilar for Avastin in China. Today that number has grown to nine.
To expand its sales, Boan partnered with British drug giant AstraZeneca (AZN.LN) to promote the drug in 2021. While the drug contributed 159 million yuan to Boan's revenue eight months after its launch, related administrative and sales expenses also soared 8.5 times, leaving Boan in the red.
Boat to Brazil
Last November, Boan also launched its second product, Boyoubei, for treatment of osteoporosis in postmenopausal women. The drug is a biosimilar for Prolia, which was developed by multinational drug company Amgen (AMGN.US), and registered global sales of $3.25 billion in 2021. As the first biosimilar for Prolia in China, sales of Boan's product could have big potential.
Boan and its peers also always face the risk that their biosimilars will be included in China's national centralized drug procurement program, a government-led, "price for sales" policy. Once a drug is included it can record more sales, but at significantly lower prices, making it harder to earn a profit.
It's also worth noting that Boan is actively exploring overseas markets for its existing products, both to boost sales and reduce risks that can come with policy changes in its home China market.
The company announced last Tuesday that the marketing authorization application for its Bevacizumab injection was accepted by Brazil's drug regulator, opening a potential window for Boan to enter the world's eighth largest pharmaceutical market. The product is also undergoing international clinical trials and registration simultaneously in Europe and the U.S., again showing the company's determination to make money beyond its home borders in China.
To subscribe to Bamboo Works weekly free newsletter, click here