Anta Sports takes its game to Southeast Asia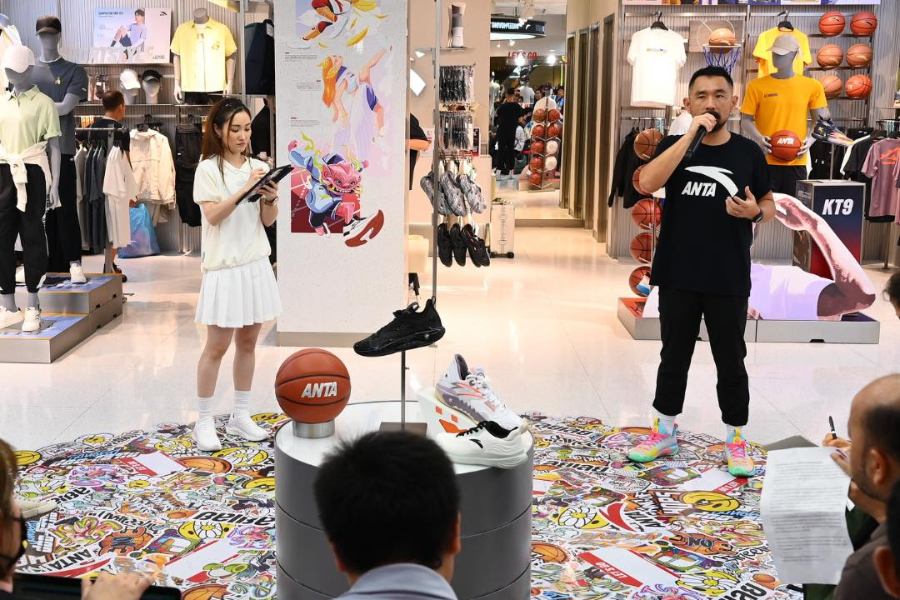 A store opening in Bangkok marks the latest milestone for the sports apparel giant's quest to tap international markets
Key Takeaways:
After setting up a Southeast Asian department just last year, Anta Sports has quickly set up shops in the Philippines, Malaysia, Singapore, Qatar and now Thailand
Anta's revenue outside China has been negligible so far, but that may soon change as its new network gains traction
By Edith Terry
When Anta Sports Products Ltd. (2020.HK) opened its first store in Bangkok late last month, it was following a game plan laid out years earlier by Chairman Ding Shizhong, who declared: "We don't want to be China's Nike, but the world's Anta."
Since founding the company in 1991, Ding has grown Anta into China's leading sportswear retailer with 2022 sales of 53.6 billion yuan ($7.4 billion), a net profit of 7.5 billion yuan and a sporty market cap of HK$262.5 billion ($33.5 billion). The company boasts an athletic price-to-earnings (P/E) ratio of 27, miles ahead of rival Li Ning (2331.HK) at 15 and 361 Degrees (1361.HK) at just 8. And of the 35 analysts surveyed by Yahoo Finance, 29 rate it a "buy" or "strong buy."
Domestically, Anta is a formidable competitor, with a huge network of 11,918 outlets, including 6,941 for its core Anta brands that account for about half of its sales. President Xi Jinping was spotted wearing an Anta parka in 2017, at a venue for the 2022 Winter Olympics. And NBA star Klay Thompson signed a 10-year, $80 million endorsement deal with Anta in 2017.
Anta and its domestic peers have benefitted from a national fitness campaign launched in 2021, and are also beneficiaries of a growing Chinese preference for domestic brands over big international names like Nike (NKE.US) and Adidas (ADS.DE). But Ding has his eyes on more than domestic glory. In its latest strategic plan for 2024-2026, Anta said it aims to be not only the leader in the domestic market by 2025, but to also have leading global market share by 2030.
The new Southeast Asian stores are clearly testing the market for Anta's brands overseas. The company is stepping overseas more than a decade after rival Li Ning, which draws on nationalist sentiment at home through its namesake founder, an Olympic gold medal gymnast, and used the 2008 Beijing Olympics to launch its brand globally.
By comparison, Anta is tiptoeing into the international market with a multi-brand strategy. Chairman Ding quips that Anta wants to "become the LVMH of the sports world," referencing the French luxury group that owns dozens of famous brands, led by Louis Vuitton.
The company licenses a number of foreign brands in China, led by Korea's Fila, and has just begun gathering similar rights for some of them outside China, starting with Southeast Asia. The company's core Anta brand is virtually unknown outside China, despite its dominant 20.4% market share domestically, just behind Nike's 22.6% and ahead of Adidas' 11.2%. Domestically, the company's Anta brand generated 48.7% of its revenue in 2022, while Fila represented 44.2% of its overall revenue of 53.6 billion yuan. The remaining 7.1% came from other brands.
While its global expansion is quite recent, Anta was thinking globally as early as 2009 when it acquired the China trademark and operating rights for South Korea-owned Fila Holdings (081660.KS) for 325 million yuan. Its global campaign began in earnest in 2019, when Anta led an investor consortium including Tencent, FountainVest and Anamered to buy Helsinki-based sporting goods firm Amer Sports Corp. (AMY.DE), which Anta operates as a joint venture.
Growing stable of brands
Amer's stable of brands includes Arc'teryx, Salomon and Wilson among others. Last month Anta also announced its acquisition of the women's-focused domestic Maia brand. It also owns Japanese brand Descente, South Korean brand Kolon Sport and British fashion shoe brand Sprandi. While the brands themselves are sold internationally, so far the Amer Sports joint venture has been losing money for the most part. More on that shortly.
Anta has quickly ramped up its Southeast Asian store network, which now includes 40 in Malaysia, 40 in the Philippines and four in Singapore. The company established its Thai subsidiary in February this year, and will open 10 more outlets in the country this year, according to Gavin Lum, Anta's regional brand marketing director for Southeast Asia.
Anta has yet to break out revenue outside China in its results, most likely because the figure is still negligible. Analysts believe the company's non-Chinese revenue is likely similar to Li Ning and 361 Degrees, which both got about 1.8% of their revenue outside China last year.
So, what kind of chances does Anta stand outside its home court?
For starters, Anta will lose its home field advantage as it goes head-to-head in other global markets with Nike and Adidas, among other global brands. Nike's 2023 fiscal year revenue of $51.2 billion is about seven times that of Anta, and its market cap of $163.3 billion similarly dwarfs Anta's. Adidas is also about three times bigger than Anta with 2022 revenue of 22.5 billion euros ($24 billion), though it has a similar market cap of 32.5 billion euros. So, Anta could face a big challenge wrestling market share from such international brands with decades of experience operating abroad.
Anta's revenue grew 14.2% to 29.7 billion yuan year-on-year in the first half of 2023, with its net profit up 32.3% to 4.7 billion yuan. Its Amer Sports joint venture broke even in the 2022 financial year with a 50 million yuan profit, but Anta recorded a 516 million yuan loss on its share of the venture in the first half of this year. Excluding the Amer Sports loss, Anta said its first-half profit would have increased by 40% to 5.26 billion yuan. The company noted this was the best half-year performance for the joint venture since the acquisition, and that the joint venture's revenue grew by 37.2% year-over-year to 13.27 billion yuan for the period.
A big question for Anta will be whether it can break out of its domestic stronghold without burning too much cash in the process. The Amer Sports joint venture suggests that won't be easy. In addition to the big global brands, Anta will also find itself coming late to the game as it goes up against Li Ning and 361 Degrees abroad.
Have a great investment idea but don't know how to spread the word? We can help! Contact us for more details.
The Bamboo Works offers a wide-ranging mix of coverage on U.S.- and Hong Kong-listed Chinese companies, including some sponsored content. For additional queries, including questions on individual articles, please contact us by clicking here.
To subscribe to Bamboo Works free weekly newsletter, click here