Ant Group Tipped to Revive IPO Plans after Jack Ma Bows Out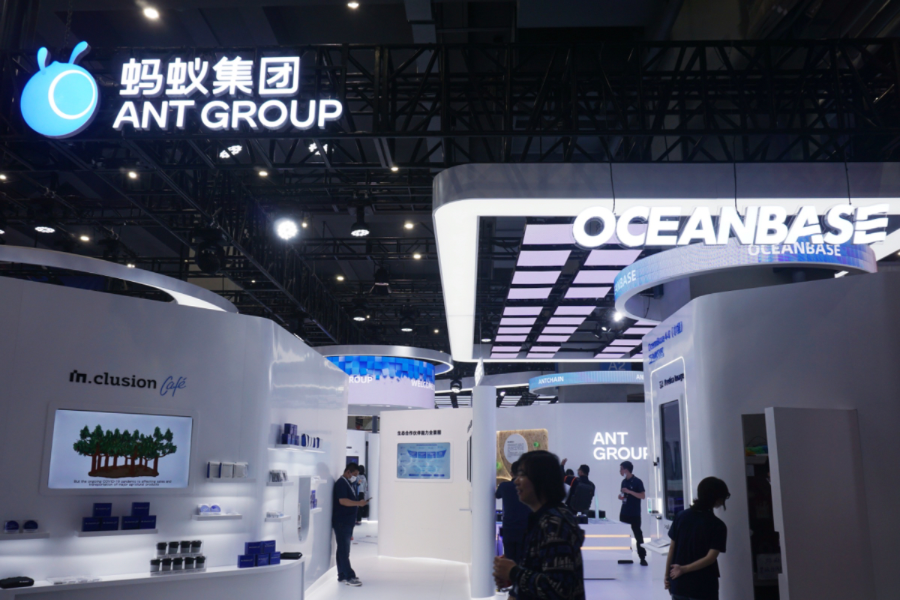 Alibaba founder Jack Ma has relinquished control of the company's financial affiliate, Ant Group, as the firms emerge from a two-year regulatory crackdown
Key Takeaways:
Ant Consumer Finance has got a green light from regulators to boost its capital. Meanwhile, Jack Ma showed up again in public and has ceded control of Ant Group, leading the market to believe that an IPO could be in the offing
Some foreign securities firms believe Ant Group could launch a public offering as early as the second half of this year, but the company said it is still focused on restructuring, with no plan for a share listing
By Fai Pui
The New Year looks to herald a fresh start for Alibaba Group Holding Ltd. (BABA.US; 9988.HK) and its fintech offshoot. Shares in the e-commerce giant surged this month, helping to push Hong Kong's benchmark index up through its 250-day moving average into bull market territory.
As of Jan. 17, Alibaba's share price has climbed 32% this year and has gained around 90% since last October, buoyed by market hopes of an end to two years of regulatory pain.
Let us turn the clock back to October 2020, when Alibaba's financial services arm, Ant Group Co. Ltd., was poised to go public In Hong Kong and Shanghai. But then Alibaba founder Jack Ma delivered a blistering speech about the banking system at a Shanghai conference. The two exchanges called off the company's IPO, then valued at $300 billion, amid official concerns about Alibaba's monopolistic power and Ant Group's complex ownership structure. Regulators stepped up scrutiny of tech companies including Alibaba. The stock collapsed from HK$309.4 to just HK$60.3 at the end of October last year.
Finally, after a regulatory restructuring, Alibaba is on an upswing and its fintech affiliate could be headed back down the road towards an IPO.
As we reported previously, Ant Group set up Chongqing Ant Consumer Finance Co., Ltd. (Ant Consumer Finance) to host the loans business of "Ant Credit Pay" and "Ant Cash Now". Raising new funds to support lending to its big user base is a key part of the company's restructuring process.
On Jan. 4 this year, the Chongqing branch of the China Banking and Insurance Regulatory Commission officially approved plans by Ant Consumer Finance to boost its capital from 8 billion yuan ($1.2 billion) to 18.5 billion yuan. State-owned Hangzhou Jintou Digital Technology Group became the company's second biggest stakeholder with 10% of shares, signaling official blessing for the move.
Jack Ma showed up again
Ma kept an exceptionally low profile over the past two years after Ant's IPO was abruptly shelved. He was said to have traveled from Hong Kong to Europe to check out agricultural and greenhouse techniques in countries including Spain and the Netherlands. Late last year, reports surfaced about a half-year stay in in Japan to learn fishing techniques, as well as a trip to Southeast Asia to study agriculture there. This month he joined an event via video link to honor countryside teachers and was spotted at a small restaurant in Bangkok, Thailand. All signs pointed towards him entering a state of semi-retirement, no longer concerned with Alibaba and Ant Group matters.
Then on Jan. 8 Ant Group announced a series of changes to its shareholders' voting rights under which Ma officially relinquished his control of the company.
Before the move, Ma had effective control of Ant Group via an investment vehicle, Hangzhou Yunbo Investment. He was one of its four shareholders who had agreed to act in concert, giving him indirect control of 53.46% of Ant Group's voting rights through two subsidiaries of the investment vehicle, Hangzhou Junhan and Hangzhou Junao.
But the four shareholders revoked their agreement and Hangzhou Yunbo pulled out of Hangzhou Junhan. As part of the overhaul, Hangzhou Xingtao, another company whose shares are evenly divided among five parties including Ma, becomes general and executive partner for Hangzhou Junhan. Its shareholders agreed not to enter into any new concert party agreement. The upshot is that Ma ceded control of Ant Group as his voting rights fell from more than 50% to 6.2%.
With a capital boost approved and Ma out of the picture, the remaining challenge is to obtain a financial holding company license. Daiwa Securities expects major progress after the National People's Congress and the Chinese People's Political Consultative Conference in March, with the company potentially seeking an IPO in the second half of this year at the earliest. However, Ant Group said it has no plans to go public and will focus on restructuring.
A shift in official attitude
Several analysts believe Ant Group is clearing a path towards another IPO attempt.
Dickie Wong, executive director of research at Kingston Securities, says Alibaba's management have recognized the benefits of keeping a low profile over the past two years. Furthermore, Ant Group's move to hire non-executive directors looks to be aimed at paving the way for another IPO push, he said.
Kenny Wen, KGI Asia's head of investment strategy, is also convinced that Ant Group is setting the stage for a revived IPO.
But he sounded a note of caution for investors. Although policies towards the company have softened, today's Ant Group is very different from the earlier IPO candidate and market sentiment has also shifted, which could mean much less favorable valuations this time, Wen said.
The regulatory crackdown seems to have run its course, judging from recent comments by officials.
On Jan.13, a spokesperson for the People's Bank of China told a news conference that 14 leading platform companies including Ant Group had basically completed their rectification efforts, and that a revised regulatory framework over their financial operations had taken shape, implying that pressure will ease.
Moreover, Alibaba recently signed a strategic cooperation agreement with Hangzhou authorities and was praised by municipal party secretary Liu Jie as having made a significant contribution to the area's social and economic development. Premier Li Keqiang also made supportive remarks, saying businesses of all ownership types should be protected in accordance with the law, to boost the confidence of private enterprises, spur the development of the platform economy, and promote employment and consumption.
Analyst Wen thinks the biggest beneficiary of Ant's restructuring process will be Alibaba itself. "In spite of Jack Ma's absence, a remarkably mature management team has enabled Alibaba to deliver an impressive performance in recent years," Wen said. In his view, any further climb in the share price will depend on whether the management can bring new businesses such as Alibaba Cloud, Cainiao and Life Service into profit.
To subscribe to Bamboo Works weekly free newsletter, click here