Alibaba's Pakistani Stumble Highlights Bumpy Road for China E-Commerce Abroad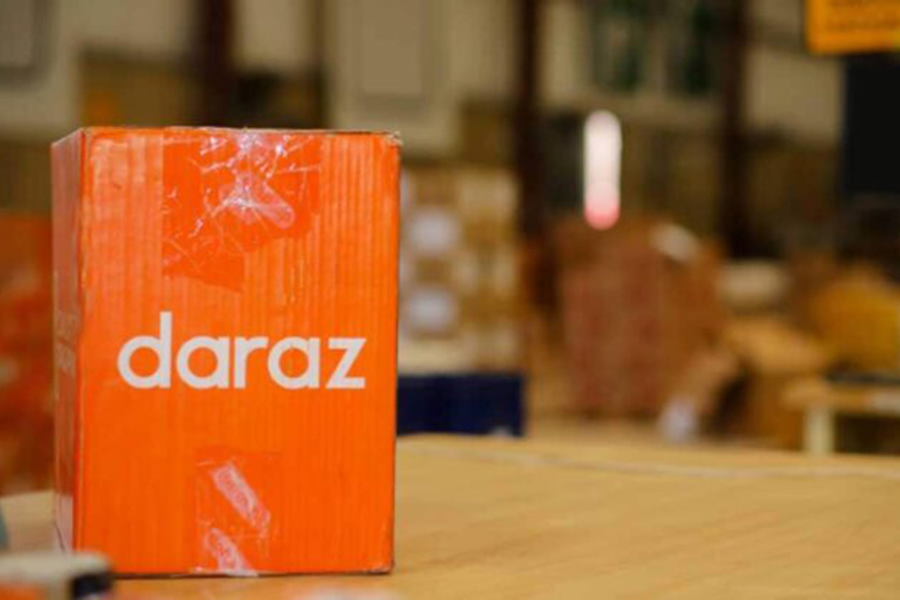 The e-commerce giant's Daraz unit said it will cut 11% of its workforce, weeks after Alibaba rival JD.com said it would shutter its Southeast Asian e-commerce operation
Key Takeaways:
Pakistani e-commerce site Daraz announced it will cut 11% of its workforce, a week before owner Alibaba reportedly made a separate major divestment in India
Analysts say Chinese e-commerce companies may need to localize better, rather than simply replicating their success at home, to succeed overseas
By Trevor Mo
Several overseas forays by Chinese e-commerce majors have stumbled lately, leading to layoffs and even closures as their business struggles. The travails speak to mounting difficulties in the group's drive to export their success at home, forcing them to navigate challenges such as ineffective localization strategies and clashing work cultures, all as geopolitical tensions mount and the global economy sputters.
The latest setback came at Pakistan e-commerce site Daraz Group, owned by Alibaba (BABA.US; 9988.HK), whose CEO Bjarke Mikkelsen announced in a memo to employees on Feb. 6 that it would cut 11% of its workforce. Alibaba acquired Daraz from German firm Rocket Internet in 2018, and the site has touted itself as South Asia's leading e-commerce platform.
Mikkelsen said Daraz's growth momentum slowed significantly in 2022 due to factors including the Russia-Ukrainian war, and "soaring inflation that has disrupted supply chains and economies." Accordingly, the company made the layoffs to prepare for "the current market reality and to ensure Daraz will thrive in the long term."
Daraz isn't Alibaba's only global asset whose business has slowed over the past two years. In addition to Daraz, China's leading e-commerce firm operates three other global platforms: Southeast Asia focused Lazada; cross-border e-commerce platform AliExpress; and Middle East-focused Trendyol.
Combined orders on Lazada, AliExpress Trendyol and Daraz declined 3% year-over-year in the three months to September, according to Alibaba's latest quarterly earnings. It did not provide more specifics on performance of the individual services.
Alibaba isn't alone in feeling the pinch at its overseas operations.
Hometown rival JD.com (JD.US; 9618.HK) has been struggling to gain traction in Southeast Asia, and on Jan. 31 finally confirmed widespread rumors that it would close its e-commerce businesses in Indonesia and Thailand. It added that rather than e-commerce, those operations would turn their focus to providing "supply chain infrastructure" to local clients, and it would continue building up its warehousing and logistics operations in Southeast Asia, as well as in Europe and North America.
Some factors behind the recent pullback are beyond the Chinese companies' control, such as a weakening global economy, and increasing geopolitical tensions between China and some other countries such as the U.S. and India.
Changes to e-commerce-related laws in some countries have also affected the Chinese companies' global e-commerce business. In previous earnings reports, Alibaba blamed declining orders at AliExpress on major changes to Europe's tax rules. In 2021, the European Union removed its value-added tax exemption for cross-border packages valued at less than 22 euros ($21.35), dampening demand for the company's B2C business.
Still, there are the many other specific challenges the Chinese e-commerce companies face due to their background and relative inexperience as global operators, analysts and industry experts said.
Localizing challenge
A major challenge for many Chinese companies going abroad is learning how to localize their products and services. With short operating histories as global businesses, Chinese internet companies still have a sharp learning curve, said Zhang Zhouping, a senior analyst at Electronic Commerce Research Center.
One example he cited was China's infamous "996" work culture, which dictates employees at high-tech companies should work six days a week, Monday to Saturday, from 9 a.m. to 9 p.m. Such a culture has helped to turbocharge the rise of companies like Alibaba and JD.com at home, and both Alibaba founder Jack Ma and JD.com founder Richard Liu have defended the practice. But such work culture may not be suitable for their overseas companies, said Zhang.
One such work culture clash occurred at Shopee, the Singapore-based e-commerce platform founded by China-born Forrest Li and backed by Chinese internet giant Tencent.
That clash culminated with a comment made by a new Chief Technology Officer sent from China, causing a major stir among Singaporean staff, according to a report last August from local tech outlet Pingwest. The CTO reportedly made his comment at a town hall meeting after a staff member raised concerns about having to work too much overtime, with the result that sometimes employees couldn't leave the office until as late as 9:30 p.m.
Instead of asking about the work situation, the Chinese CTO reportedly replied to the staff member's concerns by asking: "9:30 p.m. is too late to get off work?"
Shopee's CTO appointment is part of a bigger introduction of staff from China into the company, diluting the influence of local Singaporean staff and leading to a year-long volatile situation characterized by frequent management changes. The company has increasingly moved its core business and operations from Singapore to the Chinese mainland, including the cities of Shenzhen and Beijing, according to the report. By last August, the number of staff in Shenzhen had grown to four times that in Singapore, upsetting a previous balance that had seen staff more evenly split between the two cities in early 2021, the report said, citing multiple Shopee employees.
After adopting a massive expansion strategy the previous two years, Shopee has became more disciplined last year, recently shutting down businesses in various countries and regions including Europe and India. In the six months through last September, its parent company Sea Ltd. (SE.US) has cut about 7,000 jobs, or roughly 10% of its workforce, according to a report from Bloomberg.
While Shopee is backed by Tencent through the latter's investment in Sea, China's leading game operator itself doesn't generate major revenues from e-commerce and views its investment in the Singaporean company as more financial than strategic. Still, Shopee's recent troubles could act as a cautionary tale for Chinese e-commerce companies looking to go global, reminding them they need to take local work and other customs into consideration.
One of China's other major recent global e-commerce expansions has come from discount specialist Pinduoduo (PDD.US), which has found early success with its Temu site in the U.S. But that initiative is still in its early days, and it's unclear whether it will do well over the longer term or if any work culture issues have emerged in its operations.
As their global forays turn in mixed success, analysts said other Chinese internet giants could follow in JD.com's footsteps by offloading some of their international operations. Multiple media reported this week that Alibaba had sold its remaining 3.1% stake in Indian online payment provider Paytm, fully exiting the local fintech major after abandoning earlier hopes for a more strategic partnership.
And early last year, reports emerged that Tencent had sold down its stake in Sea, raising $3 billion by reducing its holding from 21.3% to 18.7%. Tencent could continue selling down more of its Sea stake in the future, depending on its own capital needs and Shopee's development, said Shuai Zhuang, founder of Bailian Consultancy.
To subscribe to Bamboo Works free weekly newsletter, click here