After Ditching Promising Drug, Everest Medicines Bets on mRNA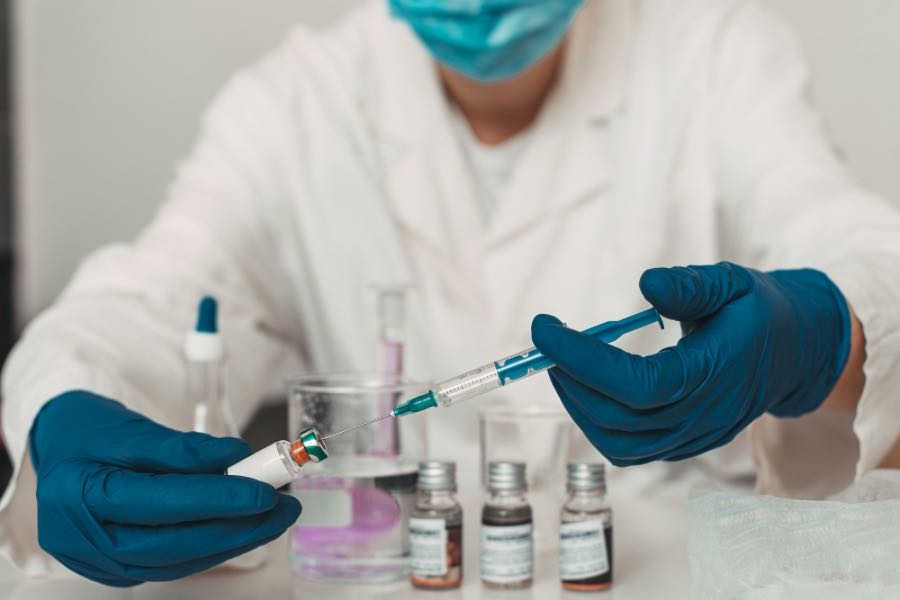 The drug maker surprised investors last year when it halted its tie-up with Gilead to develop the breast cancer drug Trodelvy. Now it says it will focus on mRNA vaccines
Key Takeaways:
Everest Medicines is staking its future on mRNA vaccines, which it will produce in a new $130 facility that recently began operations in Zhejiang province
The company will have to compete with many other domestic drug makers shelling out big bucks to develop mRNA vaccines with strong support from Beijing
By Ken Lo
Late last month, an mRNA vaccine production facility in Zhejiang province's Jiashan county quietly launched operations. While the event may have gone largely unnoticed, the facility's 900 million yuan ($130 million) price tag represents the biggest investment for Everest Medicines Ltd. (1952.HK) since the company's surprise decision last year to abandon Trodelvy, an antibody-drug conjugate (ADC) used to treat cancer.
Now the company is staking its future on mRNA vaccines, which shot to fame during the global pandemic for their higher efficacy at preventing diseases like Covid-19. But Everest is hardly alone in its pivot to mRNA technology, meaning it's likely to face stiff new competition.
The list of Chinese drug companies piling into the space includes CanSino Biologics (6185.HK; 688185.SH), CSPC Pharmaceutical (1093.HK), Walvax Biotechnology (300142.SZ) and Shanghai Junshi Biosciences (1877.HK; 688180.SH), to name a few. The group may be motivated by commercial considerations or government support, or a combination of both. But regardless of the driving force, the flood of investment into the field will carry its own risks, especially given that China is somewhat late to the mRNA game.
Beijing suddenly abandoned its "zero Covid" policy early last December, and earlier this month it ended stringent quarantine requirements for travelers entering China that were in place for three years. That immediately led to a surge in infections. Despite that, the government has yet to clear any foreign-developed mRNA vaccines to enter China, even though they are generally considered more effective than locally made vaccines based on older technology.
Even the highly-effective oral drug Paxlovid, developed by Pfizer (PFE.US), failed to be included as a subsidized drug in the state medical insurance program as a result of its staggeringly high price. Some analysts believe China's exclusion of foreign vaccines is a deliberate move to buy time for companies like Everest and its peers to bring some homegrown products to market to showcase the country's advances in the technology.
Bivalent booster vaccines
At the center of its mRNA drive is Everest's new 58,000 square-meter production facility that meets Chinese and global good manufacturing practice (GMP) standards, with designed capacity to produce 700 million vaccine doses annually. The company is preparing to launch clinical trials for its mRNA candidate EVER-COVID19-M1, a bivalent booster vaccine it is developing with Canada's Providence Therapeutics. The two plan to conduct a three-phase registry study for the investigational new drug (IND) in the first half of this year.
Everest said it has completed the transfer of relevant industrial-scale technologies and made other necessary preparations to lay the groundwork for producing mRNA vaccines. The two sides' $500 million deal signed in September 2021 gave Everest the right to produce and sell mRNA vaccines it developed with Providence. Everest is also entitled to half of the sales of two other mRNA prophylactic or therapeutic drugs owned by the Canadian company.
Everest is also working with Providence to develop other prophylactic and therapeutic vaccines that target key infectious diseases and cancer. One of its candidates is an mRNA rabies vaccine that has completed pre-clinical concept verification, with Everest transferring 3.49 million of its shares to Providence under terms of their cooperation.
No commercialized products
While it has lots of irons in the fire, it's worth noting that none of Everest's mRNA drugs in development have reached the market yet. Lacking such a steady revenue stream, its decision to forgo its interest in the breast cancer drug Trodelvy, which it was co-developing with Gilead Sciences (GILD.US), came as a surprise to some last year. But it did get $455 million in compensation from that deal, giving it some capital to invest back into its mRNA program.
The company said it will use 30% of proceeds from the sale to expand its pipelines and business operations, 15% to develop Nefecon, a drug used to treat type-A IgA nephropathy, and 35% to develop other drugs. The rest will be spent on strengthening the company's drug-discovery capacity and for general operations.
The company reported losses of 6.74 billion yuan and 1.24 billion yuan in 2020 and 2021, respectively, and lost another 670 million yuan in the first half of last year. By the end of last June, its current assets dropped by 26% from a year earlier to 2.01 billion yuan. The mRNA vaccine program and other drug development expenses will pressure Everest's resources for the foreseeable future, explaining why the company gave up potential commercial gains from Trodelvy in exchange for the quick cash infusion.
Everest was once regarded as a new star in the ADC field, helping to send its stock as high as HK$100.90 in early 2021. But its shares tumbled on news of the Trodelvy sale, followed quickly by the resignation of its CEO late last August, sending the stock to a new low of HK$5.98 by early last October.
The shares have rebounded since then and are back at the HK$20 level. But with a price-to-book (P/B) ratio of just 1.07 times, Everest still gets less respect than peers like CanSino Biologics, CSPC Pharmaceutical and Shanghai Junshi Biosciences, whose P/B ratios range from 1.8 times to 6 times. That shows investors are still waiting on the company's mRNA gamble, and may need to see some more positive developments before rewarding Everest with a higher valuation.
To subscribe to Bamboo Works weekly free newsletter, click here