Pop Retailer Miniso Sees Riches in Vending Machines, 'Blind Boxes'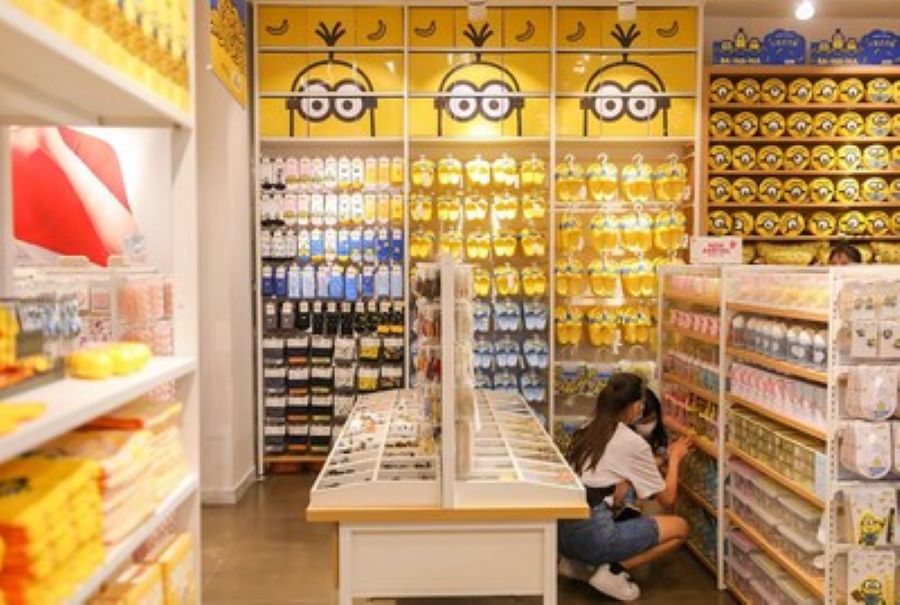 Company rolls out its first vending machines in Singapore, following rival Pop Mart into lucrative niche for trendy collectible toys
Key points:
Miniso is moving into sales using vending machines and product lines based on third party-licensed IP
Company's stock is highly valued compared with traditional retailers, but its PE is just half that of domestic collectible toy rival Pop Mart
By Doug Young
It started out as a miniature, low-cost knockoff of trendy Japanese retailer Muji, known for its brightly lit stores featuring a wide array of daily household items. But Miniso Group Holding Ltd. (MNSO.US) is moving further from those roots with its increasing focus on collectible and branded products, as it also eyes vending machines that carry far lower costs than traditional shops.
Those are the main messages coming from the company's latest announcements, which include the launch of its first vending machines in Singapore and the global launch of the latest in its growing stable of product lines based on popular characters licensed from other companies.
In its current form, the company is looking increasingly like a hybrid between domestic counterpart Pop Mart International and the original Muji. Pop Mart has found big success in selling collectible toys that carry much-higher profit margins than traditional products. Meantime, Muji continues to thrive in its own niche as a retailer that often attracts shoppers from big distances for its trendy and well-designed products.
So, perhaps it's not surprising that Miniso's stock currently gives the company a price-to-earnings (PE) ratio that's lower than Pop Mart's, whose margins are quite a bit higher, but higher than Muji's, which is a bit more mature in terms of growth potential.
We'll return to that part of the story shortly. But we'll begin with the latest news of Miniso's launch of its first vending machines in Singapore late last month. Prior to that, the company did nearly all of its business out of its chain of more than 4,000 small brightly-lit shops stocked with everyday items like stationery and cosmetics, typically costing $10 or less.
The five vending machines unveiled in Singapore will sell "blind box" products, a category where Pop Mart has found a very comfortable and lucrative niche. Such sales involve series of collectible toys, with the idea that each box contains a toy from that series. But you can't see what's actually inside the box until after you buy it, adding an element of surprise and community for buyers, similar to people who buy and trade baseball cards in the U.S.
Miniso only entered the "blind box" business earlier this year, almost certainly eying Pop Mart's huge success in the space. The business is extremely lucrative because people are willing to pay big premiums to get these latest trendy toys and figurines. Selling through vending machines also greatly lowers costs by cutting out the need for big retail spaces staffed by employees.
That difference is apparent in a comparison of Miniso's and Pop Mart's latest gross profit margins. Miniso's gross margin stood at 32% in its latest annual figures, versus 63% for Pop Mart.
The vending machine rollout is part of Miniso's recent emphasis on toys, in this case a category it calls collectible "pop toys." Miniso cites third-party data saying Singapore is the world's third-largest market for such toys, behind Japan and South Korea. That's the only indication of its future roadmap for such toys, often sold from vending machines, though we can probably expect to see them also coming soon to its home China market.
Licensing Tie-Ups
While "blind boxes" usually involve self-developed characters, Miniso's other big push involves licensing popular characters from third parties and developing them into series of products. That campaign was in the company's other new announcement this week for an international launch of its series of products based on the popular animated 2015 film "Minions."
This product series, which debuted in China earlier this year, has also just made its debut in Singapore and will move from there to the rest of Southeast Asia, followed by the U.S., Europe and Australia, according to the announcement. It joins the company's growing series of product lines based on other intellectual property (IP) from the likes of Disney, Coca Cola and Sesame Street of the U.S., as well as Japan's Sanrio, owner of the ubiquitous "Hello Kitty" characters.
Miniso should be able to roll out these new product lines relatively quickly due to its franchise-style business model that mostly works with third-party store operators. Of its roughly 4,200 stores worldwide at the end of March, just 130 were directly operated by Miniso itself, with the rest run by local partners.
Of course, the end game in all this is to boost sales and margins, which will ultimately boost profits. That result has yet to come through in Miniso's financial results, though investors seem to hold out big hopes based on the company's relatively high valuation.
Miniso's revenue actually contracted 4% to about 9 billion yuan ($1.4 billion) in its most-recent fiscal year due to the forced closure of many of its shops in the first half of 2020 during the pandemic. Analysts expect that figure to be roughly flat in the current fiscal year, before rising about 36% year-on-year in the company's fiscal year that runs through June 2022, according to Yahoo Finance.
Perhaps more important, those same analysts see the company starting to earn sustained profits, with the figure expected to more than double in the fiscal year through June 2022 compared with the level from the previous year.
That brings us to the issue of valuation, with Miniso's PE now standing at a relatively high 63 based on the profit forecast for its fiscal year through June 2021. That's about half of Pop Mart's PE of 124 based on its own latest annual results. Muji parent Ryohin Keikaku trades at a PE of 47, which is a bit lower but still quite high for retailers in general.
By comparison, the more traditional Walmart currently trades at a PE of 34.
The fact of the matter is that Miniso's PE was even higher earlier this year, when the company's stock was soaring. It made its U.S. trading debut last October after selling shares for $20, and saw its stock rise as high as about $35 in February this year. But lately, the shares have come down in the broader selloff of Chinese stocks. At their latest close of $15.73 they are now about 20% below their IPO price.
To subscribe to Bamboo Works weekly newsletter, click here